Boeing unveiled its new 2022 ecoDemonstrator plane on June 16 as part of its continued efforts to develop innovative technologies that reduce emissions and make aviation more sustainable.
The ecoDemonstrator, a 777-200ER aircraft formerly used as a passenger jet, will undergo a six-month series of testing on the ground and in the sky starting this summer. 
The latest ecoDemonstrator will test roughly 30 new technologies to increase sustainability and safety in the aerospace sector while flying on a 30/70 blend of Sustainable Aviation Fuel (SAF) and conventional jet fuel. 
These technologies encompass a variety of projects to meet the vision. Boeing, for example, is working with NASA to develop SMART vortex generators, small vertical vanes on the wing that boost aerodynamic efficiency during takeoff and landing. 
Other projects include a solution to conserve onboard greywater, in which water from the sink is utilized to flush toilets, reducing the aircraft's weight. 
The Boeing #ecoDemonstrator is back – marking its 10-year anniversary. This 777-200ER will accelerate innovation by testing 30 new technologies that enhance safety, advance sustainability and operational efficiency. pic.twitter.com/k5D91S89LG

— The Boeing Company (@Boeing) June 16, 2022
The aircraft will also be employed to test an "environmentally preferred" refrigerant, a novel fire suppression agent that will minimize greenhouse gas emissions, and a pilot heads-up improved vision system to increase operational efficiency.
The refrigerant currently used on airplanes has a potent greenhouse gas that, if spills, can be dangerous. Meanwhile, the tray tables will be composed of natural fiber and biodegradable materials. During flights, flight crews will put the tray tables to the test.
Additionally, Boeing will continue researching sustainable aviation fuel's effect on emissions reduction. The latest event also marks the tenth anniversary of Boeing's ecoDemonstrator program, which has seen 230 projects tested on nine planes, including the 2022 platform.
Boeing's ecoDemonstrator Program
Boeing's ecoDemonstrator program, which began a decade ago, takes technologies out of the lab and puts them to the test in a real-world setting. It has evaluated 230 technologies "to help decarbonize aviation, improve operational efficiency, and improve safety and the passenger experience." 
The 2022 ecoDemonstrator plane, with the registration number N861BC, was first supplied to Singapore Airlines in 2002 and afterward flew for Air New Zealand and Suriname Airways throughout its 20-year career. 
According to Chad Lloyd, Boeing's deputy manager of the ecoDemonstrator program, "the plane was chosen because it was available and the company wanted to retest some of the technologies already tested on a 777-200 in 2019."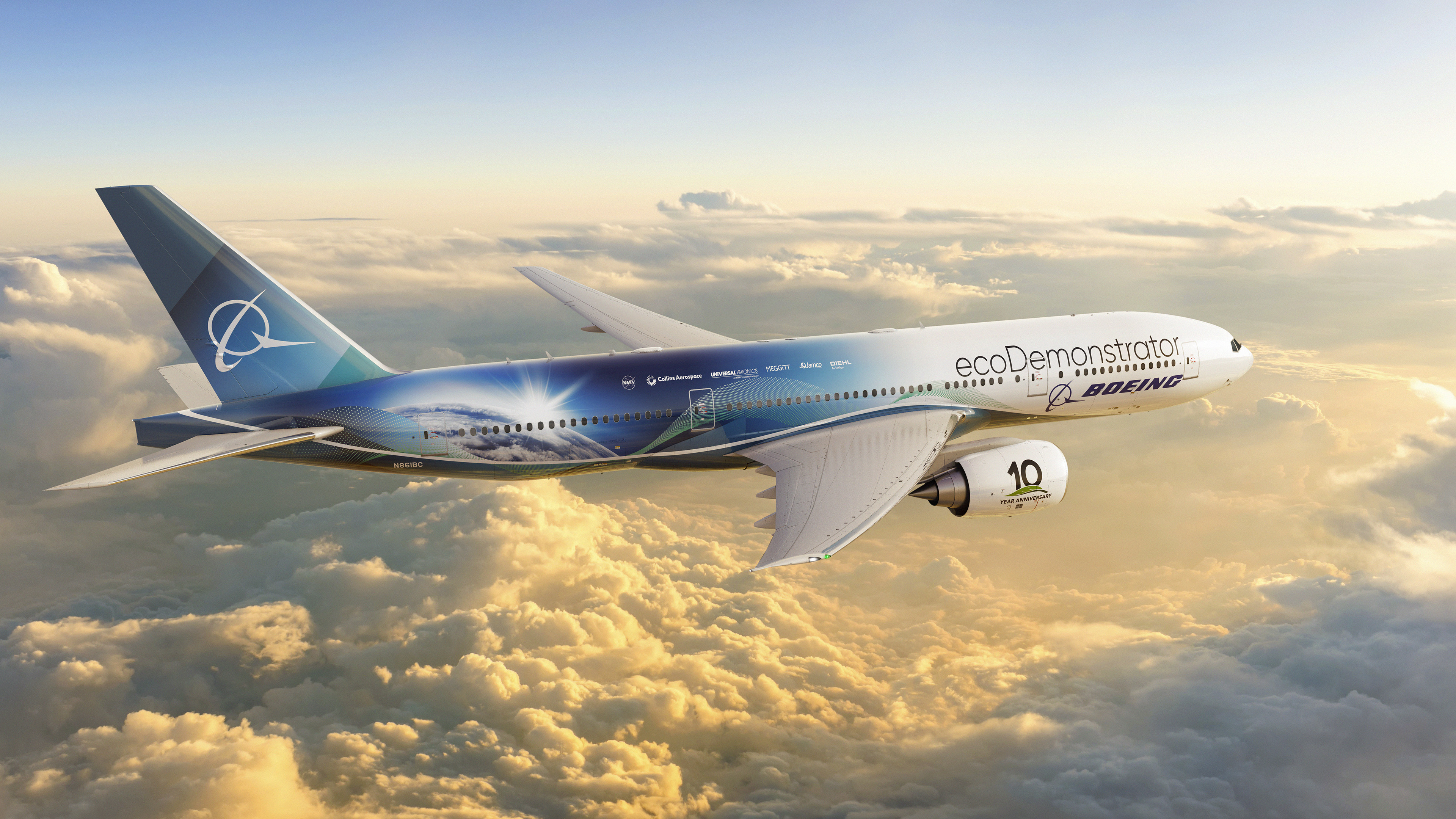 The plane has been repainted in an Earth-themed livery, which Boeing claims represents ten years of testing to lower fuel consumption, pollutants, and noise. Since the program began, Boeing has turned nine planes into ecoDemonstrators, including the first one, an American Airlines 737-800 in 2012, an Embraer 170 in 2016, and an Etihad 787-10 in 2020. 
"Boeing is committed to supporting our customers and enabling the commercial aviation industry to meet our shared commitment to net-zero carbon emissions by 2050," said Stan Deal, Boeing Commercial Airplanes president, and CEO, in a statement. 
"The ecoDemonstrator program's rigorous testing of new technologies further enhances the environmental performance of our products and services and is invaluable to improve safety continuously." 
According to Boeing, almost a third of the evaluated technologies are included in the company's products and services. 
Efforts For A Sustainable Flying Industry
Amid mounting criticism, the aviation industry has long pushed to develop a more sustainable flying environment. According to various assessments by industry watchdogs and environmental groups, aviation is estimated to be responsible for 2-3 % of worldwide CO2 emissions.
In October 2021, during its annual meeting, IATA, the International Air Transport Association, announced a resolution in favor of net-zero carbon emissions by 2050. This year's IATA Annual General Meeting (AGM) took place on June 19-21 in Doha, Qatar. 
A "Focus on Sustainability" session addressed relevant industry issues, including single-use plastics, SAFs, and the challenges of achieving sustainability, including net-zero carbon emissions by 2050.
Air Nostrum, a Spanish airline, recently announced that it had placed an order for ten new hybrid airships. The Airlander 10 aircraft could arrive in 2026. According to Uk-based Hybrid Air Vehicles, airships might reduce emissions by 90%. 
Governments around the world, according to industry groups like Airports Council International, should provide the necessary support to improve environmental sustainability in the aviation industry.
Airlines and airports should invest more in green technologies and sustainable aviation fuel with government assistance, helping to speed the aviation industry's transition to carbon neutrality and meet the countries' emissions targets.