The race to find the next fighter jet for the Royal Canadian Air Force (RCAF) began in December 2017 with Lockheed Martin, Boeing, Saab, Dassault Aviation, and Airbus throwing their hat in the ring.
Canada's Future Fighter Capability Project (FFCP) is aimed at replacing its aging CF-18 Hornets. By 2019, Dassault Aviation and Airbus pulled out of the race leaving only Lockheed, Boeing, and Saab as the only contenders.
The Canadian government recently confirmed reports that the Boeing F/A-18E/F Super Hornet Block III has been dropped from its FFCP competition. The government issued a statement on December 1 providing details about the latest development in what it referred to as a "key milestone in the process to replace Canada's fighter jets".
Ottawa also announced that the remaining contenders were the Lockheed Martin F-35A Lightning II and the Saab Gripen-E.
The RCAF plans to eventually acquire 88 new fighter jets with the deliveries beginning "as early as 2025". At present, the RCAF has around 75 CF-18A/B+ jets and it's also looking to add the former Royal Australian Air Force's F/A-18A/B Classic Hornets to its new fleet, The War Zone reported.
"Today, the Government of Canada announced that following evaluation of the proposals submitted, two bidders remain eligible under the Future Fighter Capability Project competitive procurement process", the statement from Public Services and Procurement Canada read.
Boeing's elimination from this fighter jet competition was first reported by the Canadian press as it quoted anonymous representatives from the Future Fighter Capability Project. The decision to continue with Saab came as a surprise as many defense analysts anticipated that Ottawa would exclude Swedish defense firm Saab as unlike Canada, Sweden is neither a NATO member nor the North American Aerospace Defence Command (NORAD), Reuters reported.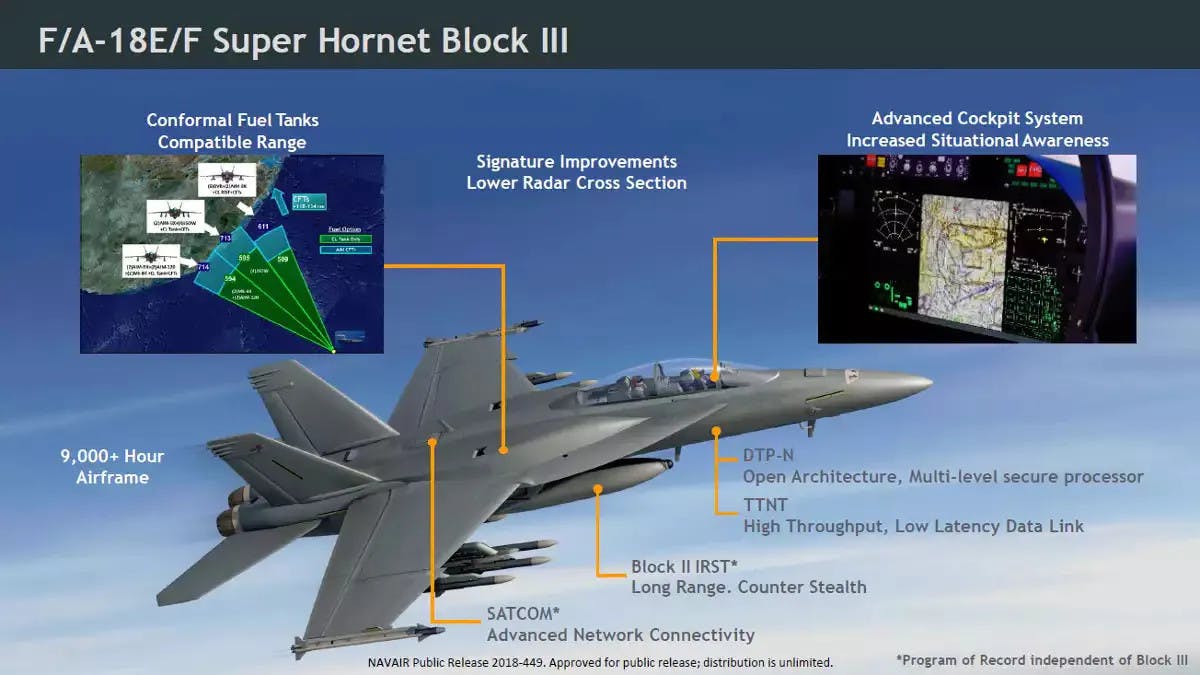 Boeing said it was "disappointed and deeply concerned" by the announcement. "We are working with the U.S. and Canadian governments to better understand the decision and looking for the earliest date to request a debrief to then determine our path forward," it said in a statement.
"The F/A-18 Super Hornet Block III offers proven capability and interoperability to the U.S. and its allies, as well as brings unmatched capability and lifecycle value to the Royal Canadian Air Force and a robust industrial/economic package that would deliver 250,000 jobs and CAD $61 billion to Canada's economy [around US$47.6 billion at the current rate of conversion].
We are working with the U.S. and Canadian governments to better understand the decision and looking for the earliest date to request a debrief to then determine our path forward."
Few Takers For Super Hornets?
In 2010, Boeing had announced a "Super Hornet International Road Map", which pointed out a set of potential upgrades which could increase the F/A-18E/F Super Hornets' export prospects, The EurAsian Times had previously reported.
The advancements mentioned in this road map included an advanced cockpit, enclosed weapons pod, and an enhanced performance engine (EPE) version of the GE F414, besides a few other upgrades.
However, things didn't go as planned for the Super Hornet. Even though the fighter jet bagged a promising contract from the Royal Australian Air Force worth A$2.9 billion for acquiring 24 F/A-18Fs, the Super Hornets failed to impress its other foreign customers.
In 2018, Kuwait had awarded Boeing a $1.5 billion contract to build 28 F/A-18E/F Super Hornets for its air force, becoming the second international customer of the Super Hornets. The delivery of these aircraft was completed in September this year, military magazine Janes reported.
In the past few years, Boeing has lost a lot of major export deals to its competitors such as the Lockheed Martin F-35 Lightning II jets, Dassault Rafales and Saab Gripens.
In 2013, Brazil selected the Saab JAS 39 Gripen over Boeing's F/A-18E/F Super Hornets as its next fighter jet, Reuters had reported at that time. Then in 2016, the Danish government also expressed its interest to acquire 27 F-35As instead of the Super Hornets.
In January 2020, Poland signed a $4.6 billion deal with the US to acquire 32 F-35A fighter jets. Then in June this year, Switzerland also confirmed its purchase of the Lockheed Martin F-35s over the Super Hornets for its fighter aircraft fleet.
After losing the Canadian deal, Boeing would want to sell its Super Hornets to the Indian Navy. The company has pitched the aircraft in response to an RFI (Request for Information) for acquiring 57 multi-role carrier-borne fighter jets for India's first indigenous aircraft carrier (IAC-1), named Vikrant, which is going to be commissioned by 2022-23.
Our F/A-18 #SuperHornet demonstrates the ability to operate from @indiannavy aircraft carriers during its successful and safe launch from a ski-jump ramp. pic.twitter.com/92V14EXV9M

— Boeing India (@Boeing_In) December 21, 2020
As both of India's aircraft carriers are short takeoff and but arrested recovery (STOBAR) enabled, Boeing had demonstrated the Super Hornet's ability to launch from a land-based ski jump in 2020. However, Boeing is facing competition from Dassault Rafale Marine fighters.
According to Boeing India's press release, "The Super Hornet's unique differentiators for the Indian Navy include its two-seater carrier-compatibility capability which provides operational flexibility and opportunities to integrate future technologies related to manned-unmanned interface from aircraft carriers".
Ankur Kanaglekar, the Head India Fighters Sales, Boeing Defense, Space and Security also expressed confidence in Super Hornet as being a strong contender for the Indian Navy deal. French Dassault Rafales, Sweden's SAAB, and Rosoboronexport of Russia are also competing for this contract.