The Russian military bombed a massive fuel storage facility in Ukraine in Donbas, the Defense Ministry (RuMoD) claimed.
"In the city of Zaporozhye, a high-precision missile strike destroyed a storage facility with 70,000 tons of fuel accumulated to support the operations of the Armed Forces of Ukraine in the Donbas, the RuMoD said on Telegram.
In addition, they claimed to neutralize the warehouses of rocket and artillery weapons and ammunition of the 102nd Territorial Defense Brigade and the 72nd Mechanized Brigade of the Armed Forces of Ukraine near Orekhov in the Zaporozhye region and Vuhledar in the DPR.
The report claims that the Russian air defense systems intercepted ten HIMARS and Smerch multiple launch rockets, as well as one Grom-2 operational-tactical missile and 14 Ukrainian UAVs.
Leaked Info On Russia-Ukraine War
Pro-Russian strategists believe the leaked documents detailing American and North Atlantic Treaty Organization (NATO) war plans for Ukraine are a ruse to let Russia its guard down and assume the Ukrainian military cannot mount a credible offensive or defense.
Vladimir Rogov, leader of the 'We Are Together With Russia' and member of the main council of the breakaway pro-Russian Zaporizhzhia region, called it a "disinformation campaign."
Rogov and other pro-Russian social media pages based in Ukraine's East point to increased Ukrainian military activity; persistent attempts to break through Russian lines on the frontline; massive mobilization in the depth areas despite taking heavy losses; and the consistent arrival of Western military equipment, including drones and tanks to support their theory.
While Rogov is not a part of the direct Russian military decision-making apparatus, he does somewhere reflect the overall Russian strategic view since the council he is a member of also includes senior Russian military officers.
Moreover, he has been leading private crowdfunding efforts to procure supplies, ration, food, and sometimes ammunition for the Russian military and units of the Luhansk and Donetsk People's Republics (LDPR) whenever there are issues with logistics from the Russian government. He often posts videos and pictures of military actions and Ukrainian losses on his Telegram channel.
BREAKING- #Pentagon investigating classified Ukraine war document #leak.

Secret US plans for supplying aid to Ukraine ahead of an expected offensive were posted on social media this week, prompting a Pentagon investigation. #Ukraine #counteroffensive pic.twitter.com/L89JeIWrv0

— EurAsian Times (@THEEURASIATIMES) April 7, 2023
What Rogov Thinks
TASS reported Rogov saying the leaked documents mentioned an "estimated 48,000 to 50,000 troops that can be gathered," which, according to him, was a "classical disinformation operation" meant to "mislead" into believing that "(Ukrainian troops) are not yet ready and we can relax."
"Part of what is said there may be true, but as far as the timing is concerned, it's definitely not so," Rogov said. He also specifically named Orekhov in Zaporizhzhia, immediately near the engagement line, which has seen a simultaneous Ukrainian troop buildup to support his claim.
"In my opinion, it is an attempt to make us think that an offensive may be possible only after some time and not within the next few days. On the other hand, the situation on the frontline points to the opposite: equipment continues to arrive, equipment is ready, and enough militants have been trained," Rogov noted.
He pointed out that large amounts of fuel and lubricants delivered to the engagement line meant "that this equipment will not remain idle, but will go on the offensive."
Even before reports of the leaks first appeared, Rogov had said on April 4 that he believed Ukraine would mount an offensive towards Zaporizhzhia. Instead of fighting in the cities, it will try and break through towards the Sea of Azov, East of Melitopol, to cut the overland route to Crimea.
On March 27, Rogov told TASS that the Ukrainian army had already amassed up to 75,000 troops in the Zaporizhzhia area after an attempted offensive on March 23. Ukraine lost 400 soldiers.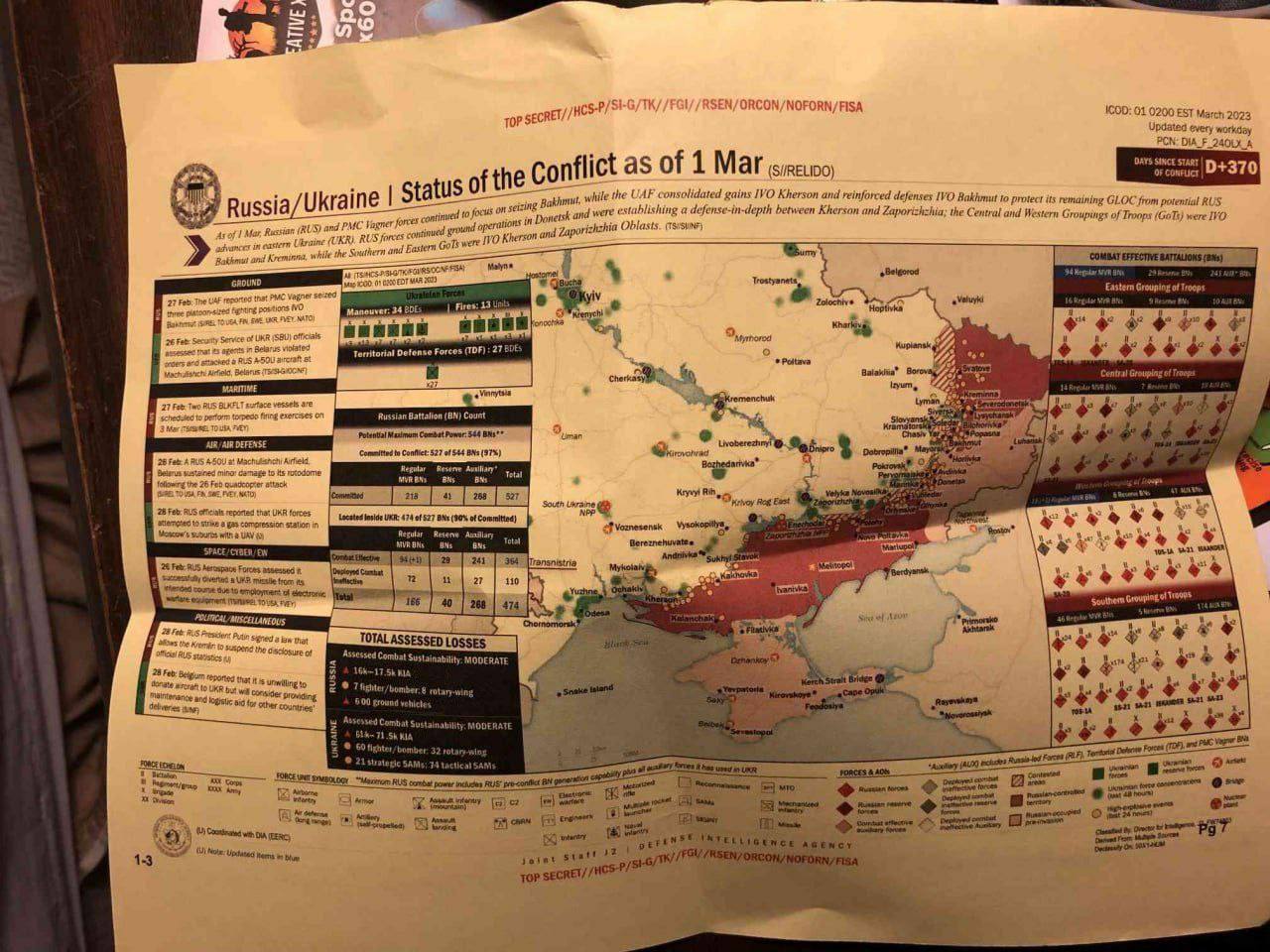 Leaked Documents Are Russian Handiwork?
The documents, meanwhile, have inspired a Pentagon investigation. American analysts rather believe this is a disinformation campaign by Moscow, which slightly "modified (the documents) in certain parts," overstating US estimates of Ukrainian casualties and understating Russian ones, according to the New York Times (NYT).
The documents do not provide specific details like the timing or locations of Ukraine offensives, which could help Russian generals infer their larger objectives, partly because they are nearly a month old from the first week of March. They, however, give deeper insights and "tantalizing clues" into the techno-military and economic dimension of arming Ukraine. For instance, they mention the expenditure on the High Mobility Artillery Rocket System (HIMARS).
However, no US or Ukrainian official has been quoted articulating where the documents have been modified or explaining their assessments of the Russian objectives behind the leak.
Ukrainian & Russian Casualties
A notable feature in the documents has been the casualty rates that contradict a victorious narrative by the US and Kyiv of the Russian military operation failing miserably in all areas. For instance, it puts the Russian losses at 16,000 to 17,500, while Ukrainian losses amount to as many as 71,500.
This comes close to the "100,000" figure for Armed Forces of Ukraine casualties quoted by European Commission (EC) President Ursula von der Leyen in late November – apart from her speech and the entire tweet that was later deleted. That part of the text also disappeared from the speech on the EC's official website.
Both Ukrainian Presidential adviser Mykhailo Podolyak and President Volodymyr Zelenskyy, in June last year, had said Ukraine was losing up to 100 soldiers each day, and the battlefield situation was becoming "difficult."