China's indigenously-built Z-20 helicopter, also termed as the clone of US' Black Hawk, is now going to reach a similar number of deliveries and play a similar role as the American multirole helicopter, Global Times reported. 
Not F-22 or F-35 Jets, But This Aircraft Is The No. 1 Choice Of US Air Force For Combat Missions
The chief designer of the medium-sized utility helicopter told the state-owned media outlet that the Z-20 is expected to become the country's most-delivered chopper. 
According to the GT report, Deng Jinghui, the chief designer at the China Helicopter Research and Development Institute of the state-owned Aviation Industry Corp of China, told CCTV on Thursday that "the Z-20 will be developed into a series and serve in the People's Liberation Army (PLA), as well as in the Air Force, the Navy, and the People's Armed Police Force, and it may even serve abroad soon".
Wang Ya'nan, a military aviation expert and chief editor of Beijing-based Aerospace Knowledge magazine, told Global Times that China wants "Z-20 to become a medium-sized utility helicopter with wide application scenarios just like the US' Sikorsky UH-60 Black Hawk series, which is in service with multiple US military branches".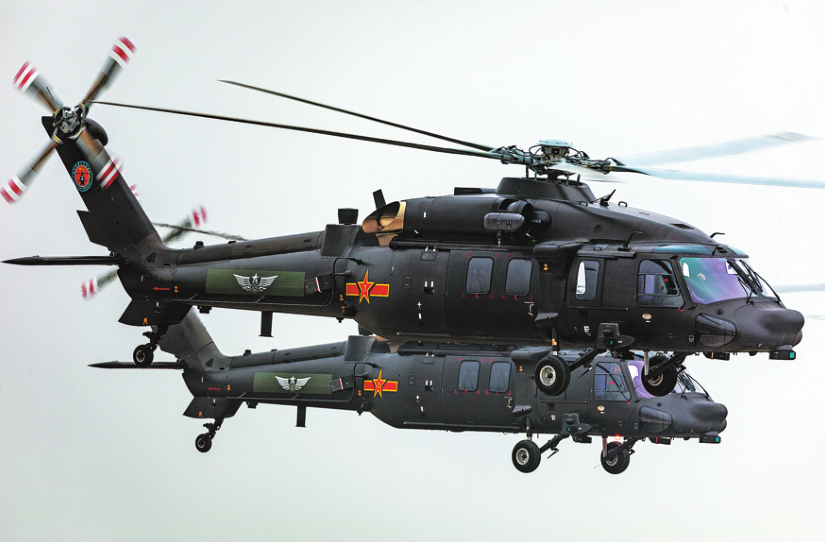 Wang underlined that the Z-20 could reach a similar level as the UH-60 since about 2,000 to 3,000 units can be expected to be built.
While Z-20 is only serving China, the Black Hawk multirole helicopter is used by the US military as well as the armed forces of 28 other countries worldwide. Lockheed Martin's website says, more than 4,000 Black Hawk aircraft of all types are in service and the US Army is the largest operator with 2,135 H-60 designated aircraft.
Military expert Tyler Rogoway wrote in an article for the Warzone, "China is world-renowned for its ability to steal foreign intellectual property, reverse engineer it, and to quickly produce something similar." He terms it a "relationship between espionage, design, and production" which has helped "catapult the People's Liberation Army into a place where America's technological superiority is no longer assured".
However, he also says that the Z-20F isn't some sort of frivolous technological parity prestige program for the PLAN; it is a badly needed capability. The PLAN has Russian-built KA-28s, the larger Z-8/Z-18, and the Z-9, but none of these helicopters offer a modern, multi-role capability which is suited for China's rapidly expanding force of large and advanced surface combatants.
Talking about the capabilities of Z-20, Wang told Chinese media, that in terms of tactical transport tasks, it can rapidly deliver key equipment, goods and combat personnel, or retrieve the wounded from the frontline along with "working with warships including amphibious landing ships and aircraft carriers".
He further noted that "the helicopter can be modified into special-mission variants for anti-submarine warfare, patrol and reconnaissance duties."
The sea variant of Z-20, the Z-20F, is also designed to perform search and rescue operations like the American SH-60 Sea Hawk helicopter. The key differences between Z-20 and Black Hawk, according to experts, are "a five-bladed main rotor and more angular tail-to-fuselage joint frame, giving it greater lift, cabin capacity, and endurance than the Black Hawk, as well as a fly-by-wire design".
China Using 'My Way or Highway' Approach; Mounts Pressure on India by Deploying Hi-Tech Military Equipment in Ladakh
The Harbin Z-20 transport helicopter had made its official debut at the National Day parade on October 1. They have been promoted as a replacement for the People's Liberation Army's 35-year-old Black Hawks used on the Tibetan Plateau and the Russian-built Ka-28s which provide air cover for warships.
China's 24 Black Hawks bought in 1984 for service in the plateau region are still in operation today. Song Zhongping, a military commentator in Hong Kong, told SCMP: "Despite similarities in appearance, the Z-20 has a home-developed lift, transmission, flight control, and avionics systems, and should not be regarded as a copy of the US machine".
"The Z-20 is already much more advanced than those imported Black Hawks, although it might not be as mature as the latest Black Hawk variants," he said.