Recently, US President Biden wished Elon Musk "lots of luck" for his trip to the Moon when asked about the pessimistic attitude of Tesla and SpaceX CEO toward the economy during a press conference at the White House on June 3.
The question was in reference to a recent report that Tesla would be freezing its hiring and cutting its workforce by 10 percent because of Musk's "super bad feeling" about the economy, according to an email he wrote to Tesla executives.
In response, Biden made a dismissive little quip: "Lots of luck on his trip to the Moon."
To which Musk, who has criticized Biden several times in the past, responded by tweeting, "Thanks, Mr. President!"
Thanks Mr President!https://t.co/dCcTQLsJTp

— Elon Musk (@elonmusk) June 3, 2022
SpaceX Headed To Moon
What is remarkable, though, is that SpaceX's "trip to the Moon" is an essential part of NASA's Artemis mission – America's initiative to land humans on the Moon by 2025 after more than 50 years of Apollo 17, the last manned mission to the lunar surface that was carried out way back in 1972.
Last year, NASA selected SpaceX to develop the company's next-generation rocket, Starship, as a lunar lander for Artemis and awarded the company $2.9 billion for the project.
SpaceX beat the competition from Jeff Bezos' Blue Origin, working with a selection of other aerospace companies, and Dynetics, a defense contractor, to secure the funding for developing its Starship human lander design.
The agency intends to send the first woman and the first person of color to the lunar surface. Four astronauts will be launched aboard the Orion spacecraft via the Space Launch System (SLS), which will take them on a multi-day journey to lunar orbit.
From there, two crew members – a woman and a man of color – will transfer to SpaceX's Starship human landing system (HLS) for the final phase of their journey to the surface of the Moon.
Roughly after a week of exploring the lunar surface, the two crew members will board the lander for their short trip back to orbit, where they will re-join their colleagues aboard the Orion before heading back to Earth.
The Starship Space Transportation System
Starship is a fully reusable transportation system consisting of the Starship spacecraft and a Super Heavy booster, both of which use liquid oxygen and liquid methane to propel it into space.
Its intended missions include – deploying satellites, space tourism, and missions to the Moon and even Mars in the distant future. There are also plans to develop a tanker variant of the Starship to fuel up other Starships.
According to SpaceX's claims, Starship will be the world's most powerful launch vehicle ever developed, with the ability to carry in excess of 100 metric tonnes.
In addition to the very high payload capability, the spacecraft is also said to have a low operational cost. Musk estimates that each Starship launch will cost about $10 million once fully operational.
Starship's First Orbital Test Yet To Occur 
SpaceX will perform an uncrewed flight of the Starship before any humans come aboard.
The company had originally planned to launch Starship into orbit in January 2022. However, it was forced to delay following an environmental assessment of the Boca Chica launch site by the Federal Aviation Administration (FAA), which the agency had hoped to complete by the assessment by the end of 2021, but the deadline has been repeatedly pushed back, most recently from May 31 to June 13.
Once SpaceX gets the license for a flight from the FAA, the Starship can conduct its first orbital flight, which according to the flight plan filed with the FAA in May 2021, will involve a Starship prototype paired with a Super Heavy booster launch together from the company's Starbase facility in Texas.
After 170 seconds into the flight, the booster will separate from the Starship and perform a partial return and make a soft splashdown roughly 32 km (20 miles) offshore on a landing pad in the Gulf of Mexico.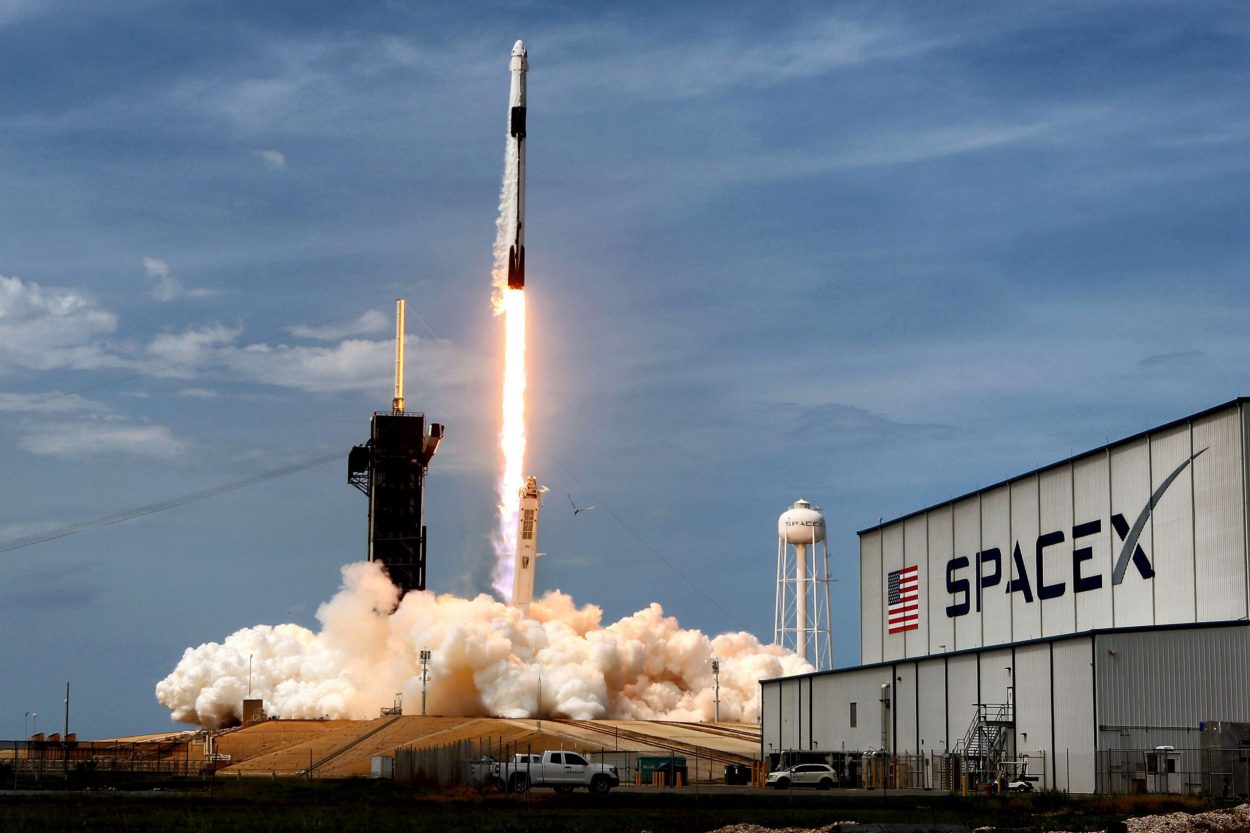 The Starship will then achieve an altitude of 200 km (roughly 125 miles) above sea level before performing a targeted soft splashdown about 100 km (62 miles) off the coast of the Hawaiian island of Kauai.
Starship's first orbital flight will be with Raptor 2 engines, which according to Musk, are 'much more capable and reliable' than older models, providing 230 tonnes of thrust at sea level. A total of 39 flight-worthy Raptor 2 engines are supposed to have been built as of April.
First Starship orbital flight will be with Raptor 2 engines, as they are much more capable & reliable. 230 ton or ~500k lb thrust at sea level.

We'll have 39 flightworthy engines built by next month, then another month to integrate, so hopefully May for orbital flight test.

— Elon Musk (@elonmusk) March 21, 2022
Lunar Flyby In 2023
If this test flight goes as planned, SpaceX will be ready to embark on its first commercial flights, carrying satellites to orbit and even a lunar flyby planned for 2023, called the dearMoon project, financed by Japanese billionaire Yusaku Maezawa.
The plan is to fly in a single circumlunar trajectory around the Moon in the Starship spacecraft. Maezawa has bought the whole flight and is planning to take 6 to 8 civilians along with him around the Moon on the six-day tour for free.
After this orbital tourist mission in 2023, the Starship, as stated above, will be set to take part in NASA's Artemis mission in 2025 and ferry the two NASA astronauts from orbit to the lunar surface.
After Artemis manned Moon mission, the Starship may even look to undertake a voyage to Mars. Elon Musk has expressed that he is "highly confident" SpaceX will land humans on Mars by 2026.