With drones increasingly gaining prominence among the defense equipment stockpiled by countries around the globe, two major developments in the sphere of unmanned aerial systems have taken place.
Turkmenistan put on display its recently acquired Turkish Bayraktar TB2 combat drones while Israel and Morocco are to sign a deal to co-produce kamikaze or suicide drones.
On the 30th anniversary of Turkmenistan's independence, Turkey's indigenous TB2 drones were displayed in the military parade. Turkmenistan is among the very few nations that use Turkey's TB2 combat drone.
The Turkish Bayraktar TB2 Combat Drones are a Medium Altitude Long Endurance (MALE), Tactical Unmanned Aerial Vehicle capable of conducting Intelligence, Surveillance and Reconnaissance (ISR) and armed attack missions.
It consists of Bayraktar TB2 armed / UAV platform, ground control station, ground data terminal, remote display terminal, advanced base with generator, and trailer modules.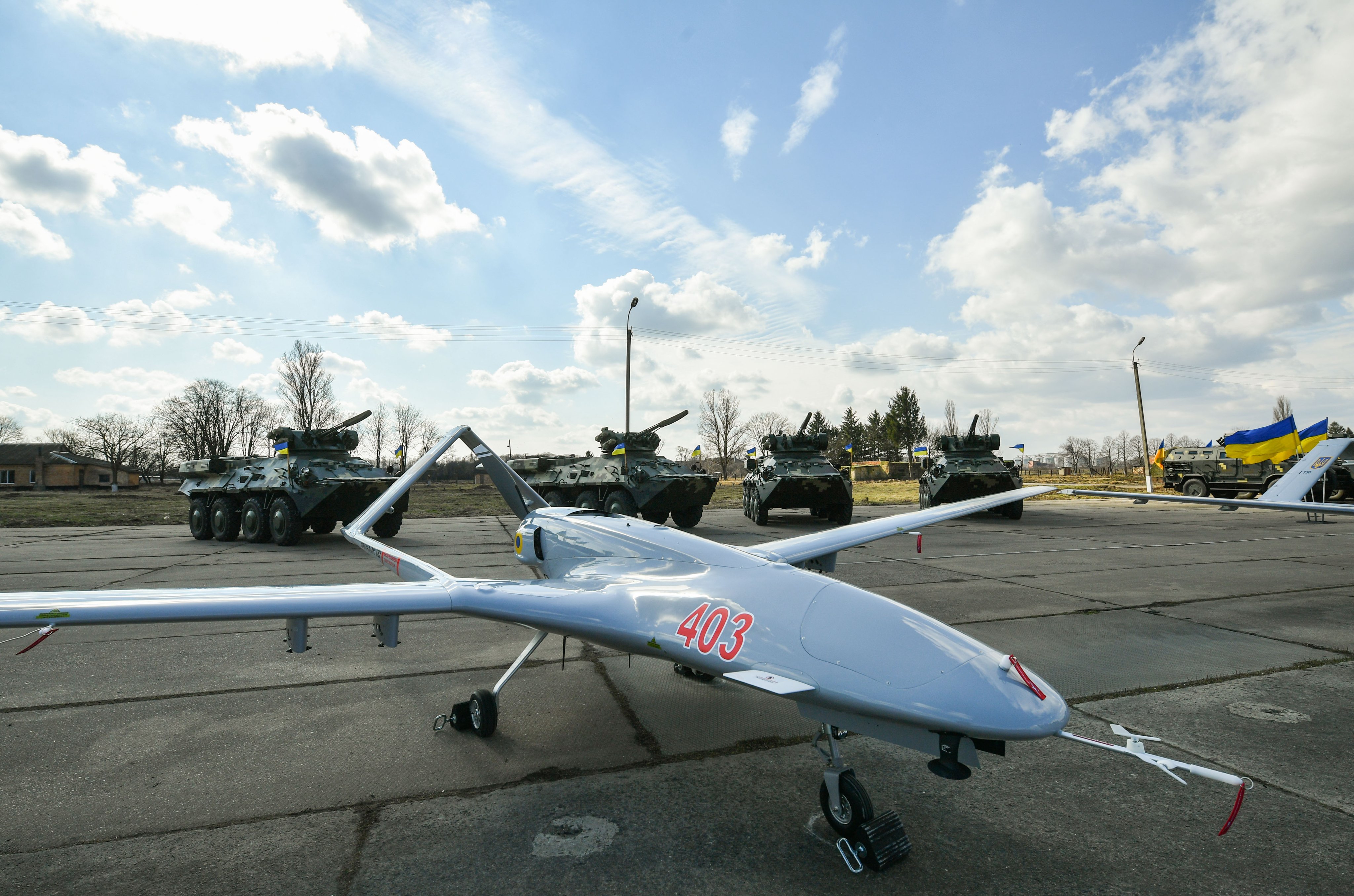 Prior to Turkmenistan, Qatar, Azerbaijan, and Ukraine have acquired the lethal systems. According to Baykar's chief technology officer, Selçuk Bayraktar, the company is in the midst of signing export deals with 10 more countries – the contracts of which have already been signed or nearing completion.
The parade held at the hills of southern Ashgabat in the Kopet Dag Mountains on  September 27 also displayed the Turkmen M-346 fighters, Italian C-27J Spartan transport planes, and the Brazilian A-29 Super Tucano attack aircraft.
Bağımsızlığın 30. yılında dost ve kardeş ülke #Türkmenistan'ın Bağımsızlık Günü'nü kutlarız.

Turkmenistan'in #Garaşsyzlyk baýramy gutly bolsun.

???? pic.twitter.com/mkwaOv3QbF

— BAYKAR (@Baykar_Savunma) September 27, 2021
The Bayraktar TB2 drones were spotted with Turkish Roketsan MAM-L and MAM-C laser-guided smart munitions and German Hensoldt ARGOS-II HDT imaging system. This appeared to be different from the usual Aselsan CATS imaging system.
The Baykar Defense manufactured drones were seen after a recent export of defense and aerospace material in July 2021 from Turkey to Turkmenistan.
The Israel-Morocco Deal
On the other hand, the new government in Morocco and Israel are set to sign a deal to co-produce the kamikaze drones. As the name suggests, kamikaze drones are self-destructive that crash themselves on the target and explode.
The deal will deepen the nascent diplomatic ties between the countries and also solidify plans for the production of this Israeli technology on Moroccan lands.
? The latest step in #Morocco 's rapprochement with #Israel 's defence industry is its plan to set up a domestic industry to develop suicide #drones https://t.co/glKBGksmt7

— Africa Intelligence (@AfricaIntell) September 15, 2021
The growing uncertainties on the Moroccan border with Algeria and the Polisario Front movement on the Western Sahara Wall have especially piqued Morocco's interest in combat drones among other military equipment. In the past months, Morocco had also signed a deal with Turkey to acquire 13 Turkish Bayraktar TB2 drones.
"If these drones prove their operational capabilities, then Morocco will start production," Moroccan Military and Security Affairs expert, Mohammad Shkeir, told Defense News. This exchange of Israeli technology and information is a part of the first-ever cyber-defense agreement between the two nations.
Morocco is one of the four Arab states to normalize ties with Israel along with Sudan, Bahrain, and the United Arab Emirates.
So far, no Moroccan firm has been picked for the production of the kamikaze drones which are also known as loitering munitions. Israel's defense minister is expected to finalize and sign the deal with Morocco in the coming days.
The contract between the two countries is also set to include short and medium-range missile systems as well as armored vehicles and tanks that can be utilized by the Moroccan Army in armed conflicts.