India's Ministry of Defense on March 30 signed a contract worth INR8,160 crore (US$1 billion) with state-run missile maker Bharat Dynamics Limited for two additional Akash Weapon System (AWS) regiments.
Earlier in the month, India's military research agency, Defense Research and Development Organization (DRDO), tested two VSHORADS (Very Short-Range Air-Defense System) missiles. The flight tests were the second development trial of the missile.
The two landmark events heralded DRDO's emergence as a short-range air defense missile technology world leader. The following is the technical assessment to back the view:
India Shows Sky Is The Limit With Akash Missile
The AWS is being inducted into the Indian Army as Short-Range Surface to Air Missile (SRSAM) system. This is the first India-developed SAM with an indigenous Radio Frequency (RF) seeker.
DRDO has developed ceramic radomes for metal-bodied missiles like Astra and QR-SAM (Quick Reaction SAM) and composite radome for AWS. DRDO claims its radomes have a better signal-to-noise ratio (around 0.7 dB) than foreign analogs (1.0 dB).
The AWS, which was earlier referred to as an Akash-1S in some reports, is an Akash-1 variant with an active Ku, X band RF seeker. The RCI-developed monopulse RF seeker is also used on the Astra BVR air-to-air missile and DRDO's QR-SAM AD missile.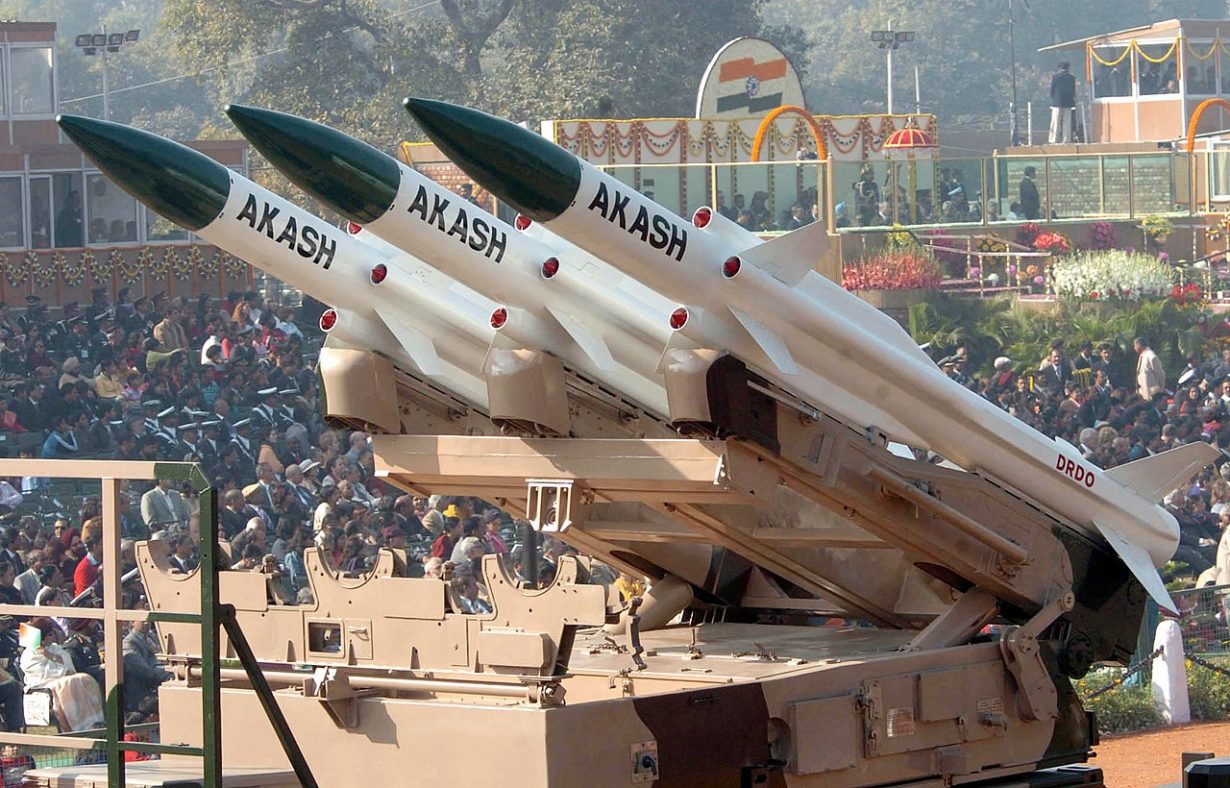 The Akash-1 missile uses command guidance without terminal homing. Command guidance is jam resistant (because a powerful ground-based radar does target tracking) but becomes progressively inaccurate with an increase in range.
In the terminal phase of engagement (around the 30-km range for Akash), ground-based target and missile tracking resolution degrades to an extent where a successful intercept is ruled out.
The AWS retains the jam-proof command guidance capability of the Akash-1 for the initial part of the flight but switches on its RF seeker for the end game. With a seeker lock, the missile is better assured of a kill at extended ranges.
Short-range missiles typically lose energy when approaching limiting ranges because of motor burnout, constraining their ability to intercept maneuvering targets. Not the AWS, which is powered by a ramjet engine.
Besides being an active seeker, the AWS features other improvements over Akash — reduced footprint, 360° engagement capability, and ability to operate in extreme environments.
10 More VSHORADS Tests Before Finality
Unlike AWS, the development of the VSHORADS is yet to be completed. However, recent DRDO successes with missile development and the conceptually advanced features of the VSHORADS missile leave little room to doubt that the development of the missile will be successfully completed.
The VSHORADS missile was tested twice on September 27 at the Integrated Test Range at Chandipur in Odisha on India's East coast. It appears to have been developed as a substitute for the Russian Igla MANPAD by RCI, Hyderabad, in collaboration with other DRDO laboratories and Indian industry partners.
The missile, meant for neutralizing low-altitude aerial threats at short ranges, features an Imaging Infra-Red (IIR) seeker. A dual-thrust solid motor propels it.
Fitting a dual-thrust solid motor in a very short-range missile is an outstanding achievement. Thrust variation is achieved by tailoring the burning area, nozzle, rocket motor chamber, propellant type, and multiple propellant blocks.
A higher specific impulse is achieved post-launch by allowing the propellant to be ejected at a higher speed.
The design of the missile, including the launcher, has been highly optimized to ensure easy portability.
The missile has a length of two meters, a diameter of 0.09 meters, and a weight of 21 kg, and it incorporates technologies such as a miniaturized Reaction Control System (RCS) to increase mid-air maneuverability and integrated avionics.
During AeroIndia 2023, a DRDO official told Jane's that it had completed the development of the VSHORADS and the trials of the missile had started. VSHORADS will undergo "10 more trials in upcoming months".
Did DRDO Outdo Its Israeli Mentors?
Perhaps the Israeli SPYDER is the most outstanding quick-reaction short-range air defense system in the world today. The SPYDER-SR (Short Range) has a maximum interception range of 15 km and a max engagement altitude of 15 km.
The SPYDER-MR (Medium Range) has a greater operating range of 35 km and a max engagement altitude of 16 km due to the missiles being equipped with boosters. Both SPYDER systems comprise Derby and Python-5 air-to-air missiles adopted for ground launch.
The Derby missile features an active RF seeker and the Python-5, a dual-band IR seeker.
The SPYDER system is unique in using two missiles in any given mission. As such, a direct comparison between the DRDO's short-range missile systems and SPYDER systems would be an apples-and-oranges comparison.
However, DRDO'S VSHORADS is roughly equivalent to SPYDER's Python-5 missile, and DRDO's AWS is roughly equivalent to SPYDER's Derby missile. It can be objectively and correctly stated that the VSHORADS outperforms Python-5 in range, maneuverability, and seeker performance, and the AWS outperforms the Derby missile in range, maneuverability, seeker power, and jam resistance.
India's QRSAM Plugs Akash Missile Gaps
One weakness of AWS is its inability to react quickly. It needs to be moved and deployed before it can be used. The weakness is addressed by DRDO with its QR-SAM system, another short-range (25-30 km) area defense air defense system capable of search-on-move, track-on-move, and fire-on-short-halts while engaging multiple targets in ranges of about 30 km. Two vehicles are required for area air defense.
The system comprises a fully automated Command and Control System, Active Array Battery Surveillance Radar, Active Array Battery Multifunction Radar, and Launcher. Both radars are four-walled, having 360-degree coverage with search on-the-move and track-on-move capability.
The launcher vehicle features an electro-mechanical launcher capable of 360-degree rotation. The vehicles and launcher are home-built.
The canister stored and launched, the single-stage solid propellant missile has a mid-course inertial navigation system with a two-way data link and terminal active seeker. It likely features a dual pulse motor.
DRDO developed the QR-SAM in response to an Indian Army challenge to produce a better system than the ones offered by foreign vendors.
The missile features an active seeker that uses X-Band Quad Transmit Receive Modules (QTRMs). A Two Way Data Link (TWDL) facilitates the missile's guidance. The QR-SAM system could eventually feature an indigenously developed optical system for passively acquiring targets.
During AeroIndia 2023, a BEL official told Janes that the Indian Army had ordered five Quick Reaction Surface-to-Air Missile (QRSAM) weapon systems. BEL will deliver all five weapon systems to the Indian Army by 2024.
Conclusion
DRDO has made impressive technological strides in missile development. Its work has been particularly outstanding in developing short-range missiles. DRDO is clearly firing on all cylinders. If its offering of short-range air defense missiles is not the best in the world, it could well be in the near future.
Vijainder K Thakur is a retired IAF Jaguar pilot. He is also an author, software architect, entrepreneur, and military analyst. VIEWS PERSONAL
Follow the author @vkthakur