India's Defence Research and Development Organisation (DRDO) has reached yet another significant milestone, a few days after it announced that a prototype of AMCA, the country's fifth-generation stealth fighter aircraft, has entered the production line.
The DRDO reportedly used in-house technologies to construct a multi-story flight control center at its Bengaluru-based lab, Aeronautical Development Establishment, in a record 45 days.
The seven-story structure will house research and development facilities for the Indian Air Force's Advanced Medium Combat Aircraft (AMCA). It would have a plinth area of 1.3 lakh square feet.
The ADE had previously registered success with LCA Tejas avionics and has been credited with the successful development of many other military assets.
DRDO has built a seven-storey building in record 45 days which would be used as the R&D facility for the indigenous development of fifth generation Advanced Medium Combat Aircraft (AMCA) in Bengaluru. The building would be inaugurated by Defence Minister Rajnath Singh today pic.twitter.com/70yM1rVMMP

— ANI (@ANI) March 17, 2022
"The DRDO has completed the construction of a multi-story infrastructure for flight control system at ADE Bengaluru with hybrid technology consisting of conventional, pre-engineered and precast methodology in record 45 days," said an official.
The building, inaugurated by Defense Minister Rajnath Singh, was built using composite construction technology in the "shortest time frame" to provide the essential infrastructure for the AMCA project and related activities.
The project's foundation stone was laid on November 22, 2021, and the construction work began on February 1.
"It is a unique record of completing a permanent seven-story building with hybrid construction technology, that too in ready-to-move condition for the first time in the country," the official involved in the project claimed.
The facility has standard national building code air-conditioning, electrical, and fire protection systems. The design check and technical support were provided by teams from IIT Madras and IIT Roorkee, according to officials.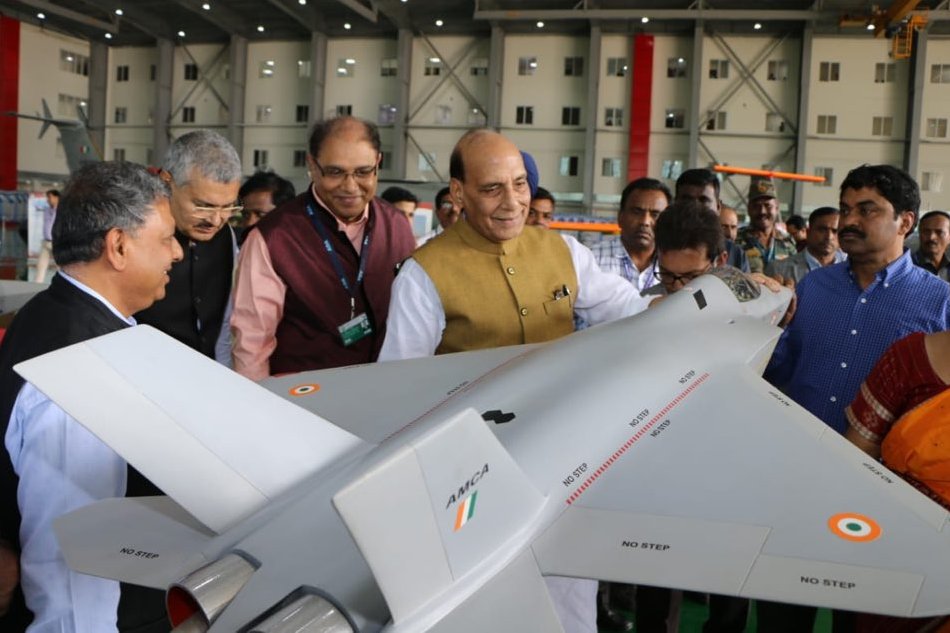 The AMCA project is aimed at producing a fifth-generation medium fighter jet with superior stealth qualities. The project's initial development cost is estimated to be over Rs 15,000 crore, according to the ADE.
AMCA Enters Production Phase
The Defense Ministry announced earlier this week that it had started the process of getting permission from the Cabinet Committee on Security for the AMCA's design and prototype development.
DRDO recently announced the figurative "metal cutting" for the first prototype of the AMCA, as previously reported by the EurAsian Times.
The prototype's configuration had been frozen; the preliminary service quality requirements (PSQR) had been established, and the preliminary design review had been completed, according to ADE Director-General Girish S. Deodhare. Later this year, the Critical Design Review (CDR) is due.
The AMCA is scheduled to make its first flight in 2024-25, with series production starting in 2030. ADE believes that after four years of flight testing, the timeframe can be cut to 2028-29.
The AMCA Program
The AMCA is envisioned as a twin-engine stealth aircraft with an internal weapons bay and diverter-less supersonic intake. It will be a 25-tonne aircraft with an internal payload of 1,500 kg and an exterior payload of 5,500 kg in addition to 6,500 kg of internal fuel.
The Indian Air Force is said to have committed 40 AMCA Mk-1 fighters and at least 100 Mk-2 derivatives, as well as some unmanned variants. The  AMCA would be stealthy and have 'super cruise' capabilities.
With AMCA, India will enter the exclusive club of countries with fifth-generation stealth warplanes. So far, the US (F-35 and F-22 Raptors), Russia (Su-57) and China (J-20) have built such fighters.
According to ADA chief Girish Deodhare, the AMCA will be available in stealth and non-stealth variants and will be produced in two stages: an AMCA MK1 with an existing GE414 afterburning turbofan engine that powers the LCA Tejas, and an AMCA Mk2 with a new, more powerful engine that will be developed in collaboration with a foreign player.
The AMCA program is a significant step forward for India, which is facing a deficit of combat aircraft in comparison to its required strength amid a two-front military threat from China and Pakistan.