The Australian F-35 fighter jet fleet has lately been in the limelight due to a debate involving concerns connected to its running cost, capability, and viability for the Royal Australian Air Force.
Now, a new update revealed that Canberra intends to spend a whopping AUD14.6 billion ($10.87 billion) to operate its Lockheed Martin F-35A Lightning II fleet till 2053.
On 6 April, Air Vice-Marshal Leon Phillips, head of the Aerospace Systems Division, told members of the Australian parliament's Foreign Affairs, Defense and Trade Legislation Committee that a range of variables might push costs up beyond 2032.
The most crucial point to highlight, according to AVM Phillips, is that there is no such thing as a final operational capability once the project acquisition is delivered, especially for modern capabilities. "There is a constant evolution of capabilities to deal with [operations]," he added.
From 2015 to June 30, 2021, the Australian Department of Defense (DoD) has spent AUD623 million on maintaining the fleet of 48 aircraft. The cost of budget allocation for 2021–22 was AUD314 million, according to AVM Phillips.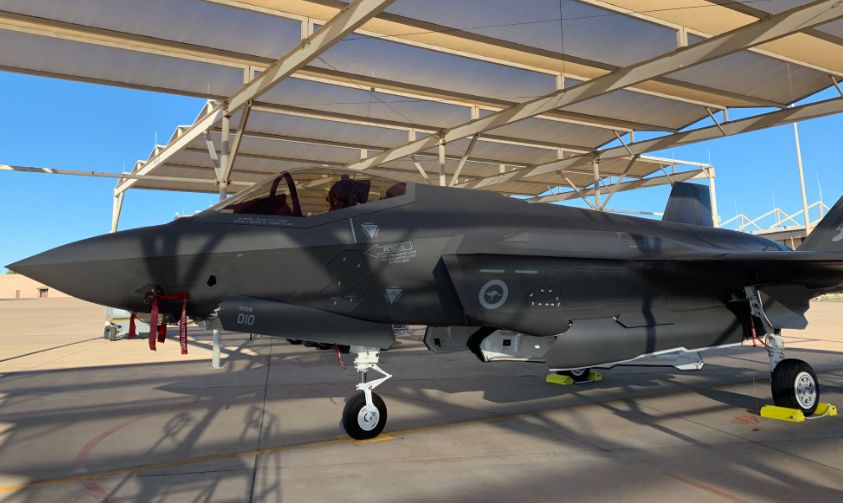 The F-35 fleet in Australia has already been the subject of numerous controversies due to cost and maintenance concerns.
In February 2022, government documents revealed that Australia's F-35A fighter will spend less time in the air than previously expected, igniting a national discussion over its capability and viability for the Royal Australian Air Force.
The estimated flight hours for 2021-22 have been reduced from 11,813 to 8,773, according to documents quoted by the Australian newspaper. The opposition said that the $16.6 billion fighter jet program was "plagued with issues" and sought an explanation from Defense Minister Peter Dutton in regards to the data.
Later, RAAF chief Air Marshal Mel Hupfeld refuted media speculations about the aircraft's capabilities, saying the new figures were based on the RAAF's maturing understanding of the F-35A capability requirements and the capability's buildup.
"I can confirm the JSF program has met all of its tasking commitments such as exercises, verification and validation activities, and training requirements," he added.
Concerns Regarding RAAF's F-35 Program
Australia joined the F-35 program as a Level 3 industrial partner in 2002. It planned to spend roughly $16 billion on four squadrons, or about 72 planes in all.
By late 2021, the RAAF had received 44 of its 72 F-35As, with the final front-line unit No. 75 Squadron in Tindal, Northern Territory, receiving its first aircraft in December. The RAAF intends to have all of its aircraft operational by the end of 2023.
However, defense experts believe that the Lockheed Martin F-35 Joint Strike Fighter supplied to the RAAF was a disaster. For example, Australia's two F-35 fighter jets, purchased for more than $280 million in 2013, are probably too old to be updated to the current configuration.  
In a similar line, the US Air Force is also concerned that its aged F-35s are now just expensive training planes. The majority of Australia's fleet will be modernized to be more similar to that of the United States, albeit this will require even more money.
Last year, the US Air Force's deputy chief of staff, Lt. Gen. S. Clinton Hinote, expressed grave concerns about the obsolete software, stating, "the block that is coming off the line right now is not a block that I feel good about going up against China and Russia."
China requested to attack Australia on a Sunday.

"Head of the US air force last year likened the RAAFs F-35 to a Ferrari that should be driven only on Sundays due to ­engine-wear problems with the multi-role fighters."

Fighters spend time in hangar https://t.co/H3qhtNeXKu

— Peter Cronau (@PeterCronau) February 15, 2022
He further stated that a war scenario centered on the potential of protecting Taiwan against Chinese air attack demonstrated that "Every [F-35] that rolls off the line today is a fighter that we wouldn't even bother putting into these scenarios."
According to Independent Australia, the aircraft was planned to be a low-cost, light-weight, high-performance stealth fighter. The plane has a limited range, poor air-to-air combat survivability, and high running expenses, with each plane costing $100 million (AU$140 million).
The F-35's purpose has been called into question. The fighter jet will require mid-air refueling if it has to go to Taiwan or near China to assist American jets in the event of an emergency, due to its combat range of only 1000 km.
The Sydney Morning Herald also stated the RAAF's main challenge in battling China would be getting there on time.
Another big concern with the Australian F-35 is its inability to carry the Long Range Anti-Ship Missile. However, the country recently announced the plans to speed up the procurement of the Joint Air-to-Surface Standoff Missile Extended Range (JASSM-ER), which has a range of up to 900Km. These missiles will be outfitted in the Australian F-35 in near future.