The Australian government has responded to appeals by the Ukrainian Ambassador to Australia for providing heavy artillery weapons to the Ukrainian Armed Forces as the war intensifies in Donbas.
"We need some heavy weaponry – we need jets, we need tanks, we need productive vehicles, we need heavy artillery, we need offensive weapons. We need some real stuff," said the Ukrainian Ambassador to Australia, Vasyl Myroshnychenko, during an event hosted by the Australian Strategic Policy Institute (ASPI) on April 26.
"We are there in the trenches for your people basically – because if we fall, the consequences we're going to see globally will be enormous," Myroshnychenko further said while emphasizing the importance of the defense of Ukraine for defending the values of freedom and democracy.
The appeal came on the backdrop of Russia intensifying its military offensive in Donbas which has raised the need for more tanks and mobile artillery for the Ukrainian armed forces to take on the Russian mechanized battalions.
So, Australia has agreed to send six M777 155mm lightweight towed howitzers and howitzer ammunition to Europe in response to the urgent plea by the Ukrainian Ambassador.
"This additional military assistance will further support Ukraine in its response to Russia's brutal, unrelenting and illegal invasion," a statement from Prime Minister Scott Morrison and Defence Minister Peter Dutton said on April 27.
M777 Lightweight Towed Howitzers
The M777 entered Australian service in 2010, after a 2008 foreign military sales procurement from the US. Over 30 of the M777s have been purchased by Australia since 2010 to re-equip the 1st, 4th, and the 8th/12th Regiments of the Royal Australian Artillery by replacing their 155 mm M198s and 105 mm L119 Light Guns.
The guns being transferred are reportedly taken from the 1st Regiment. They were seen being loaded onto a truck at Gallipoli Barracks in Brisbane.
Photographs released by the Department of Defense show the Ukrainian flag markings and Australian solidarity motifs added to the guns just like the Bushmaster vehicles that were being sent to Ukraine earlier this month.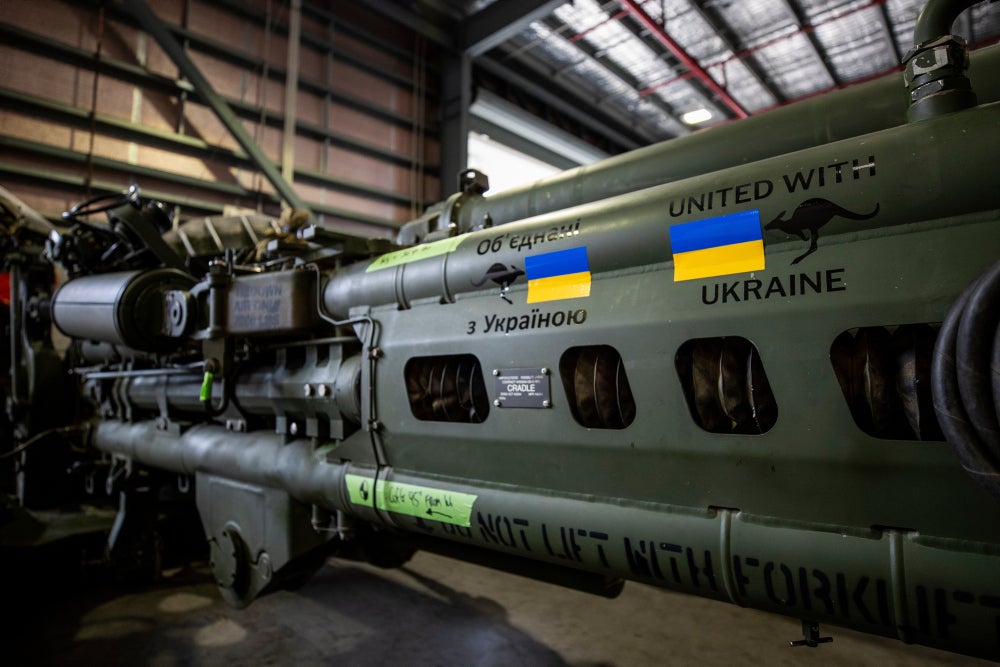 The M777 is an ultra-light or lightweight howitzer designed and manufactured by BAE Systems. It is the world's first 155mm howitzer weighing less than 10000 lbs (4218 kg), which is, a result of the innovative use of titanium and aluminum alloys.
The M777 was selected by the US Marine Corps and U.S. Army as their next-generation Medium Force weapon to replace the existing inventory of M198 155mm towed howitzers.
The M777 is said to be 41% lighter than the 7,154 kg (15,772 lb) M198 howitzer it replaces and it has become the benchmark for 155mm Lightweight Towed Artillery Systems. It is used by the ground forces of Australia, Canada, India, Saudi Arabia, Ukraine, and the United States.
The howitzer is equipped with a 39-caliber barrel and provides a maximum firing range of 24.7 km with standard rounds and 30 km with EFRB (Extended Range Full Bore) rounds. It can also fire the M982 Excalibur GPS-guided munition, which allows accurate fire at a range of up to 40 km.
The M777 can provide a sustained rate of fire of 2 rounds per minute and fire up to 5 rounds per minute under intense firing conditions.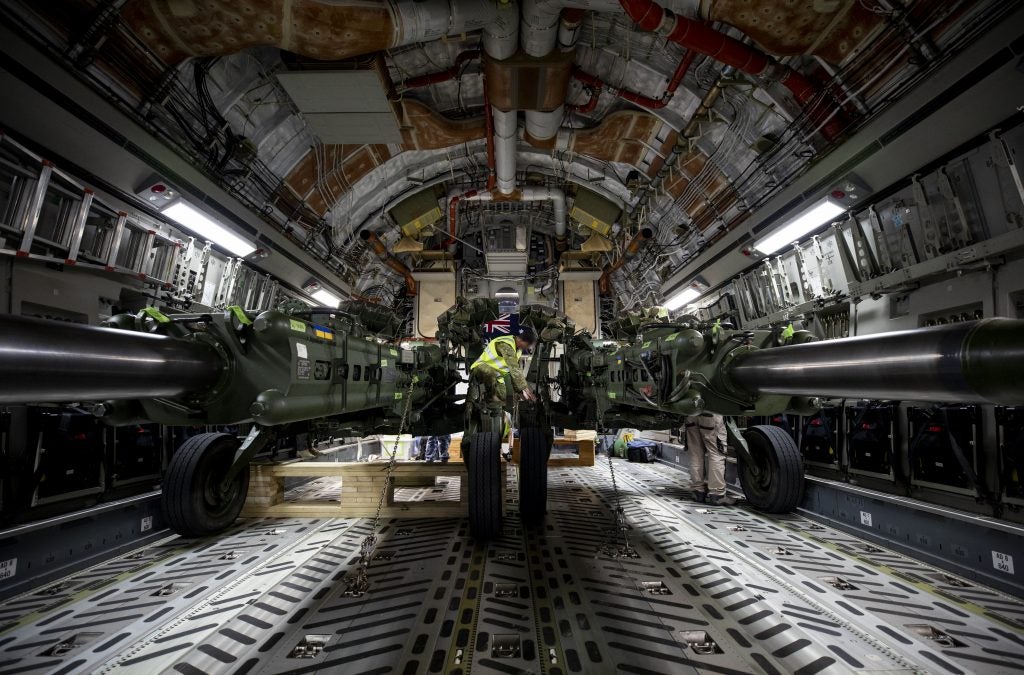 Its lightweight and smaller size allow the M777 to be transported by USMC MV-22 Osprey, CH-47 helicopter, or truck with ease, so that it can be frequently moved in and re-deployed more quickly than the M198 thereby maximizing its survivability.
The gun crew required is an operational minimum of 5, compared to a size of 9 required to operate the M198.
The howitzer can be towed by an air-braked 4×4 vehicle greater than 2.5 tons. The maximum towed road speed is 88km/h and the towed cross-country speed is 50km/h.
Australian Bushmasters & Anti-Armor Weapons 
In addition to the M777 howitzers, the Australian-built Bushmaster Protected Mobility Vehicles also continue to be airlifted to Ukraine. Australia has gifted 20 Bushmasters, including two ambulance variants, to Ukraine following a direct request from President Zelensky for military assistance, which he made in a speech to the Australian Parliament in late March.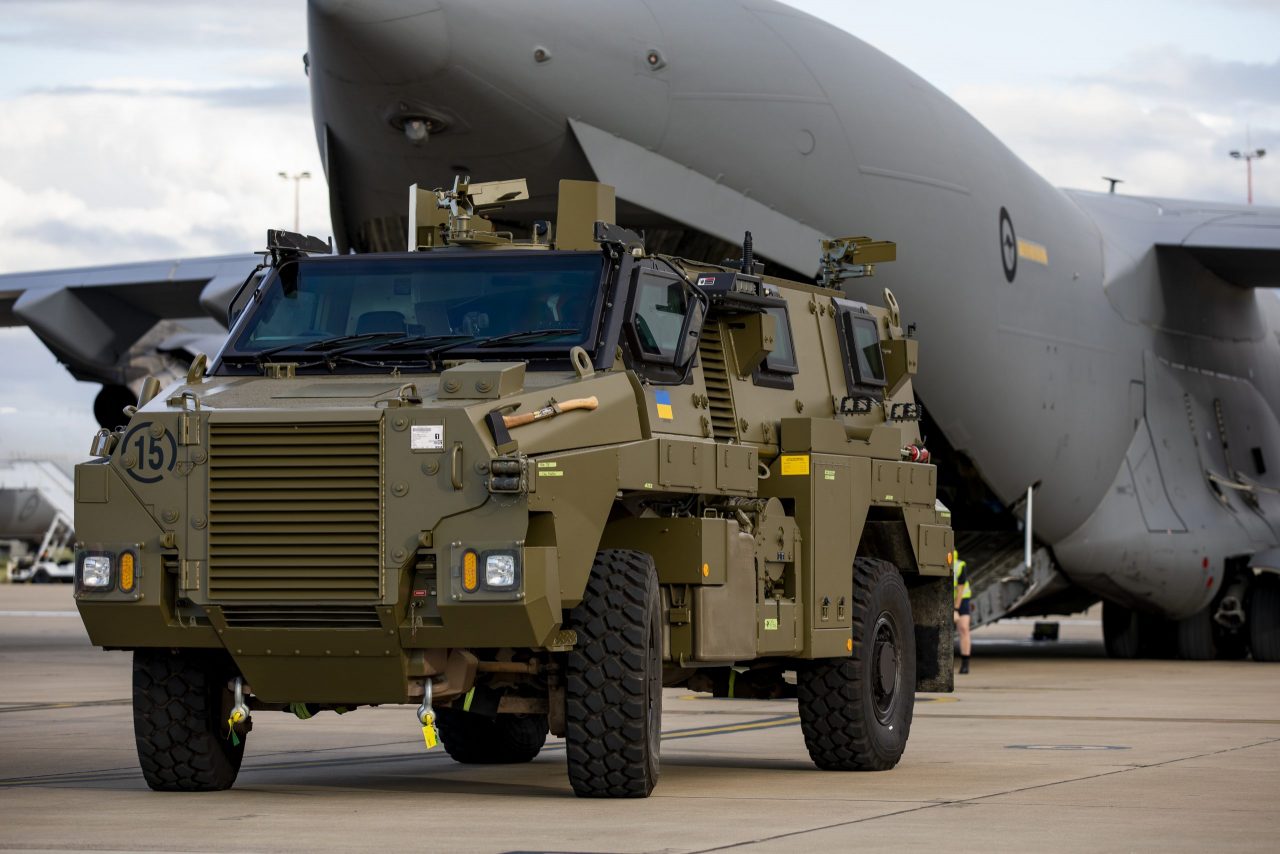 Australia has also pledged to provide Ukraine with additional military assistance in the form of anti-armor weaponry and ammunition.
Australian Prime Minister Scott Morrison said in a statement that "the Australian government will continue to identify opportunities for further military assistance where it can provide a required capability to the Ukraine Armed Forces expeditiously," and that the "Australian government reiterates our strongest support for Ukraine's sovereignty and territorial integrity and the people of Ukraine.
Australia's total contribution to Defensive Military Assistance to Ukraine has reached over $225 million and it is also providing $65 million in humanitarian assistance, with a focus on protecting women, children, the elderly, food, shelter, and emergency medical supplies.