Recent reports in Azerbaijani media claim that the first consignment of India's Pinaka Multi-Barrel Rocket Launcher System (MBRLS) has been delivered to Armenia via Iran. According to media reports, the shipment has really upset Azerbaijan, which is at odds with Armenia.
India's reported sale of the Pinaka MBRLS to Armenia under an export contract valued at US $250M has been a breakthrough in defense exports as India looks to become a key defense exporter.
Export Likely Of Pinaka Mk-1
The export contract was likely for the Pinaka Mk-1 MBRLS and not the Pinaka Mk-2 or Pinaka Mk-2 EPRS. The longer-range Pinaka-2 systems, with optional (INS/GPS) guided rockets, had cleared user trials, but their production has most likely not begun.
In contrast, the first Pinaka Mk-1 Indian Army regiment was raised in February 2000. Production of the Pinaka Mk-1 system is underway, and the Indian Army is fielding 10 Pinaka Mk-1 regiments.
Besides ongoing system production, the production capacity for Pinaka Mk-1 rockets is well established and exceeds 5,000 per annum. As a result, India can easily export the system without affecting its defense readiness.
Pinaka Mk-1 Capabilities
Pinaka Mk-1 is a free-flight artillery rocket area bombardment system with a range of 38 kilometers, quick reaction time, and a high rate of fire. A single Pinaka system fires a salvo of 12 rockets from a multi-barrel launcher in 44 seconds, while a battery can fire 72 rockets.
The 214mm bore Pinaka rocket has a payload of 100 kilograms and can be fitted with various warheads like anti-tank mines and blast-cum-pre-fragmented high explosives.
A battery of Pinaka consists of six launcher systems, six loader-cum-replenishment vehicles, three replenishment vehicles, and a command post vehicle with a fire control computer and meteorological radar.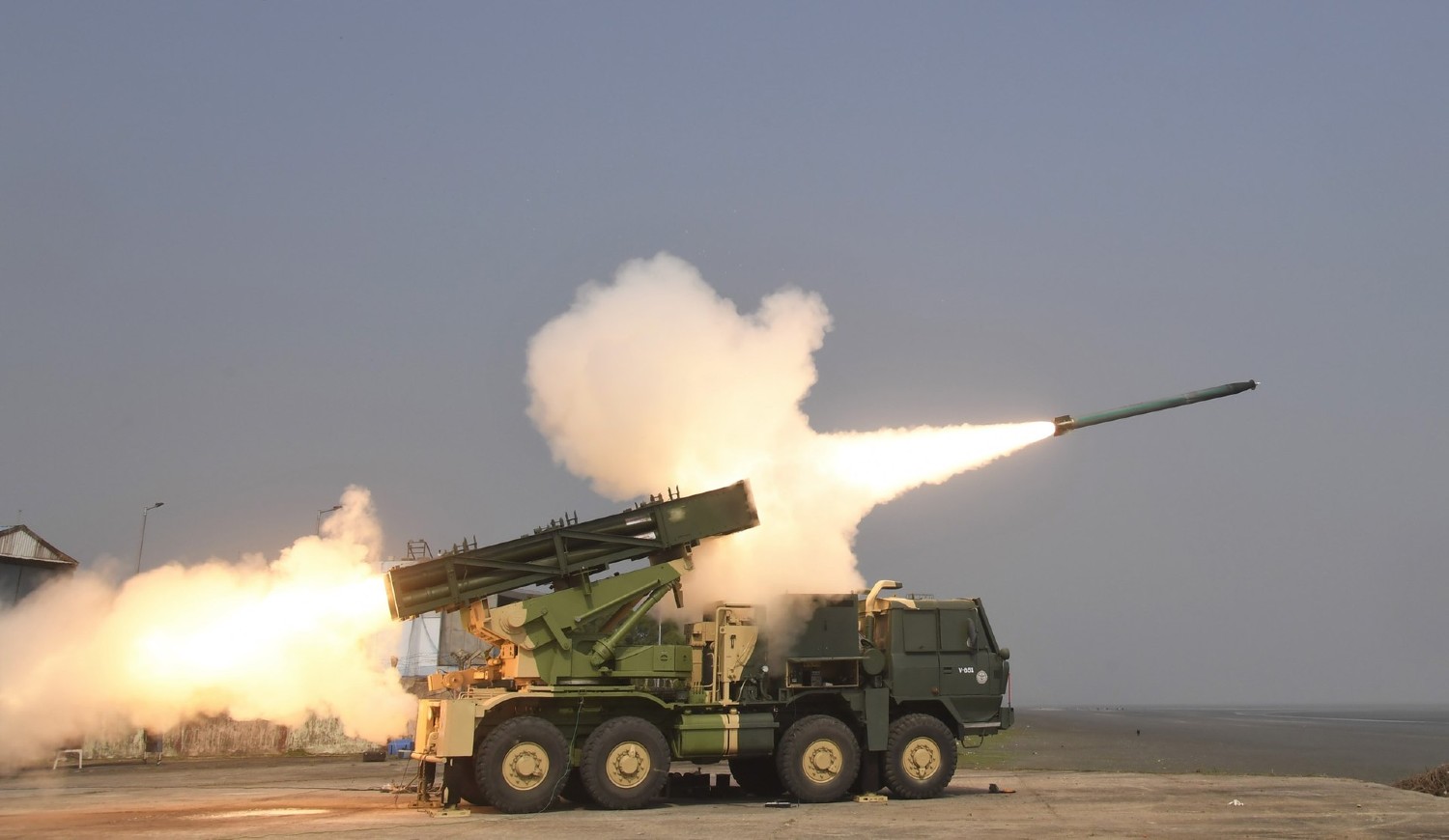 Over 7.2 tons of payload in the form of lethal warheads can be delivered up to a range of 38 kilometers and effectively neutralize a target area of 1000 meters by 800 meters. A Pinaka regiment comprises three batteries plus reserves.
Why Armenia Chose Pinaka MBRLS
Armenian defense forces are mostly equipped with Soviet-era defense systems. In 2015 Armenia bought some newer Russian systems. Because of its Special Military Operation underway in Ukraine, Russia is likely unable to meet additional Armenian weapon system requirements.
The DRDO developed the Pinaka system as a replacement for the Russian GRAD BM-21, which equips the Armenian armed forces. Another important reason for Armenia's choice was likely its adversary Azerbaijan's heavy use of drones, including suicide drones.
For an MBRLS to survive in a drone-saturated battlefield, it must have the ability to shoot and then disappear quickly. The Pinaka Mk-1 has precisely that ability.
It requires no separate survey to position and orient, making the launcher autonomous. The launcher features brushless servo motors/drives that facilitate quick laying with accuracy within one milli-radian, allowing the system to respond to fire requests quickly.
Shoot and Scoot capability enables the launcher to escape the counter-battery fire. Pinaka support vehicles have matching mobility and logistics commonalities.
Other reasons for the Armenian choice are likely to be low cost, ready availability, simplicity of operations, assured supply of spares, and availability of future upgrades.
It would be easy for the Armenian Army to absorb the Pinaka Mk-1 MBRLS based on its familiarity with the Grad system. Our established production capacity for the system and rockets guarantees an unrestricted supply of spares and ammunition.
India has already developed and tested an enhanced capability Pinaka Mk-2 system with range & accuracy at par with the US M270 & HIMARS.
Defense Export Breakthrough
The Pinaka MBRLS export contract is the first genuinely indigenous system with near-zero import content. In the past, major weapon systems exported by India, such as the Dhruv helicopter and Brahmos missile, have featured major foreign OEM assemblies. Export earnings were split between India & the OEMs.
The Pinaka MBRLS was developed in partnership with private sector Tata Electric and L&T, who developed the Launcher and Command Post Vehicle, OFB (Ordnance Factory Board), which developed the rocket, and OFB and Bharat Earth Movers Ltd (BEML), who together developed the Loader-cum-Replenishment Vehicle.
The Pinaka Mk-1 system was battle-tested during Kargil operations.
The Indian defense industry, including the public and private sectors, has made significant investments in establishing a production capacity for over 5,000 Pinaka rockets.
The export of the Pinaka Mk-1 to Armenia, where the MBRLS could be used extensively in its ongoing hostilities against Azerbaijan consuming spares and ammunition, will ensure that our production capacities don't languish and the jobs associated with the abilities remain secure.
If the Indian defense industry is to flourish, such export orders are essential. Production costs are dependent on the length of production order runs. The longer the runs, the greater the profits and incentives for private-sector investments.
Paradigm Shift in Indian Defense Export Policy
Exporting a major weapon system to a combatant during hostilities represents a significant paradigm shift in India's defense export policy. The export marks a sharp & bold departure in Indian foreign policy, which hitherto was averse to meddling in conflict zones.
The export heralds India's coming of age as a significant power in the emerging multi-polar world. Some leading defense hardware exporting countries like the US, Israel, and France have thrived on exports to conflict zones.
There is no reason for India to shy away from doing the same. India has to seize opportunities when they arise and establish itself as a reliable defense partner if it wants to grow in stature on the world stage.
Such a bold policy will encourage Indian private sector investments in the defense sector more than unending tweaks in our DPP (Defense Procurement Policy).
Senior DRDO officials have asserted in the recent past that Indian rocket and missile technology has matured to a level that can be considered world-class. Consequently, the MoD has banned future imports of missile systems.
The recent successful maiden tests of the VSHORADS (Very Short Range AD System) suggest that the DRDO has seized the initiative to develop missile systems with no global analogs.
DRDO's sustained efforts to master missile technology over many decades will yield even more promising results. The Pinaka MBRLS is likely just the first of many missile systems that India will export in the future.
Hopefully, the newfound boldness in our foreign policy will persist and facilitate India's emergence as a great power.
Vijainder K Thakur is a retired IAF Jaguar pilot. He is also an author, software architect, entrepreneur, and military analyst.
Article Republished Due To Readers' Interest
Mail EurAsian Times at: etdesk (at) eurasiantimes.com