South Korea has allocated funds to upgrade its major middle-tier surface-to-air missile (SAM) interceptors in the wake of the latest intercontinental ballistic missile (ICBM) missile tests by North Korea.
Seoul has approved a $591-million project to upgrade the Cheolmae II interceptors, also called KM-SAM, from 2023 through 2029, according to the Defense Acquisition Program Administration.
This came after Pyongyang test-fired a new missile, suspected to be an ICBM, last week. Reports suggest that this was North Korea's longest-range missile, involving a missile more powerful than Hwasong-15 that was tested in 2017.
The new missile could be the Hwasong-17, believed to be about 25m (82 feet) long, making it the world's biggest road-mobile ballistic missile system, according to Al Jazeera. The ICBM was unveiled in 2020 but had remained untested until now. This was also Pyongyang's first ICBM launch since 2017.
In response to this ICBM test, South Korea's military launched several warning missiles for the first time since 2017, according to a statement by the Joint Chiefs of Staff (JCS).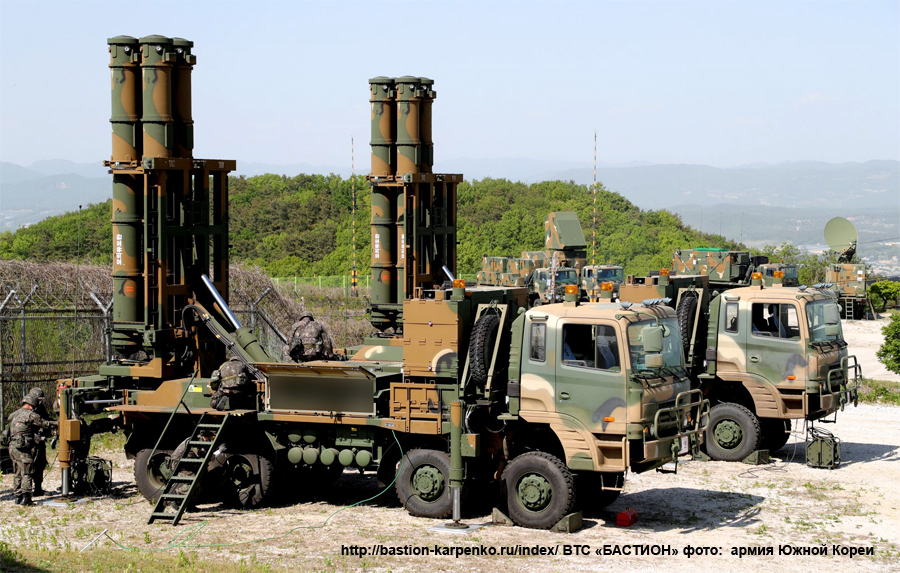 "Our military is monitoring the North Korean military's movements and has confirmed that we have the capability and posture to accurately strike the origin location of the missile launch and command and support facilities any time North Korea launches a missile," the JCS said.
Medium-Range Hit-To-Kill SAM
The Cheolmae-2 or Cheongung (Iron Hawk) is a medium-range hit-to-kill SAM that can intercept incoming missiles at an altitude of 20 kilometers.
It was developed in Russia by OKB Almaz with the assistance of Samsung Thales, LIG Nex1, and Doosan DST for the Agency for Defense Development (ADD), following which South Korea further carried out its localization and industrialization based on the technology transfer agreement with Russia.
The decision to develop Cheolmae-2 came following North Korea's successful test-launch of its Taepodong-I missile in 1998, which flew over Japan and landed in the Pacific. South Korean lawmakers demanded the beefing up of the nation's anti-missile attack capabilities when the National Assembly's defense committee was called into session in the aftermath of the North's missile test launch.
Following this, the Defense Ministry initiated a program to develop a middle-range surface-to-air missile, code-named, "M-SAM" that can intercept small targets like missiles.
The current upgrade project seeks to enable the missiles to intercept both aircraft and ballistic missiles at altitudes below 20 kilometers.
The committee has also approved a $564 million project to develop and manufacture ship-to-air guided missiles from next year through 2036 and a 230 billion scheme to develop long-range air-to-ground weapons for precision strikes by 2028.
Furthermore, the committee has endorsed a $ 580 million project to purchase foreign-made transport planes by 2026. The European aircraft maker Airbus' A400M, the Brazilian company Embraer's C390, and the US defense firm Lockheed Martin's C130J are expected to compete in this project.
The constant need of keeping its guard against North Korea has led the South Korean government to spend massively on its armed forces and armaments.
In addition to that, the rise of China and its antagonistic tendencies towards other countries in the region and uncertainties about the commitment of the US — a key security partner of South Korea — to its global alliances highlighted the need for self-sufficiency in matters of security to the South Korean government.
US Dependence
Initially, South Korea over-relied on the US to support its national defense but that changed after 1969 when President Richard Nixon announced the "Guam Doctrine", which stated that the US would no longer get involved in the conflict in Asia and appealed to its allies in Asia not to depend on the US and to maintain its security.
In the 1970s, under the Park Chung-hee administration, South Korea began to build up its defense industry which for some time remained limited to copying arms imported from the US but eventually reached the stage of producing capital-intensive weapons systems that are now of similar quality to those produced by America.
The defense industry is now looked upon as a growth engine for the South Korean economy that is generating a new market and increasing the number of jobs. Arms exports by South Korea were 210 percent higher in 2016–20 than in 2011–15, giving it a 2.7 percent share of global arms exports.
Of late, the South Korean defense companies that have long produced arms only for their military, are increasingly exporting weapon systems that are not only sophisticated but also cheap, thus attracting customers in emerging markets as well.
For example, South Korea has built one of the world's most advanced self-propelled 155-millimeter howitzers, the K9 Thunder which has been exported to some of the major military powers across the world such as Australia, Turkey, India, Egypt, Poland, Finland, Norway, and Estonia.
Also, Eurasian Times recently reported that the Hyundai Rotem K2 (Black Panther), considered to be one of the world's best main battle tanks (MBT) and also the most expensive, is competing with Germany's Leopard 2A7 to replace the Norwegian Army's aging fleet of Leopard 2A4 MBTs.
Besides, it has been reported that Egypt is in negotiations with South Korea to co-produce the K2 Black Panther battle tank.