OPED By Air Marshal Anil Chopra (retired)
The India-China showdown continues in Ladakh, and the recent incident in Tawang shows that China continues to be aggressive and sometimes belligerent.
Xi Jinping's further consolidation of hold over all instruments of Chinese power and increasing forays into Taiwanese and Japanese ADIZ indicate Communist Party's sudden desire to dominate the world.
China continues to spend large sums on the modernization of the armed forces. They realized early that one who controls aerospace controls the planet.
Airpower today is the dominant means of prosecuting war. It is inherently strategic, simultaneously provides conventional deterrence, and offers prompt multiple response options to the political leadership. Aerospace offers speed, range, accuracy, and lethality for achieving military effects. Airpower and the future of all warfare are intertwined.
Air Campaigns can be executed simultaneously against different spread-out target systems. It can provide both kinetic and non-kinetic options with pinpoint accuracy. Airpower has a direct influence on the outcomes and actions of the surface forces.
Air superiority will continue to be a prerequisite for all operations on the surface to succeed. Even armies and navies want to spend more on air assets.
IAF's Current Combat Assets
Indian Armed forces are expected to fight on both fronts simultaneously a war at 30 days (intense) and 60 days (normal) rates. The Indian Air Force (IAF) which has an authorized strength of 42 fighter squadrons, is today down to 30.
These include two Rafale, 12 Su 30MKI, 3 MiG 21 Bison, three MiG 29 and Mirage 2000, 5 Jaguar, and two LCA.
IAF's Rafale, armed with Meteor and MICA beyond visual range (BVR) air-to-air missiles, and a modern EW suite, are much better than China's J-10, J-11, Su-27, and Su-35 fighter jets.
The Sukhoi Su-30MKI serves the IAF as the primary air superiority fighter capable of air-to-ground strike missions. Mirages and MiG 29s have been upgraded. The LCA's have now become operationally viable assets.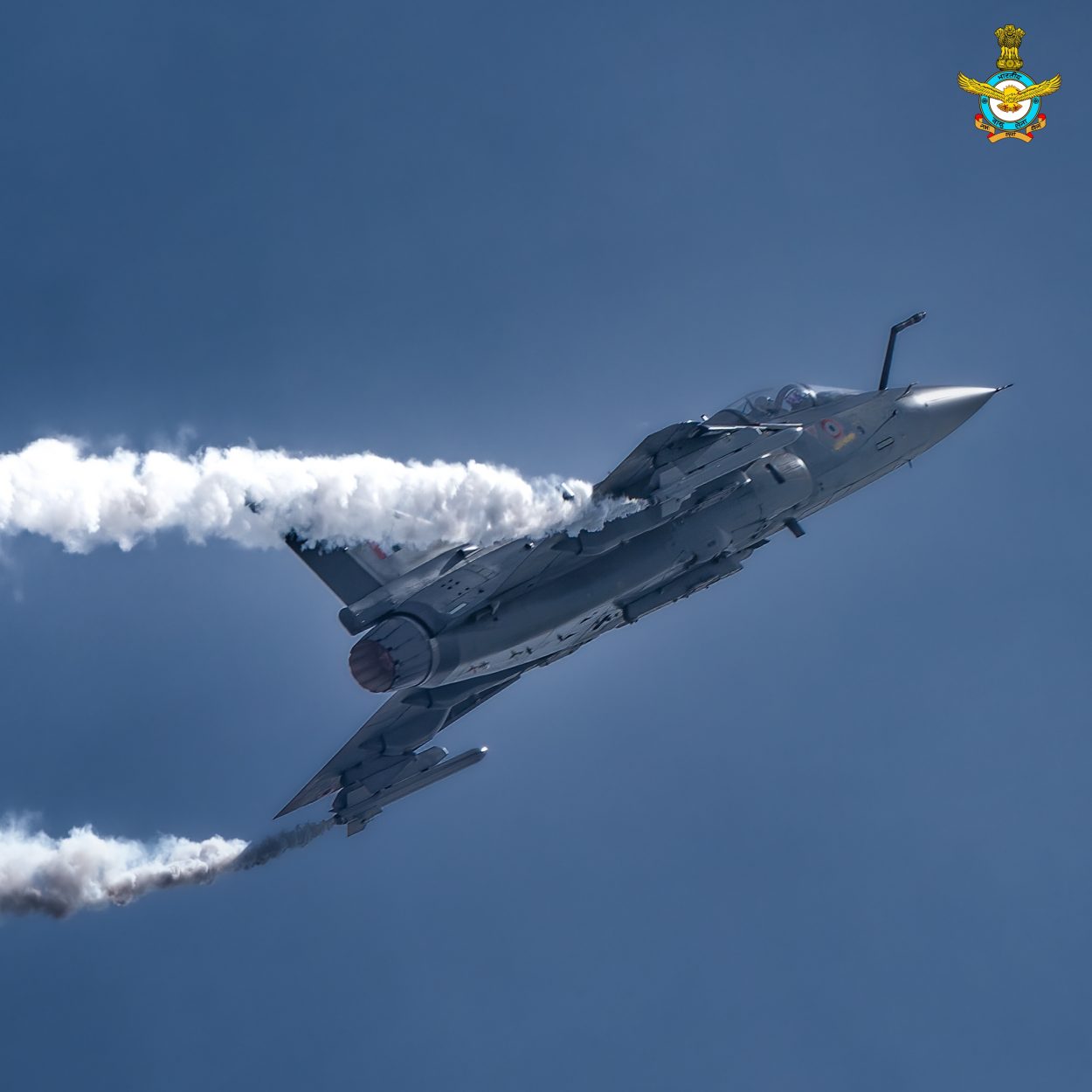 With 11 C-17 and C-130 each, 17 IL-76, and over 100 upgraded An-32, IAF has significant cargo and troop lift capability. Similarly, having inducted 15 Boeing Chinook heavy-lift and 22 Apache AH-64E attack helicopters and already a substantial fleet of 240 Mi-17 series medium-lift helicopters, nearly 100 ALH variants, and smaller Chetak/Cheetah fleets, IAF is in a good position for rotary wing assets.
IAF has only three large Airborne Early Warning and Control (AEW&C) aircraft and two indigenous DRDO-developed AEW&C aircraft. Similarly, IAF has only six IL-78 Flight Refuelling Aircraft (FRA). Both these fleets are highly inadequate for a continental country like India, which also covers the Indian Ocean Region.
India has a well-covered and integrated air defense radar cover. IAF continues to operate some legacy surface-to-air missile systems like the SAM-3 Pechora and SAM-8 OSA-AK. The AD coverage can be considered significant with the induction of many indigenous Akash AD systems and the already inducting five S-400 systems.
More systems will need to be inducted to cover the sizeable Chinese border. With the induction of the MICA, Meteor, Astra, SCALP, BrahMos, and Hammer, among others, IAF has a significant aerial weapons inventory. Numbers will have to go up.
Rapidly Growing PLAAF
China's People's Liberation Army Air Force (PLAAF) has a more extensive and growing fighter fleet and advanced air defense systems. Yes, they must contend with the much more powerful U.S. Air Force.
PLAAF currently has nearly 1,700 fighter/bomber aircraft, of which 800 are fourth-generation-plus aircraft, including over 150 fifth-generation J-20s.
Their second fifth-generation aircraft, FC-31/J-31, has got fresh funding. PLAAF has nearly 170 H-6 long-range strategic bombers with some variants that can carry up to six cruise missiles in a 1500-kilometer range.
The H-20 Stealth bomber is on schedule and may get launched by 2025. PLAAF also has dedicated EW aircraft. The Y-20 large transport aircraft (66 tons) is being inducted in large numbers.
Their other strategic assets, such as indigenous AEW&C aircraft and Flight Refueller (FRA), are growing, though the numbers are still small for their size. China has already tested a hypersonic weapon, which puts it much ahead.
China also has an edge with a huge surface-to-surface missile inventory. China's biggest strength is its indigenous aircraft industry which produces all types of aircraft and advanced helicopters.
China has vast Unmanned Combat Aerial Vehicles (UCAV) and a small drone fleet of indigenous designs. China also has significant Maritime air power, with PLA Navy (PLAN) having two operational aircraft carriers and nearly 600 aircraft.
Two more carriers are under construction, and two further, larger ones are on drawing boards. It can be seen that China has significant air power.
Pakistan Air Force (PAF)
PAF has 20 squadrons with around 400 fighter aircraft. Indications are that the numbers will go up to 24-25 squadrons. Older fleets are being replaced. JF-17 Block III and J 10 C are under induction.
The U.S. has cleared the F-16 spares package. In the long term, PAF could have over 250 JF-17s, 75 F-16s, and around 50 J-10 C (two squadrons). PAF is reportedly also seeking the J-20, though that seems premature.
PAF has a mid-sized transport aircraft and helicopter fleets. But they have acquired a significant number of Chinese UAVs and will soon set up production of Wing Loong UCAVs in Pakistan.
The PAF is primarily air defense orientated. While PAF does not pose any significant threat to India, it has been exercising closely with PLAAF and has the advantage of equipment interoperability. It could also allow the PLAAF to use some of its airfields. IAF has to thus factor in a two-front confrontation.
Targeted End State IAF
IAF's remaining MiG-21 Bison squadrons will phase out by 2025. The remaining fighter fleets would continue till 2030. By then, additions would be just four squadrons of LCA Mk 1A. At best, one squadron of LCA Mk 2 may induct.
If a decision is taken in time, 1-2 squadrons of the newly imported fighters may induct. IAF could thus still be hanging around 33-34 squadrons. Not an excellent state of being in.
I assess that the IAF could reach 42 squadrons by 2038 only if the nation takes a resolution and all actions go by plan. The end state could be 14 squadrons of Su-30 MKI, two each of Mirage 2000 and MiG 29, 12 squadrons of LCA variants, two of Rafale, six of the new fighter, and four of Advanced Medium Combat Aircraft (AMCA). This would make it 42.
Effectively IAF would have to stretch the Mirage and MiG 29 fleets. These figures are highly achievable as long as timely funds are allotted and there are no serious development delays in AMCA.
IAF must also target ten large and ten smaller AEW&Cs, and at least 12 FRA aircraft. DRDO is working on indigenous makes of these types based on Ex-India Airbus aircraft. It will take nearly 6-8 years to induct them. Until then, we must accelerate the two AEW&C under acquisition, and also, it would be a good idea to take a few FRA on lease.
IAF must have a significant fleet of UCAV systems, including the indigenously developed DRDO's "Ghatak." IAF needs a substantial number of drones and drone swarms. IAF should also have a large inventory of aerial missiles with longer ranges, including the later variants of BrahMos and Astra missiles.
China-Centric Asset Positioning And Infrastructure
India's military assets and infrastructure were Pakistan border-centric for a long time. This is fast changing for both infrastructure build-up and assets position. While border roads and connectivity are being improved, IAF has upgraded its Advanced Landing Grounds (ALG) near the China border. IAF airfields are getting hardened aircraft and equipment shelters. The process needs further acceleration.
IAF now has a significant number of Su-30 MKI squadrons facing China. Also, new acquisitions like Rafale, C-130 J, Chinook, and Apache helicopters have all been located in the eastern sector. The same is also applicable to air defense systems and weapons positioning.
Indigenous Aircraft Production Eco-System
The LCA Tejas is a success. The fighter aircraft production eco-system is now in place. The LCA production rate is still very low. For IAF to get back numbers, HAL and a private player must produce 18 aircraft a year. The LCA Mk1A and Mk2 development must be hastened. A task force must drive the AMCA.
The helicopter production eco-system is also now entirely in place. A new helicopter factory is set up at Tumkur. Inductions in the armed forces are on pace. The 70 HTT-40 basic trainer aircraft have been ordered. The long-delayed Intermediate Jet Trainer (IJT) trainer needs to be pushed.
The Saras small transport (19 seats) is still struggling, and the midsized, 80-90 seat Indian Regional Jet (IRJ) has still to take off. Local production of the C 295 W should boost indigenous transport aircraft production, but the timelines are nearly 8-10 years.
India's efforts on long and medium-range SAMs and air-to-air missiles must continue. The Uttam AESA has to succeed and increase performance for LCA Mk II. Airborne electronic warfare, airborne processors, and mission avionics need more work.
Meanwhile, India continues to struggle with its aero-engine program. We need to convert pure research into products that can be physically inducted into the armed forces.
Synergy At National Level
India must announce its National Security Strategy (NSS) from where it will flow the political direction to the armed forces. Due to the multi-dimensional nature of conflict, increasing levels of synergy amongst the armed forces and civil agencies is operationally critical. For the surface forces to succeed, IAF has to dominate the skies with at least local superiority in time and space.
For acquiring newer technologies, special national-level task forces would have to be set up in areas such as aero-engines, stealth, artificial intelligence (AI), advanced robotics, drones and swarming, combat air teaming, directed energy weapons, cyber, electronic warfare, quantum radars, sixth generation technologies, and hypersonic weapons. Academia and the private sector would have to be involved.
Atmanirbharta, The Only Answer
India has a great industrial base and significant defense equipment demand to allow an advantage of scale. If India can succeed in its missile, space, and nuclear programs, it can do the same in defense production.
The Make-in-India, Atmanirbharta, in defense, is being aggressively pushed at the highest levels. The thrust is to promote 'Made-by-India' as a first choice. 'Make-in-India' is being driven as an interim solution. Big private industrial houses like Tata, L&T, Mahindra, Adani, Bharat Forge, and many others have seriously come into defense manufacturing.
India's target is to initially reduce defense imports from 70 percent to 40 percent. A positive indigenization list is fairly exhaustive and should help. The government formulated the 'Defense Production and Export Promotion Policy 2020' to provide impetus to self-reliance in defense manufacturing.
The target of a turnover of Rs. 1 lakh 75 thousand crores (US$ 25 billion), including export of Rs. 35 thousand crores (US$ 5 billion) in aerospace and defense goods and services by 2025, is ambitious but achievable.
There is also perhaps a case for increased privatization of DPSUs. The joint-venture route for radars and missiles has worked reasonably well with Israeli and Russian firms. India has had great success in ship-building, which needs to be replicated in aerospace.
Tata Aerospace and Defence have been making aero-structures for the Boeing AH-64 Apache and CH-47 Chinook, Sikorsky S-92 helicopters, and Lockheed C-130Js.
GE has a huge India presence. Tata group works with GE to manufacture India's CFM International LEAP engine components. Lockheed Martin selected TASL to produce F-16 wings in India.
EADS unit Cassidian plans to make India a hub for a large number of defense products that are locally manufactured and also offer technological value. A large MRO market can also create an R&D base for engineering services. Adani-Elbit JV will make Hermes 900 UAVs in India.
Bharat Forge is a major player in the artillery and specialized vehicles segment. Dynamatic Technologies makes assemblies of vertical fins for Sukhoi 30 MKI fighters and front fuselage for LCA. VEM Technologies manufactures center fuselage for LCA Tejas.
Several small companies – such as Avasarala Technologies, DefSys, Ravilla, and Taneja Aerospace – have recently acquired advanced technological capabilities.
Indian companies have the global opportunity not only due to cheaper skilled labor but have also developed the ability to manufacture accurately to specifications, particularly in aerospace, metalworking, and electronics.
An estimated 24,000 MSMEs are currently involved in the defense supply chain, and the contribution of private players in the defense sector has steadily grown over the years, with more than 500 licenses issued to private companies.
Imperatives For IAF  
Some uninformed cynics have suggested that since Rafale and Su-30 MKI can achieve much more significant effects than the older MiG 21s, why should IAF continue to seek 42 squadrons?
The argument is flawed. While IAF has had a study growth in capability, the adversaries, especially China, have been leaping ahead with fifth-generation platforms. They are not cutting down numbers. The type of aircraft and weapon platforms must be comparable to the adversary.
IAF must get back to the authorized force levels of 42 squadrons. While indigenization must be pushed, the interim number gap must be filled with imported make-in-India fighters.
IAF also urgently needs additional AEW&C and FRA. The future being unmanned, IAF needs to invest more in combat UAVs, including the cost-effective kamikaze drones, as seen in the Ukraine conflict.
India must also defend itself against a possible sizeable Chinese surface-to-surface missile (SSM) attack. We need more air defense SAM systems of the S-400 and Iron Dome class and the many indigenous air defense systems under development.
It is essential to have a larger ammunition and missile stocking. SSMs and Cruise missiles are going to be necessary. Network-centric warfare means the need for better cyber and electronic warfare capability, securing own networks, and denying the same to the adversary. Much more needs to be done on this score.
Way Ahead
The government has acknowledged India's threat from two fronts. Yet it is also clear that a full-scale war between neighbors is unlikely. China will continue to create border situations to test India's resolve to defend itself. But deterrence is possible only through strength.
The gap with China is continuing to increase. The serious backlog of IAF's modernization needs to be addressed without delay. The obsolescence sets in much faster for aerial systems. It could also mean an increase in defense allocations.
IAF is well trained and operationally well exposed. IAF has a clear advantage in more and better-located and equipped airfields than China.
IAF can match the PLAAF, but IAF will be much better placed once the numbers increase. Time act is now.
Air Marshal Anil Chopra (retired) is the Director-General, Centre for Air Power Studies (CAPS), New Delhi.
Views expressed here are of the author's