Taiwan, which is witnessing growing Chinese aggression, is on a weapons procurement spree to strengthen its defense. The self-governing island is equipping itself with a range of powerful missiles, armed drones, and the latest fighter jets to deter the PLA. 
---
Taiwan's armed forces are expected to receive air-to-air missiles for six of their Kang Ding class frigates along with four MQ-9B Reapers besides a myriad of missiles for their F-16V fleet.
However, some analysts say this proposal is not realistically aligned with Taiwan's "porcupine" strategy against a numerically superior Chinese military.
Beijing has followed a 'One-China Policy' claiming sovereignty over Taiwan ever since the nationalist government fled to the island in 1949.
In his speech at the centenary celebrations of the Communist Party of China (CPC), President Xi Jinping mentioned that resolving the Taiwan question and realizing China's complete reunification is a "historic mission and an unshakable commitment of the Communist Party of China."
Chinese Incursions Into Taiwan
China's People's Liberation Army Air Force (PLAAF) has been making repeated incursions near Taiwanese territory. The largest aerial incursion was reported on October 4 when China sent 52 aircraft, including 12 nuclear-capable bombers, to Taiwan's air defense identification zone (ADIZ).
The 149 sorties in the first four days of October marks a 27% increase from the number of flights logged throughout last month.
In a tweet, Taiwan's Defense Ministry said 52 Chinese aircraft were spotted violating ADIZ norms on October 4. They included 34 J-16s, 2 Su-30s, 2 YS-8 anti-submarine warfare planes, 2 KJ-500 AEW&Cs, and 12 H-6 bombers. 
In June this year, the Taiwanese government said that 28 Chinese PLA Air Force aircraft entered their ADIZ. This incursion also included fighters and nuclear-capable bombers. On 12 April, Beijing sent 25 warplanes into Taiwan's ADIZ.
Analysts had said that the aim was to build up more pressure on the island while also simultaneously sending a message to Washington, which has been throwing its weight behind Taipei.
52 PLA aircraft (J-16*34, SU-30*2 Y-8 ASW*2, KJ-500 AEW&C*2 and H-6*12) entered #Taiwan's southwest ADIZ on October 4, 2021. Please check our official website for more information: https://t.co/2mC6UszTMB pic.twitter.com/WOtdFvJx8o

— 國防部 Ministry of National Defense, R.O.C. ?? (@MoNDefense) October 4, 2021
What Stops China From Invading Taiwan?
While the military capability to invade the island nation on hypothetical grounds can be debated, there are numerous deterrent factors.
Militarily speaking, amphibious warfare is considered one of the most operationally complex to pull off. China's ability to launch an amphibious assault is still called into question.
Taiwan's entire military machine has been designed to deter exactly such a nightmare scenario. Secondly, Taiwan's military alliances mean that an attack on it will incur the wrath of the US military and its allies. This serves as another big deterrent.
A successful Chinese invasion would be short-lived as it risks erupting into a full-blown regional confrontation against the US and Japan, with the latter also vouching for Taiwan's security.
Even if China were to succeed in annexing Taiwan without the involvement of other regional powers, the sheer economic consequences for China would be dire. Beijing significantly relies on export profits, which account for 35% of its entire GDP.
China extensively relies on exports from the US, South Korea, Australia, and Japan; all countries have been supporting Taiwan. Furthermore, China relies on over $100 billion of food imports annually. War could jeopardize this arrangement.
An instance from recent geopolitical history is a case in point. Russia's annexation of Crimea resulted in debilitating economic sanctions on Moscow. The Russian Ruble which was as high as three cents in 2014 crashed to just over a cent within a year since its military action.
Exports fell by 30% and invariably inflation rates skyrocketed. A Chinese annexation of Taiwan could have economic consequences harsher than the ones faced by Russia. Many powerful nations could simply sanction China which can puncture its economic progression.
Taiwan's 'Porcupine' Strategy
Despite Taiwan having a fairly powerful military, which has extensively war-gamed and trained for an impending amphibious Chinese military assault, the resource-filled island nation on its own remains largely at Beijing's mercy.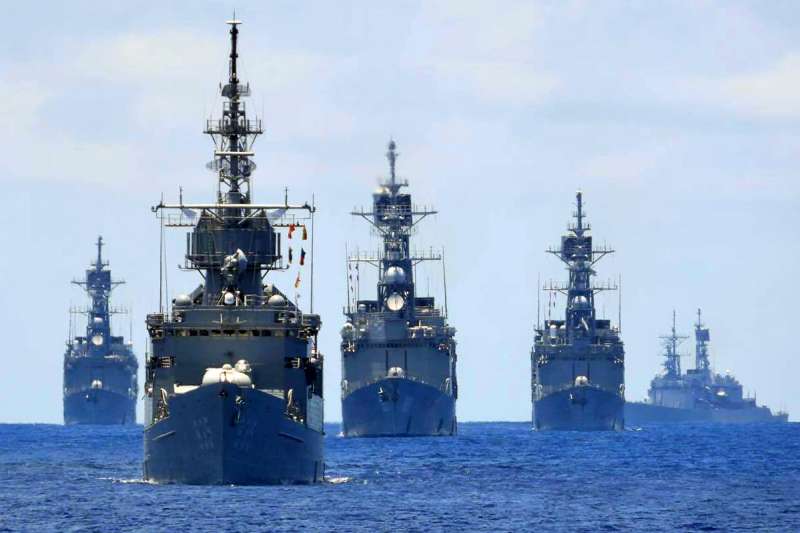 Their 'porcupine strategy' seems fairly straightforward: rain an overwhelming missile fire on approaching naval assets to sink as many as possible. However, whether this alone is a sound enough national defense strategy is anybody's guess.
However, the island nation knows its limitations, as a result, its strategic military alliance with Washington and other regional and western powers helps tilt the balance of power.
It is pertinent to note that in 2020 alone, Taiwan received over military equipment worth five billion dollars. These included everything ranging from, land-attack cruise missiles, anti-ship missiles, rocket artillery, Unmanned Aerial Vehicles (UAV) to state-of-the-art communications systems. It is also worth noting that a significant proportion of these arms and equipment are American-made.
The recap of Taiwan's missile live fire drills in 2020???
?In sequence: TC-2, MBDA MICA, HF-3, AGM-84 Harpoon, SM-1 MR, HF-2, TK-3, TK-2, PAC-2, FIM-92 Stinger, MK-82, AGM-114 Hellfire, RT-2000 Rocket, HF-3, AGM-84 Harpoon, AIM-9 Sidewinder.? pic.twitter.com/SSwxX9cZ0J

— Taiwan Military (@TaiwanMilitary) December 25, 2020
A report published on July 31, 2021, revealed that Taiwan would receive more than 100 M1 A1 Abrams Main Battle Tanks. The island nation even operates numerous US Patriot air defense batteries, including the PAC-3 Interceptors which have been specially researched and designed to shoot down ballistic missiles.
New Procurements
Missiles of varying ranges, the sensors which guide them, and their launch vehicles serve as the metaphorical spike on the porcupine's back. These are likely to be deployed in the event of an annexation attempt by China.
Day 3 of 37th #HanKuang Exercise!#ROCAF aircraft successfully landed and took off on #Jiadong highway! #IDF, #F16V, #Mirage2000, and #E2K from different bases refueled and rearmed at dawn on the makeshift airstrip! #WeWorkasOne to #ProtectOurCountry. pic.twitter.com/wQgTPQXJlu

— 國防部 Ministry of National Defense, R.O.C. ?? (@MoNDefense) September 15, 2021
Taiwan's proposed procurements may be assessed through the lens of functionality, cost, and operational requirement. For instance, the potential purchase of four General Atomics MQ-9 Reaper Unmanned Combat Aerial Vehicles (UCAVs) has been considered an operationally feasible move by procurement analysts.
There are indications in the 2022 budget that Taiwan might procure armed Sea Guardian drones.
Some experts are of the view that Taiwan needs drones in order to seek targets for the 400 Harpoon anti-ship missiles made by Boeing aerospace and 100 truck-mounted launchers that the navy is set to procure at an estimated $2.4 billion.
This also includes Harpoon missiles being fitted to the 200 new and upgraded F-16 Vs that Taiwan is ordering from Lockheed Martin in a whopping $8 billion deal.
An allocation of $360 million for additional arms procurements has also been made. Taiwan already has 800 indigenously built missiles. This stockpile would go up to 1,200 with the addition of the Harpoon missiles.
Taiwanese officials say that 1,200 missiles are the bare minimum that they will need to sink half of a Chinese invasion fleet. The People's Liberation Army Navy (PLAN) operates 170 corvettes, frigates, destroyers, and cruisers. Taiwan, on the other hand, has only 28 such vessels.
Furthermore, the island's ships are significantly outdated in comparison to the mainland, which is undergoing a major naval modernization.
The new budget proposal intends to replace it with the indigenous TC-2N missiles. This munition boasts a 20-mile range. However, the TC-2N will not be able to salvage the Taiwanese fleet in the event of hostilities. Yet, there is a chance that it will be able to stall an eventual defeat.
Aritra Banerjee is a defense journalist who has worked in both online and print media. He has laid an emphasis on issues related to military human resources, tactical psychology, military-media relations, professional military education, and combat fitness. He can be reached on email: aritrareporter@gmail.com.