Two months after EurAsian Times reported a Russian Sukhoi Su-34 ground attack/bomber aircraft having civilian US-made satellite navigation receivers taped to their dashboards, another video has surfaced showing a similar satellite navigation receiver that relies on US' Global Positioning System's (GPS) services attached inside the cockpit of a Su-24 jet.
Australia 'Punctures' US-UK Nuclear Submarine Proposal Under AUKUS; Says Hi-Tech Arms Better Than Nuke Subs
Experts believe this is due to massive unreliability with Russia's GLONASS satellite navigation systems, forcing them to rely on US-origin hardware.
A Russian language website, identified it as a 'fishing' GPS 152 receiver, implying its widespread use by fishing vessels.
"The Garmin GPS 152 is by no means designed to capture accurate movement at high speeds and altitudes, not to mention the additional risks created by the use of electronic warfare, which may well transmit fake data to the device, and the ability to detect the source of the signal, about what the crew of a frontline bomber cannot even guess," said a direct Google translation of the news report.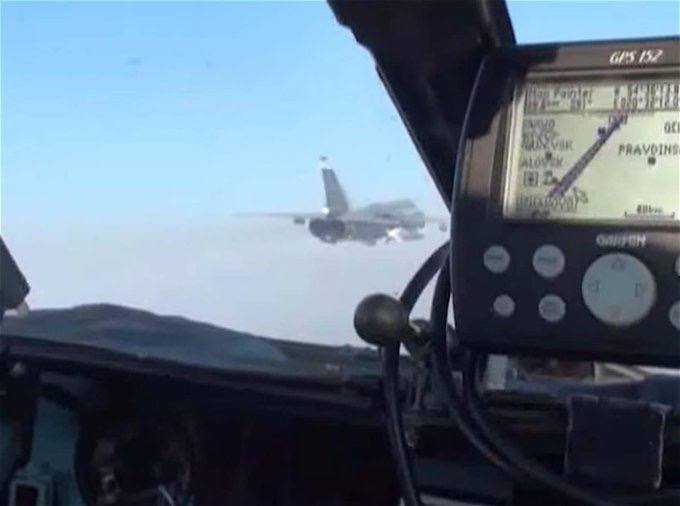 IAF fighter pilot Squadron Leader Vijainder K Thakur said the report appears "credible." "The Su-24 M2 is equipped with an inertial navigation system (INS) that computes the aircraft's position by measuring acceleration in each of the three dimensions.
INS is prone to drift and needs to be periodically fixed either manually, by flying over a recognizable point on the ground, or through GPS/Glonass. Using a commercial GPS to update the INS manually is a smart and low-cost solution," he said.
Thakur also recounted Indian Air Force (IAF) having used commercially available GPS systems during Kargil operations to pinpoint their position over the ground accurately.
"The device being used on the Su-24 is, as you would expect, more advanced than the simple GPS coordinates readout device used by IAF pilots," added Thakur.
The Su-24 (NATO codename 'Fencer') is a Soviet-era frontline ground attack-bomber aircraft that entered service in 1983. The twin-engine swing-wing aircraft is a product of the Sukhoi Design Bureau and manufactured at the Novosibirsk aircraft factory.
Ukraine 'Tears Down' Israel's Iron Dome Systems; Says They Are Incapable Against Russian Missiles
It has a maximum speed of 1,550km/h and a range of over 3,000 kilometers. The service ceiling is 11,000 meters, and the top rate of climb is 9,000 meters a minute.
Last year, a Russian Nationalist Politician and Soviet Air Force veteran, Viktor Alksnis, drew attention to the images of the Su-34's cockpit during combat operations in Syria, writing on Facebook that military pilots were using commercial GPS receivers during their combat operations.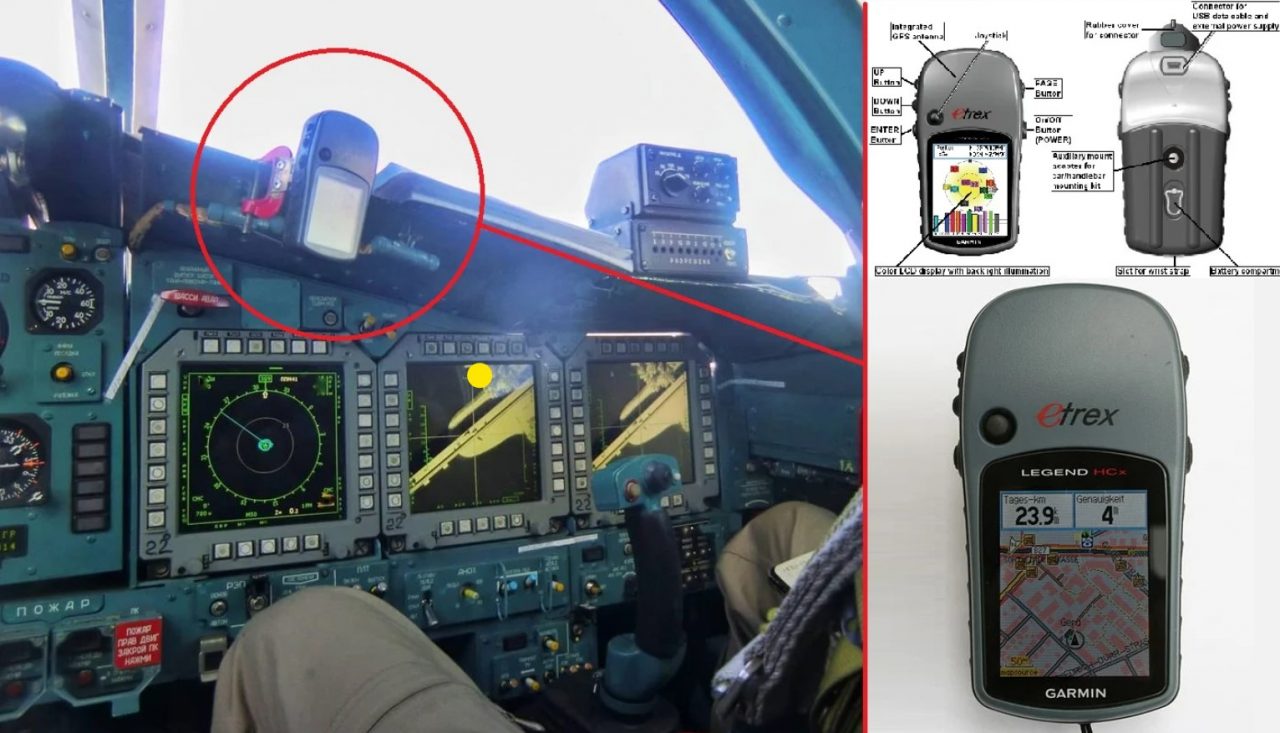 "Something about this photo made me nervous. I took a closer look and saw a device that cannot be attributed to aircraft equipment in the upper part of the photo. Moreover, it is attached to the dashboard with a red clamp. So, after all, this is an ordinary tourist satellite navigator sold in any electronics store," said Alksnis.
The images were allegedly taken in 2016, a few seconds before the KAB-500KR strike on the bridge across the Euphrates river in Syrian Raqqa.
"This is a popular travel navigator Garmin eTrex Venture HC worth about 10,000 rubles," Alksnis added. Experts later confirmed that the photos show a US-manufactured GPS receiver developed by the Garmin company.
This navigation system is a civilian navigation machine used by aviation enthusiasts. In addition to positioning navigation, it also provides weather and terrain warning service; because there is a European database, it is suitable for use in Europe and the nearby regions.
GPS Versus GLONASS
Garmin says that with its high-sensitivity, WAAS-enabled GPS receiver, eTrex Legend locates position quickly and precisely and maintains its GPS location even in heavy cover and deep canyons. There have been documented concerns about the Russian GLONASS system's accuracy compared to the US's GPS navigation system.
Reports suggest that the GLONASS satellite constellation has been underfunded for years and could not ensure sufficient accuracy. During its operations in Syria, Russia had to build differential correction stations across Syria to enhance GLONASS's accuracy by 30 to 40%.
There have also been suggestions from Ukraine that Russia must be cut off from the US GPS to make strike missions by Russian forces more difficult. Experts interviewed by Ukraine's premier defense magazine, Defense Express, have suggested that the US could disable GPS systems in certain areas for a specific time in coordination with the Ukrainian side and the actions of the Armed Forces of Ukraine.
It is supposed to make it more difficult for the Russian fighter pilots to conduct strike missions as they will not be able to navigate their precision-guided munitions toward Ukrainian military targets accurately.
According to these experts, the Russian GLONASS system cannot compete with GPS in positional accuracy. Disabling the GPS for use by Russian fighters will worsen the positional accuracy of Russian missiles by 700 to 1,200 meters.