The South Korean military scrambled fighter jets, attack helicopters, and other assets on December 26 in response to the first North Korean drone infiltration across the border in five years. One of these assets was a light attack aircraft, which crashed immediately after takeoff.
While working to counter the drones, a South Korean KA-1 light attack aircraft crashed immediately after taking off from its Wonju base in the country's east, according to a defense ministry official. 
The two KA-1 crew members flying a light attack aircraft parachuted to safety. A KA-1 aircraft, a weaponized version of South Korea's KT-1 trainer, can carry a 12.7mm machine gun pod and 70mm rockets.
The South Korean military didn't say whether the drone was directly to blame for the plane crash or if any other technical problems contributed to it. 
In recent years, drones have become a significant menace to militaries worldwide. Drones have been employed in many operations throughout the Russia-Ukraine war, showcasing their lethal potential. 
During the Ukraine conflict, a Ukrainian MiG-29 fighter plane was also downed by an Iranian-made Shahed-136 kamikaze drone operated by the Russian military. That was the first time a kamikaze drone downed a combat aircraft.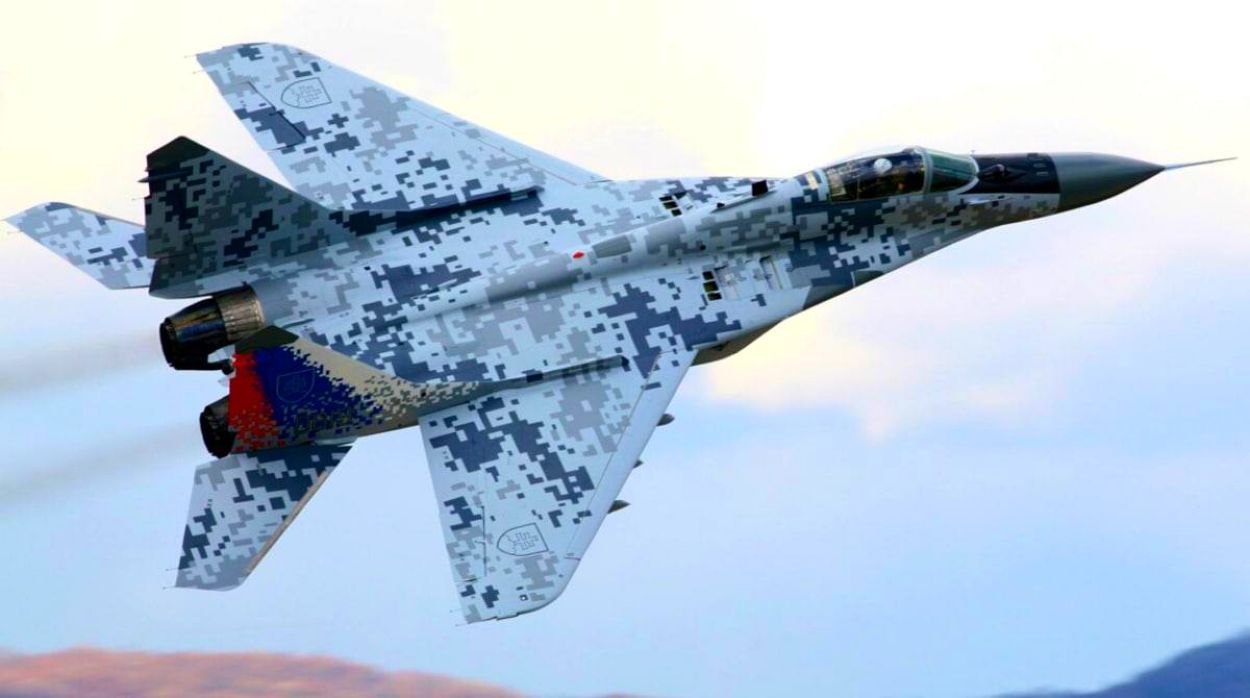 Although a combat aircraft could shoot a kamikaze drone, experts have indicated that the latter's explosion could damage the intercepting aircraft.
The current development is a significant concern for the South Korean military since these low-cost drones can potentially disrupt the opponent's air traffic and other routine activities. 
The Military Demarcation Line separating the two Koreas was crossed by North Korean drones, which were seen flying in specific locations in Gimpo, Ganghwa Island, and Paju. This caused the temporary suspension of civilian flights.
According to the Associated Press, one of the five drones traveled as far as the northern area of South Korea's capital region, roughly an hour's drive away. The South Korean military retaliated by firing warning shots and dispatching fighter aircraft and assault helicopters to take down the North Korean drones.
Although the combat helicopters fired a total of 100 rounds, it wasn't immediately clear whether the North Korean drones had been downed. The Defense Ministry said there are currently no reports of civilian casualties in South Korea.
Furthermore, in response to the North Korean drone flights, South Korea not only responded in its own airspace but also deployed surveillance aircraft close to and over the border to photograph critical military facilities in North Korea, the Joint Chiefs said.
According to some analysts, unmanned drones were probably flown by South Korea inside North Korean territory. Maj. Gen. Lee Seung-o, director of operations at the South Korean Joint Chiefs of Staff, told reporters, "Our military will thoroughly and resolutely respond to this kind of North Korean provocation."
On December 27, the South Korean military issued an official apology for its failed attempt to knock down five North Korean drones that had breached the nation's airspace. Additionally, it promised to step up efforts to improve counter-drone capabilities.
The majority of the reconnaissance drones utilized by North Korea in the past have been small and subpar. However, It is also reported to have larger drones, such as those that resemble target drones.
Additionally, there have been reports that the North Korean regime has been trying to copy Chinese designs. This includes creating "man-in-the-loop" types that are more competent and ones that are based on commercial types. 
It is evident that Pyongyang has carefully observed events in Ukraine, particularly those involving the employment of Iranian-made Shahed-136 drones and Ukraine's own home-grown long-range kamikaze drones.
North Korea's Aggressive Stance
The South Korean defense ministry said that the last time a North Korean drone was found below the inter-Korean border was in 2017. At the time, South Korea claimed to have recovered a crashed North Korean surveillance drone that had been monitoring a US-made missile system there.
This year, North Korea has aggressively increased the frequency of its missile launches, often launching multiple weapons simultaneously.
Most recently, North Korea launched two short-range ballistic missiles, according to South Korean officials. The missiles were launched into the waters off the coast of the Korean Peninsula and Japan from Pyongyang's Sunan district.
The nation typically launches its missiles at an angle that causes them to land in the waters between the Korean Peninsula and Japan. For the first time in five years, it launched an intermediate-range ballistic missile (IRBM) in October at a normal course over Japan. 
On the other hand, the US and South Korea are closely observing Pyongyang's actions. According to the South Korean Defense Ministry, on December 20, the United States demonstrated its military might by deploying B-52 bombers and F-22 stealth fighter jets. 
This deployment was made in accordance with a commitment to defend South Korea using all tools at the USA's disposal, including nuclear weapons, for joint exercises with South Korean warplanes.