Pakistani Senator Dr. Afnan Ullah Khan, a member of the opposition Pakistan Muslim League-Nawaz (PML-N), recently asked the Imran Khan government to invest funds in Project Azm, aimed at developing a fifth-generation stealth fighter and other advanced systems such as long-endurance drones.
His statement came following speculation that Pakistan would be purchasing Chinese J-10 fighter jets.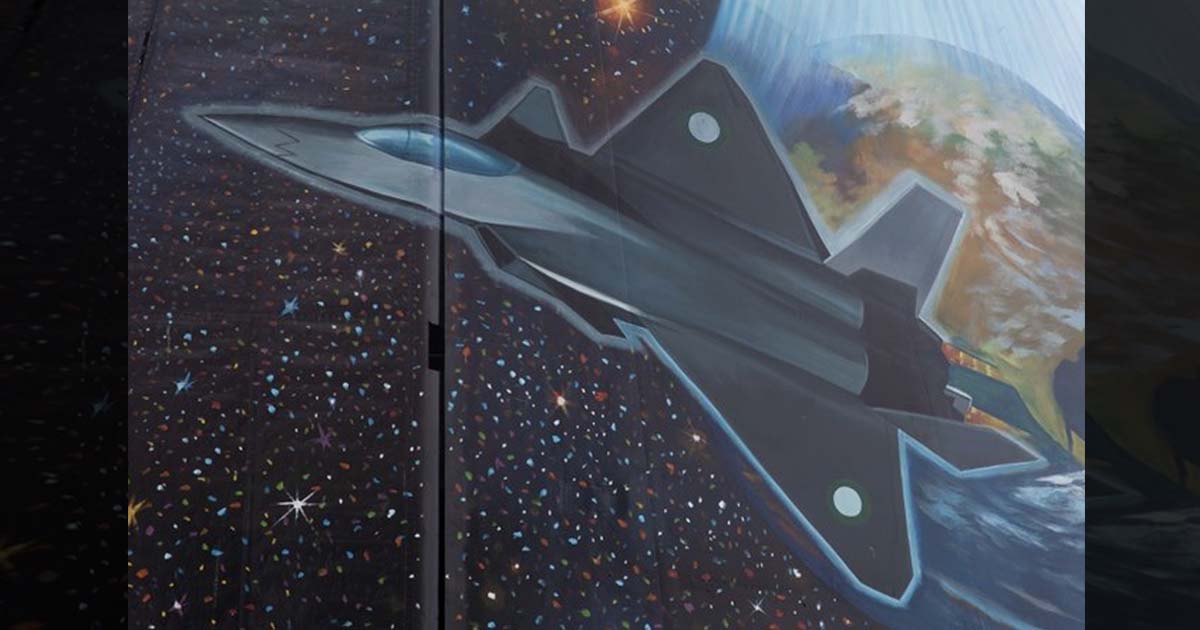 The development of a fifth-generation fighter aircraft (FGFA) is the main goal of Pakistan's 'Project Azm'. The Pakistan Air Force's (PAF) Air Staff Requirements (ASR) for the fifth-generation fighter appear to have gone through several changes since the initial announcement of Project Azm in 2017.
At the Royal International Air Tattoo (RIAT) 2019, PAF displayed the concept design for their future stealth aircraft.
The Pakistan Air Force is here with this special scheme Herc from No. 6 sqn. Fourth year running for the PAF at the show.#riat #AirTattoo #RIAT2019 pic.twitter.com/mOxgynajJn

— sky (@rabiyahashme) July 27, 2019
Instead of an FGFA, the 2017-2018 Ministry of Defense Production (MoDP) yearbook refers to it as a 'next-generation fighter aircraft' (NGFA). The first cycle of the conceptual design phase has already been completed. 
Project Azm
The MoDP yearbook further stated that the first configuration, which was made in response to PAF's demanding performance requirements, will go through three additional cycles in the conceptual design phase, employing better fidelity analysis tools and codes. 
The much-anticipated Project Azm, which highlights the PAF's desire to establish a state-of-the-art aviation industrial base within the country, includes the fifth-generation fighter plane. 
The PAF officially unveiled Project Azm in July 2017, with the goal of developing an FGFA, a medium-altitude, long-endurance (MALE), new munitions, an unmanned aerial vehicle (UAV), among other platforms.
The design phase of the MALE drone has achieved its "final phases," according to the then Chief of Air Staff (CAS) Air Chief Marshal (ACM) Sohail Aman, who announced the commencement of Project Azm.
The previous Chief of Air Staff (CAS) of the Pakistan Air Force (PAF), retired Air Chief Marshal (ACM) Sohail Aman had reportedly stated at the Islamabad Chamber of Commerce that the PAF had completed the design of Project Azm, its next-generation fighter. https://t.co/2hJrTOiYVb

— Muhammad Ibrahim Qazi (@miqazi) May 1, 2019
The FGFA is planned to be a medium-to-heavyweight, high-performance fighter plane with a new design from scratch. According to the new design configuration, the PAF plans to develop a fighter aircraft that can carry higher payloads and has a longer range than the JF-17. 
Experts believe that the PAF plans to develop a platform that is designed for offensive counter-air (OCA), maritime, and deep-strike platforms, bringing it in line with the F-16A/B Block 15s and the Mirage III/5.
However, in 2019, the PAF Chief of Air Staff (CAS) Air Chief Marshal (ACM) Mujahid Anwar Khan stated that the Air Staff Requirements (ASR) was for a "twin-engine, single-seater, boasting the likes of super-cruise and laser weapons (directed energy weapons)."
The ASR's incorporation of laser weaponry is significant because no fifth-generation aircraft have such systems, which are expected to be included in sixth-generation aircraft. As a result, the ASR hints at a fighter program that is a 5+ generation aircraft, but development is expected to take decades.
Furthermore, with Pakistan's current R&D capability, the overly optimistic goal of incorporating laser weaponry will be impossible to accomplish.
However, Azm's stated objectives and deadlines are imprecise and frequently changing, which raises questions about budgeting and resources. 
Challenges Ahead
FGFA would comprise exceedingly advanced systems that necessitate large-scale research and development facilities as well as significant and regular funding over longer timeframes. And big manufacturers will find Pakistan's FGFA program unfeasible, given its budgetary constraints, among a host of other problems. 
For instance, Turkey has already indicated that it is eager to collaborate with Pakistan on the TF-X project, Ankara's own domestic next-generation fighter jet development program. 
One of 3 concept of PAF 5th Gen Air Superiority Stealth Aircraft currently being studied under Project Azm.

Credits :- IG/Tipu_Creativity#Pakistan #PakistanAirForce #PAF #ProjectAzm ???? pic.twitter.com/lbn2O81ien

— Developing Pakistan (@developingpak) August 28, 2020
Pakistan Aeronautical Complex (PAC) has never produced a fighter aircraft entirely by itself. The JF-17 is produced in joint collaboration with China, and there are significant technological hurdles, such as the necessity for a powerful engine, something that even China is struggling with. 
In addition, Pakistan's economic problems will hamper PAC's potential to quickly develop infrastructure and resources. Azm's overall objectives, such as dramatically expanding Pakistan's aerospace industry, are not easy to achieve in the foreseeable future.
Only time will tell if Islamabad will be able to convince one of its allies to collaborate on the Azm project or not.