Last month, the Russian military started a full-scale ground offensive in eastern Ukraine's Donbas region, aiming to conquer the vital port city of Mariupol and secure a coastline path to the Crimean Peninsula.
After some initial gains, the tide reversed, and Ukraine is now fighting back, shelling the Russian forces with American howitzers.
In a move that could deliver a significant blow to the invading Russian troops, US M777 Howitzers have begun shelling Russian sites. The Ukrainian soldiers have been issued jammers to take down enemy reconnaissance drones.
The M777 is a light and maneuverable 155mm howitzer built by BAE Systems' US division with a maximum range of 25 miles. It is among the newest shipments of US arms to arrive in Ukraine as part of the latest round of military aid.  In addition to the US, Canada, Australia, and Germany have also reportedly supplied the M777 Howitzers to Kyiv.
According to a senior Pentagon official, hundreds of Ukrainian military troops have finished training on new weapons provided by the US.
"Up from roughly 200 [trained personnel] one week ago," the officer added, 310 troops were trained on US-made M777 howitzers.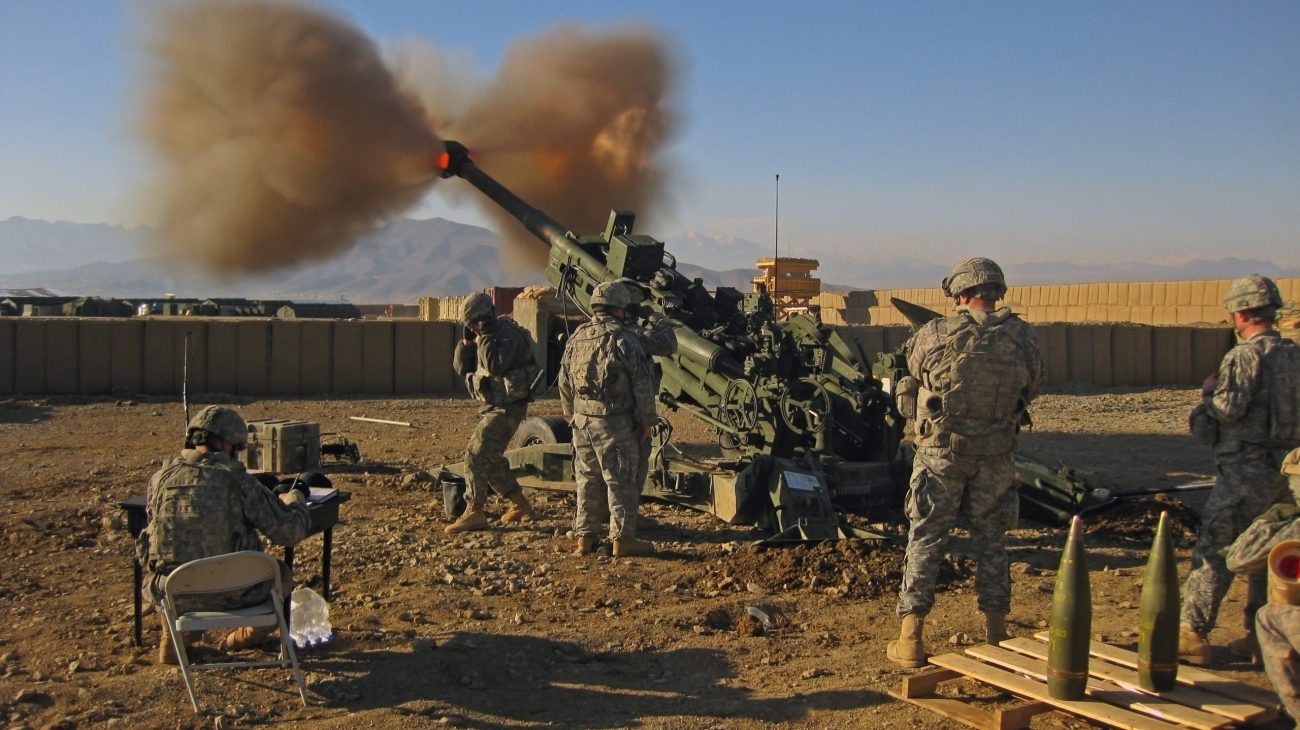 Another 50 Ukrainians are currently undergoing training, and the US has begun new two-week maintenance training seminars. A senior Department of Defense (DoD) official had informed a week ago that about 60 percent of the 90 howitzers intended for delivery were in Ukraine, along with 155 mm ammunition.
"We do believe that these howitzers will be … very, very effective in helping [the Ukrainians] in the Donbas fight, which we've already seen," the official had said at the time.
Further, defense experts believe that whichever side can more effectively combine artillery fire with drones will have a considerable advantage in Donbas, the coal-mining region in eastern Ukraine that has become the principal theatre of war.
Reconnaissance drones spy on potential enemy objectives, which are then bombarded with artillery.
More than 121 tactical drones are being sent to Ukraine by the US, including the Switchblade and the all-new Phoenix Ghost. Ukraine has also deployed the Turkish TB2 Bayraktar drones as well its own home-grown armed UAVs, resulting in significant military gains against the Russians.
The American long-range M777 howitzers, which arrived in Ukraine quite recently, have already been employed by the Ukrainian military. Ukraine released video footage that reveals how the howitzers are being deployed for extensive shelling of the region.
American Howitzers Defending Donbas
In the video released by Kiev, the Ukrainian military fires from a light long-range towed howitzer M777. At the same time, at least one other howitzer being shot in tandem can be heard in the video.
This is the first time M777 howitzer mounts have been seen in Ukraine. The fact that the United States alone provided about 90 M777 howitzers to Ukraine while other countries have also sent dozens more is a cause for alarm for Russia.
American M777 howitzers already on the frontline. #StandWithUkriane #ArmUkraineNow pic.twitter.com/F6nJ0dyc8e

— olexander scherba?? (@olex_scherba) May 7, 2022
There is no information on where the American guns are stationed in Ukraine, but they are certainly somewhere in the Donbas region, according to experts.
The impact of these howitzers on Ukraine's firepower would be significant. With the exception of Ukraine's Kvitnyk laser-guided artillery shells, Ukraine's present artillery is at least three decades old, has relatively small ranges, and is unable to take advantage of the last four decades of technological growth and innovation.
By contrast, almost all of the donated artillery from NATO countries was developed after Ukraine's full artillery fleet had been completed.
The numbers may seem modest, but bear in mind this is 10% of Canada's total supply of M777 howitzer, a 155mm artillery piece. Even more striking. Canada sent Excalibur rounds. These are smart artillery rounds that can be targeted with extreme precision like a door on a building https://t.co/jFSgfssf5q pic.twitter.com/zHUGUx73sW

— Tomi T Ahonen Standing With Ukraine (@tomiahonen) April 23, 2022
According to a senior defense official speaking at a Pentagon news briefing, Canadian forces trained the first Ukrainian artillerymen, followed by Florida National Guardsmen that taught additional Ukrainians how to handle the howitzers.
Before the Russian invasion, those guardsmen were on a training assignment in Ukraine, and they are now continuing their mission in Germany.
The howitzers will aid Ukrainian forces in impeding Russian maneuverability. As it's muddy in the spring, Russians are more likely to stick to the roads. The Ukrainians may constantly watch the highways with drones and other means of surveillance, and hit with artillery if necessary, Marine Col. James W. Frey, a senior military fellow at the Center for a New American Security think tank in Washington, D.C, said.
M777 Lightweight Towed Howitzers
The M777 is an ultra-light or lightweight howitzer designed and manufactured by BAE Systems. It is the world's first 155mm howitzer that weighs less than 10,000 lbs (4218 kg), thanks to the employment of new titanium and aluminum alloys.
The US Marine Corps and Army chose the M777 as their next-generation Medium Force weapon to replace their existing M198 155mm towed howitzers.
The M777 is believed to be 41% lighter than the M198 howitzer it replaces, weighing 7,154 kg (15,772 lb), and has set the standard for 155mm Lightweight Towed Artillery Systems. Australia, Canada, India, Saudi Arabia, Ukraine, and the United States operate the M777s.
The howitzer has a 39-caliber barrel and can fire normal rounds up to 24.7 kilometers and EFRB (Extended Range Full Bore) rounds up to 30 kilometers. It can also fire the M982 Excalibur GPS-guided munition, which has a range of up to 40 kilometers and allows for pinpoint accuracy.
The M777 can fire at a rate of 2 rounds per minute for a prolonged period of time and up to 5 shots per minute in extreme situations.
Due to its lighter weight and smaller dimensions, the M777 can be easily transported by USMC MV-22 Osprey, CH-47 helicopter, or truck, allowing it to be deployed and re-deployed more frequently than the M198 howitzer, maximizing its survivability.
The gun crew size requirement is a minimum of 5 and the maximum towed road speed is 88 kilometers per hour, while the towed cross-country speed is 50 kilometers per hour.