The submarine fleet operated by the Indian Navy comprises 16 conventional diesel-electric submarines and two nuclear-powered submarines. Out of 16 conventional submarines, seven are from Russia, five are from France, and four are from Germany.
None of the 16 submarines have Air Independent Propulsion (AIP) technology. AIP technology-enabled submarines are not required to surface to recharge the batteries enabling the submarine to remain submerged for long durations.
Chinese Submarine Fleet (PLAN)
China has 66 submarines. A detailed review of the expansion of the Chinese submarine fleet will highlight China's military planner's foresight. They placed the development and acquisition of the 'silent killer' ahead of strike aircraft for PLAAF and aircraft carriers for PLAN.'
The 'sea denial' was considered a greater necessity than 'sea control.'
Hence this decision was taken in late 2006 to concentrate on building a large submarine fleet, both nuclear and conventional. China's military planners must be commended for their foresight of the likely threat scenario in the twenty-first century and beyond.
Anti-shipping hypersonic missiles were not even conceived of in 2006. In 2023, hypersonic anti-shipping missiles pose the most formidable threat even to supercarriers of the US Navy.
A large submarine fleet enables China to roam the waters in the South China Sea and the Indian Ocean. In any future full-blown military conflict with India, PLAN submarines will play the lead dominant role in the assault force.
Currently, PLANSF operates a fleet of 66 submarines, including nuclear and conventional ones.
(a) Nuclear Submarines – PLAN currently has seven operational nuclear submarines in three categories. Ten are planned for future induction. Of these, two are under construction.
(b) Conventional Submarines – PLAN is believed to possess 17 AIP-enabled conventional submarines. The remaining 42 have varying capabilities.
(c) Development – Except for a few initial submarines acquired from Russia in 1960, most conventional and all nuclear submarines have been produced by China.
Current Military Balance Of Power – China And India
The conventional military balance of power between the Chinese and Indian militaries is heavily loaded in favor of China when viewed in the context of numbers. However, neither the Chinese Army nor the Chinese Air Force can pose a formidable threat to Indian forces on land and in the air due to terrain.
PLAAF strike elements, helicopters, and heavy-lift cargo aircraft cannot operate with any degree of operational efficiency/capability from high-altitude airfields (3 km and above) in the Tibet Autonomous Region (TAR).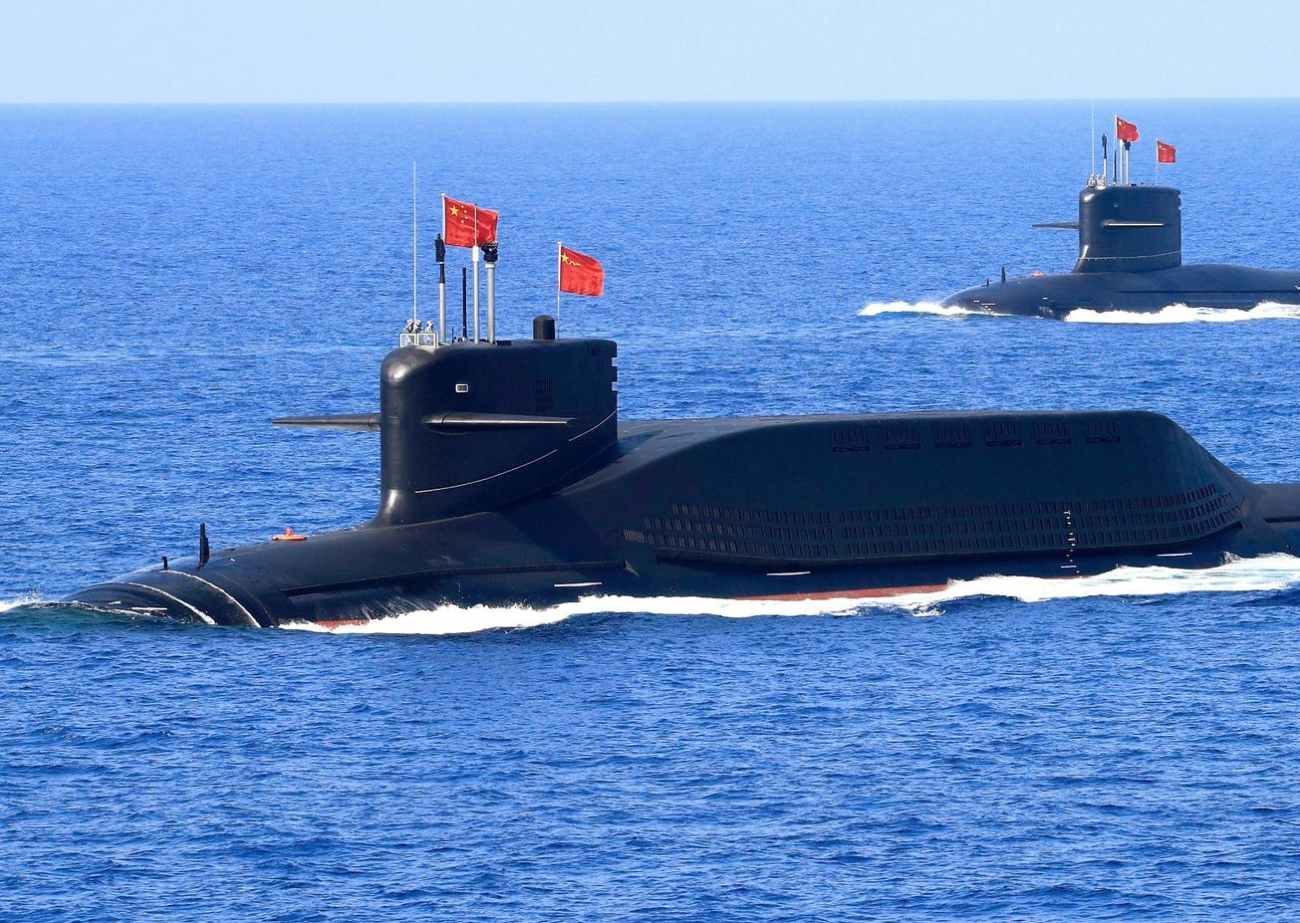 PLAAF can neither effectively support the Chinese Army on the ground nor conduct strike missions with a full weapon load. On the other hand, all IAF elements can operate with full weapon load and fuel from airfields viz Jammu, Udhampur, Srinagar, Avantipur (all below 1.5 km), Leh, and Thoise (3 km).
However, PLAN is more formidable than the Indian Navy when viewed in the context of a submarine fleet. Neither Navy can operate its aircraft carrier in a hostile air power environment.
Reasons For Dismal State Of Submarine Fleet
The current dismal state of the submarine fleet has been due to the misplaced focus of the Indian Navy on acquiring aircraft carriers ahead of submarines.
When Russian aircraft carrier 'Admiral Goroshkov' was being purchased by the Indian Navy, former Chief of Naval Staff Late Admiral JG Nadkarni had commented, "Henceforth all Indian Naval ships will be painted 'white' because we are investing in the purchase of a 'white elephant."
Indian military planners did not pay any heed to the prophetic words of an eminent seaman. Rest is history. The cost of the carrier ballooned three times the original planned cost. The operational utility is minimal when viewed in the cost vs. effectiveness continuum context.
Indian Navy's preference (read obsession) with acquiring aircraft carriers, which cannot be protected against a formidable air power and now anti-shipping hypersonic missile, has led to this state of affairs.
Let it be clarified at this stage that aircraft carriers are also required for effective sea control. But for that, a strike carrier, which has:
(a) Carrier-borne AEW/AWACS aircraft.
(b) Strike aircraft with suitable weapon load and Radius of Action
(c) Other compliments of carrier battle group.
Our aircraft carriers do not have the first two elements as of date. The impending acquisition of F-18s/Rafale-M will enhance strike capability. However, the absence of an integral AEW will not permit carriers to operate in a hostile environment.
Current AEW capability is, at best dismal. As of date, only US Navy operates genuine strike carriers. Other nations possessing aircraft carriers are a distant second, China and India included.
Impending Acquisition Of Submarines
It is never too late to make the right decision. Ongoing negotiations with Germany and South Korea for acquiring AIP-capable submarines is a step in the right direction. However, plans to acquire mere six submarines merit a review.
To enhance Indian Military's sea denial capability by more than a few notches, we must consider doubling the current strength from 16 to 32. Finances will be an issue.
But national security imperatives demand that the current plan to acquire only six AIP capable submarines be enhanced to at least ten, preferably 12. Hopefully, military advisors to PM will refrain from advising the purchase of junk weapon platform viz S-400 for INR 39,000 Crore. We could have purchased six AIP-capable submarines instead.
Country Of Origin
The strategic choice between Germany and South Korea should be South Korea, provided both countries are delivering nearly identical capability machines. We already operate four German HDW submarines.
South Korea is second only to Taiwan in producing microchips. The submarine deal with South Korea will be the first military contract, if it fructifies, between India and South Korea. In addition, military association with South Korea can be further enhanced by collaborating on fighter aircraft production.
European nations cannot be trusted in the long term unless they move out of the US-controlled NATO. However, France and Germany have expressed open dissent against US diktats. Expanding NATO is already a threat to global peace. The US has successfully, albeit quietly, altered the charter of QUAD, which was conceived as a non-military alliance.
Indian Military 2040 AD
Two decades from now, the Indian military must aim to become a formidable force and become capable of denying the use of the India Ocean Region (IOR) to forces inimical to Indian interests. For that to happen, the submarine fleet of the Indian Navy must be enhanced to at least 32 submarines, a hundred percent increase from existing strength.
The exponential increase in sea denial capability of the Indian military will prevent China from using the Malacca straits to venture out into the Bay of Bengal and beyond.
It can do so now if it is willing to risk being picked up by P8i and face the consequences. 'Silent Killers' in large numbers below the ocean waves and submarine hunters in the sky will make a potent threat.
For India to emerge as a formidable regional power, control/denial of IOR would be essential. For that to happen, the Indian military must possess a formidable and large sea denial capability in the form of dozens of submarines.
Gp Cpt TP Srivastava (Retd) is an ex-NDA who flew MiG-21 and 29. He is a qualified flying instructor. He commanded the MiG-21 squadron. He is a directing staff at DSSC Wellington and chief instructor at the College of Air Warfare. VIEWS PERSONAL OF THE AUTHOR