After the successful combat performance displayed by the Turkish Bayraktar TB2 drones, the Turkish defense giant is contemplating arming Ukraine with its new, cutting-edge Akinci drones.
In a recent interaction, the general director of the defense manufacturing firm Baykar, Haluk Bayraktar, told broadcaster Radio Free Europe/Radio Liberty (RFE/RL) that the company was considering transferring and manufacturing Bayraktar Akinci drones in Ukraine.
"About Bayraktar Akinci, this matter is under consideration, as far as I know. Ukrainian military personnel are well aware of what we manufacture and invest in. Therefore, we plan to produce all our systems here in Ukraine," Bayraktar said.
He emphasized that his company provided Bayraktar TB2 drones to the Ukrainian army and asserted that the defense industry links between Turkey and Ukraine are at a "strategic level." The comments made by the Bayraktar chief come as Ukraine seeks more military aid from its NATO partners with an eye on the protracted conflict.
Ukraine started deploying TB2 drones in the initial months of the Russian invasion. When these drones were introduced into the battlefield, they emerged as the 'ideal weapon' that could change the course of the war in Ukraine after they managed to score some stunning combat victories.
Turkey is considering the possibility of supplying Ukraine with new Bayraktar Akinci UAVs

Our country is currently the first where the Turkish government has allowed the production of such devices

General Director of Baykar Makina Halyuk Bayraktar says that today the company… pic.twitter.com/T1FLQ74tg5

— Lew Anno Suport #Ukraine 24/2-22 (@anno1540) October 2, 2023
A deal between Turkey and Ukraine finalized just before the Russian invasion on February 24, 2022, included the intention to build a manufacturing facility in Ukraine. However, stunned by their combat performance, Bayraktar finally decided to produce these drones on the Ukrainian territory in October 2022.
In July this year, Turkish authorities announced they had already started constructing a factory in Ukraine to produce Bayraktar drones. Baykar received licenses to manufacture combat drones in Ukraine on June 22, and Haluk announced that the production of the drone will begin in 2025.
With the proposition of arming Ukraine with Akinci drones on the table, Baykar has hinted that the company would likely use the infrastructure and permits already available to its disposal in Ukraine to manufacture the Akinci drones along with TB2.
"We have the necessary permits for this. Therefore, we can fully manufacture Bayraktar TB2 here in Ukraine rather than assembling it. Additionally, we can fully manufacture Bayraktar Akinci here. We have permits from our government for this, which demonstrates how close we are to implementation," he added.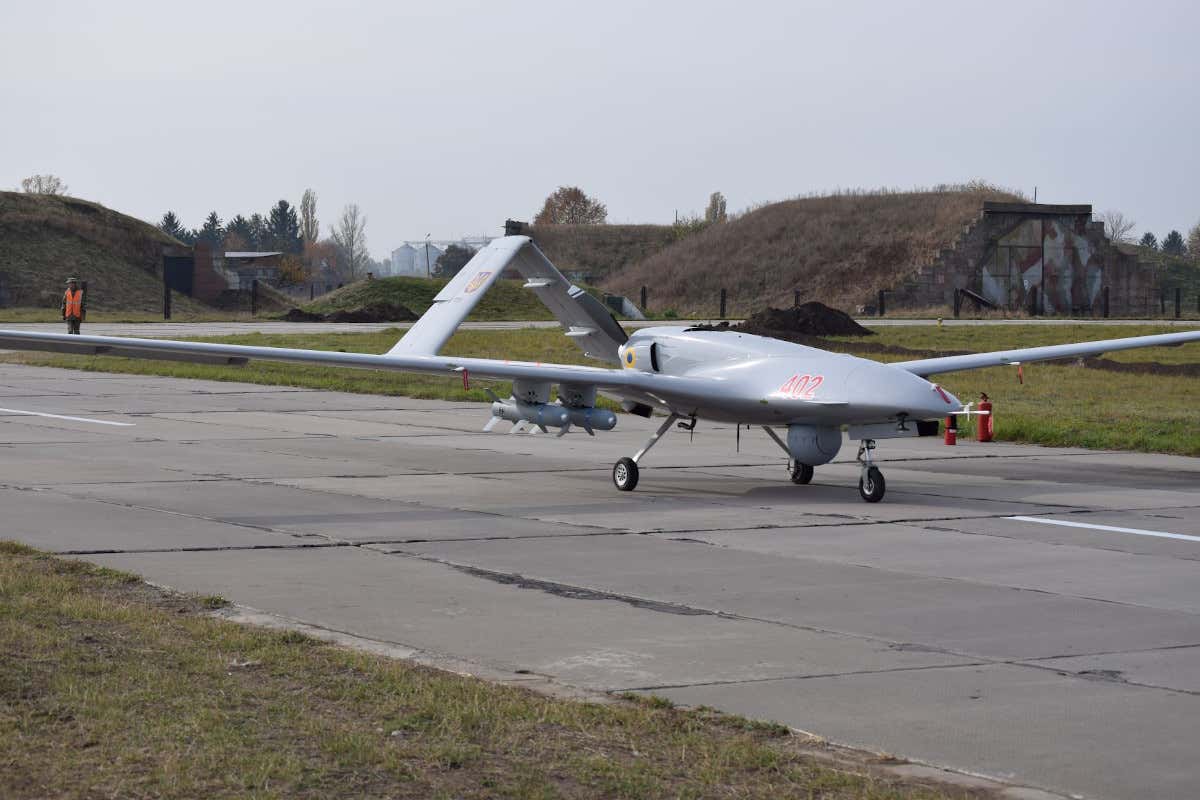 The production of Turkish drones on Ukrainian soil has not gone well with the Russians. In August, Russian Presidential Spokesman Dmitry Peskov said that a manufacturing plant producing Turkish combat drones in Ukraine would be subject to "immediate demilitarization."
Moreover, the Baykar chief also stated that the subject is under review. It emphasized that the Turkish government's approval is a prerequisite for a company to produce a specific type of drone in Ukraine. The final decision, thus, rests with the Erdogan government.
Turkey's Akinci Drones
The Akinci, Turkish for "Raider," is a high-altitude, long-endurance UAV capable of performing air-to-ground and air-to-air attack missions.
The Bayraktar Akinci, according to Baykar, can carry a variety of payloads and undertake operations similar to those carried out by fighter jets. The drone has been outfitted with air-to-air radar, collision avoidance radar, synthetic aperture radar, dual satellite communication systems, and electronic support systems.
Not just that, the Akinci is also expected to be the first-ever drone in the world to carry an AESA radar. A Turkish Twitter account that posts Turkish military updates said in a tweet: "AKINCI will be the first UAV in the world to carry AESA radar and beyond-sight air-to-air missiles. In the test shot from AKINCI, the target over 100 kilometers was hit with Turkey's first supersonic missile, TRG-230-iHA."
The country's electronic warfare capabilities will significantly improve by outfitting a drone with AESA radar. Regarding target acquisition speed, the range at which threats and potential threats can be detected, and the accuracy and fidelity of the resulting tracks, especially for tiny objects, AESA radars offer substantial advantages.
The dimensions of the Akinci combat drone are 12.2 meters in length, 4.1 meters in height, and 20 meters in wingspan. Its maximum payload capacity is 1,350 kilograms, and it can fly at 40,000 feet (12,192 meters). Its take-off weight is 5,500 kilograms.
Compared to the Bayraktar TB2, which it aims to replace subsequently, the Akinci has a bigger combat payload capacity, which some military analysts claim will enable it to deploy more potent weapons and adaptable concepts of operations (CONOPS).
The TRG-230, Turkey's first air-to-ground supersonic missile, was successfully test-fired by the Akinci drone after striking a target at more than 100 kilometers (62 miles). This made it the only unmanned aerial vehicle to successfully launch a ballistic supersonic missile from the air to the ground during the test.
The UCAV might also be used as a mother ship for drone-swarming strikes and sophisticated radar and precision munition. For instance, in 2019, Prof. Ismail Demir, the head of Turkey's Presidency of Defense Industries (SSB), published a simulation of the homegrown 'Alpagu' kamikaze drones released by the Akinci drone on his feed on Platform X.
Contact the author at sakshi.tiwari9555 (at) gmail.com