As Pakistan's deal to acquire the T129 ATAK helicopters from Turkey remains frozen, Ankara is scheduled to ship the first ATAK helicopter to the Philippines next month, in what is seen as yet another boost for the country's aerospace industry.
Philippines Air force chief, Lt. Gen. Allen Trio Paredes stated that the service has ordered six Turkish helicopters, which would be delivered sequentially beginning from December.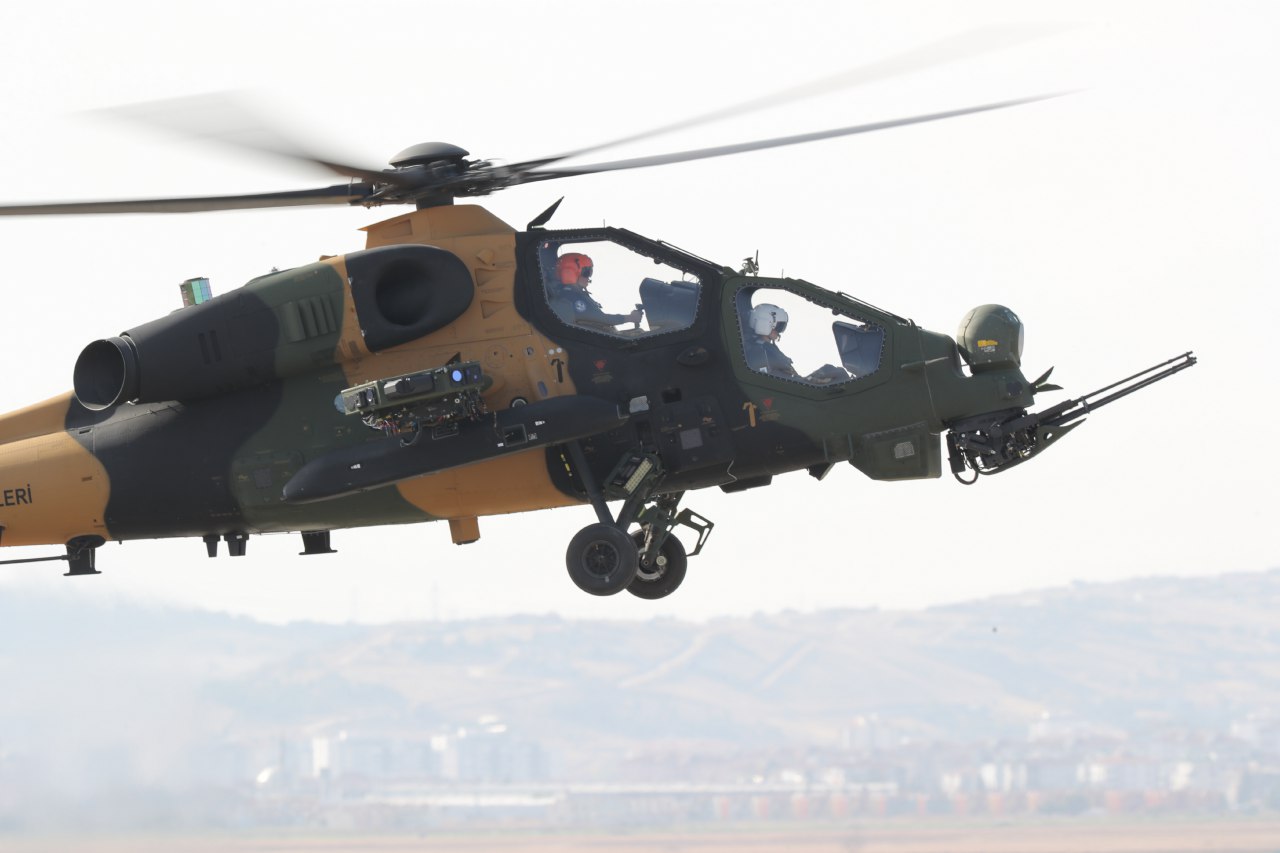 The Philippines is the first foreign buyer of the Tactical Reconnaissance and Attack Helicopter (ATAK), having ordered six choppers for $280 million (TL 3.37 billion).
The T129 is a twin-engine multirole attack helicopter based on the A129 Mangusta and manufactured by Turkish Aerospace Industries (TAI) under license from the Italian-British company AgustaWestland.
Following a name change, AgustaWestland has now become now Leonardo Helicopters; the corporation is Italian but has a presence in the United Kingdom too.  
The aircraft is fueled by two LHTEC T800-4A turboshaft engines, each of which can generate 1,014 kilowatts of output power. The helicopter is developed for advanced attack and reconnaissance missions in both day and night scenarios in hot and mountainous locations with rugged terrain.
Our #T129 #ATAK helicopters are in the skies for our country with its twin-engine, five-blade main rotor system.#TurkishAerospace pic.twitter.com/R0TQTrPNYJ

— Turkish Aerospace (@TUSAS_EN) January 4, 2020
The T129s will be assigned to the 15th Strike Wing of the Philippine Air Force, whose pilots and crew have been sent to TAI headquarters in Ankara for training. The 15th Strike Wing will fly the T129s alongside its MD530G light attack and Leonardo A109 armed transport helicopters.
Turkey Receives US Permission?
The engine installed in the helicopter is the LHTEC T800-4A, which was developed by a joint effort between US company Honeywell and Rolls-Royce of the UK.
Foreign companies seeking commercial sales of military-grade equipment must acquire export authorization under US law. Major defense sales of more than $25 million must also be notified to Congress.
Frictions between the US and Turkey, a NATO member state, have been on the rise since the latter signed a $2.5 billion deal with Russia for S-400 missile defense systems in 2017. 
Turkey was also kicked out of the F-35 Joint Strike Fighter plane program, which Turkey had previously contributed to. All this had fuelled apprehension that the US might create a hurdle in the Turkey-Philippines helicopter deal.
Putting all speculations to rest, Washington, however, granted Ankara the export license to sell the helicopters to the Philippines in May this year. 
Washington-Manila Ties
The Philippine government has previously deployed its armed helicopters in operations against a number of insurgencies, most notably separatist and Islamic State-linked militants on its southernmost islands. However, it appears that the military cooperation between the US and the Philippines is unaltered.
The Philippines received the first of two C-130 planes from the US in February. Last year, the US also sanctioned two possible attack helicopter exports worth up to $2 billion. However, due to budgetary constraints, the Philippines will likely consider a lesser acquisition, Defense Secretary Delfin Lorenzana has stated.
Washington has indicated that it will continue to approve weapons sales to the Philippines, which it regards as an important ally in the Indo-Pacific region. The Biden administration is facing challenges from its own party, which is demanding a review of security aid to Manila due to reports of human rights abuses by the police and military. 
After the US revoked the visa of a political ally accused of human rights breaches, Philippines President Duterte unilaterally canceled the Visiting Forces Agreement (VFA) in February 2020 but temporarily overturned his decision afterward.
Experts believe the United States is hesitant to cut off security assistance to an ally it sees as critical in tackling Chinese expansionism and Islamist terrorism. 
Is Pakistan Buying Turkish ATAK Helicopters?
Pakistan has been looking to acquire a new attack helicopter to replace its aging American AH-1F Cobra gunships acquired in the 1980s. Islamabad ordered 15 new AH-1Z Viper attack helicopters from the US, however, Pakistan's acquisition request was placed on hold due to political tensions.
Pakistan later attempted to acquire Turkish T129 ATAK helicopters in 2018. Turkish Aerospace Industries (TAI) signed a $1.5 billion deal with Pakistan for 30 T129 helicopters, but the company had to first obtain US export license before delivery could commence. 
Pakistan agreed to prolong the deal for which Turkish Aerospace Industries was given a six-month extension by Pakistan. Since the US has been hesitant to give export licenses for the engine, the Turkey-Pakistan deal has been in limbo ever since.
Chief General of Pakistan Armed Forces, Nadeem Raza has visited our company and get informed about our platforms.#TurkishAerospace pic.twitter.com/wzpgo7HsFc

— Turkish Aerospace (@TUSAS_EN) March 31, 2021
The attack helicopters are causing alarm among US senators, who believe the deal could further strengthen Pakistan's ground-attack capability against India, with whom the US has a strong defense and security partnership.