The induction of the Barak-8 air defense system into the Indian Air Force coupled with a successful demonstration of emergency landings of IAF jets close to the Pakistan border has been indicative of New Delhi flexing its military muscle. 
---
In addition, the S-400 SAMs are scheduled to be delivered by Russia by the end of this year. So, will the IAFs newfound air defense capabilities be a nightmare for arch-rivals Pakistan and China?  
The IAF formally inducted the Barak 8 air defense systems in Jaisalmer in the north-western state of Rajasthan on September 9. The same day, the service demonstrated emergency landings on National Highway-925 in Rajasthan's Jalore district, 40 kilometers from the India-Pakistan border.
IAF Su-30MKI and Jaguar fighter jets, and a Super Hercules transport plane carrying Defense Minister Rajnath Singh, Roadways Minister Nitin Gadkari, and Air Chief Marshal RKS Bhadauria completed the emergency landing exercise.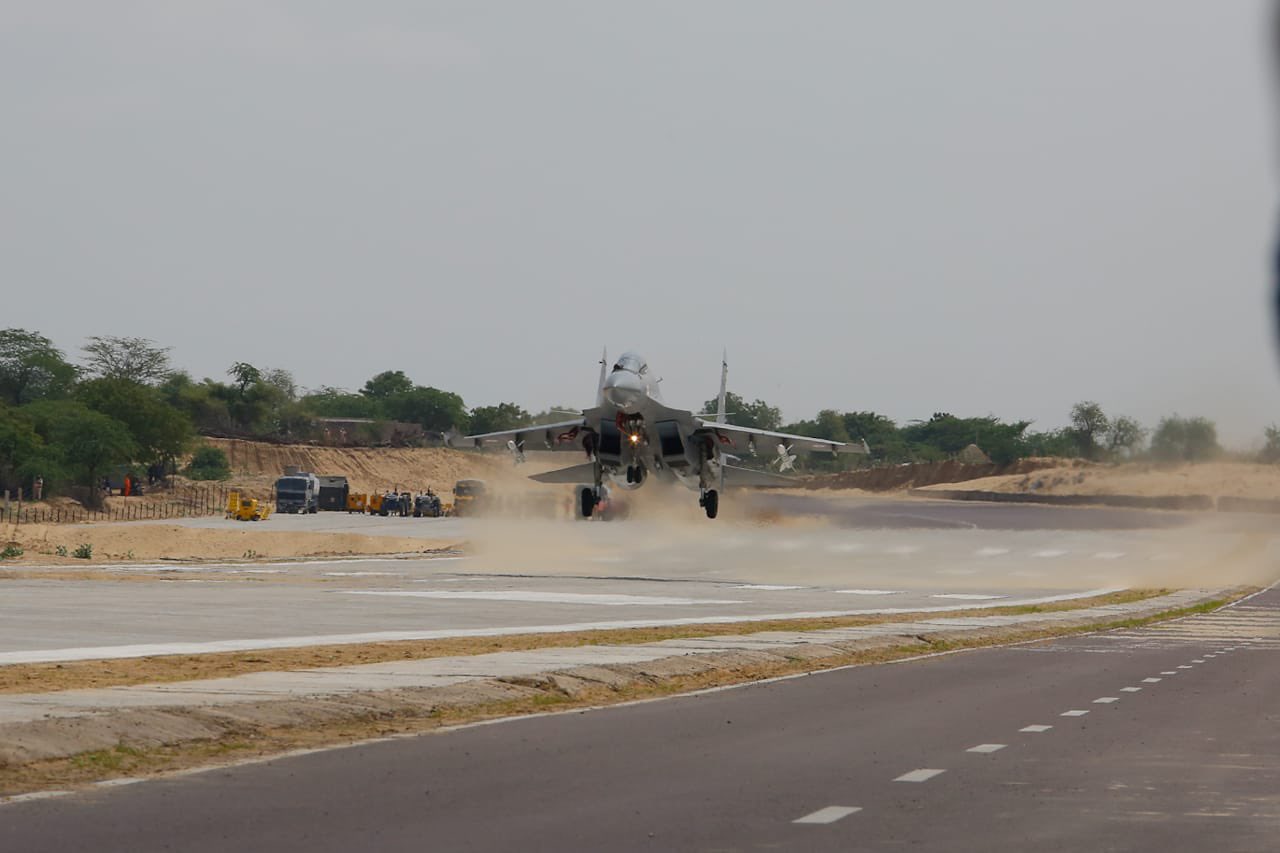 The Barak-8 Missile
The Barak-8 is reportedly capable of neutralizing aerial threats at ranges up to 70km. It was a product of a collaborative effort between India's Defence Research and Development Organisation (DRDO) and the Israel Aerospace Industry (IAI).
Other key stakeholders were Israeli company Rafael, India's state-run Bharat Electronics Limited (BEL), Bharat Dynamics Limited, and private entity Larsen and Toubro (L&T).
The Barak-8 boasts sophisticated radars, command and control systems, and mobile launchers. The air defense system's missiles are propelled by an indigenous rocket motor and control system for high maneuverability in the terminal phase.
An Emergency Landing Facility (ELF) for the Indian Air Force (IAF) at Satta-Gandhav stretch on NH-925A near Barmer, Rajasthan was inaugurated today. This is for the first time that a National Highway has been used for emergency landing of aircraft of Indian Air Force. pic.twitter.com/KNzHQQmTlB

— Rajnath Singh (@rajnathsingh) September 9, 2021
"With the handing over of the MRSAM system to IAF, we have taken a giant leap towards achieving 'Atmanirbhar Bharat' (self-reliant India). The MRSAM will prove to be a game-changer in air defense," said the Indian Defence Minister.
"The system is capable of hitting multiple targets simultaneously up to a range of 70 km, even in bad weather. Its success in a string of stringent tests is proof of its reliability," Singh said.
"Equations between countries are also changing rapidly according to their interests. Whether it is the South China Sea, Indian Ocean Region, Indo-Pacific, or Central Asia, uncertainty can be seen everywhere," the minister said, adding, "In such a situation, strengthening our security and self-reliance has become a necessity, not an achievement."
DRDO Chairman, G Satish Reddy presented the Barak 8's first operational firing unit to Air Chief Marshal Bhadauria. India's military experts have long maintained that MRSAM systems have been an operational necessity and believe that the induction of the Barak-8 along with the soon-to-be inducted Russian S-400 Triumf are steps towards that direction.
The five S-400 SAM systems New Delhi ordered in October 2018 are expected to be delivered by the end of this year.
The S-400 can eliminate a host of aerial threats, including enemy fighter jets and missiles, at ranges as far as 400 km. Analysts have observed that India has been bolstering its air defense systems in recent years.
Experts Bet Big On Barak-8, S-400 Missiles
Miguel Miranda, a Philippines-based defense analyst, told The EurAsian Times, "Since India's independence, the Indian armed forces have built and maintained one of the world's most sophisticated air defense networks over a geographical area larger than Western Europe. Of course, much of the technology used was reliant on the Soviets.
However, today's proliferation of tactical ballistic missiles and 'smart' long-range munitions demand the Indian armed forces plan and invest in new theater defenses.
"Unlike before, the biggest threat was Pakistani airpower, and the Indian army and air force had an ample supply of long, medium, and short-range air defenses. We're not in the 1980s anymore.
Now that relations with China and Pakistan are so fragile–two countries with robust missile arsenals and military industries–it's imperative that anti-ballistic missile and anti-cruise missile defenses are in place. 
"This is why importing the S-400 and adapting the Israeli-made Barak are so vital. All of India's major cities are within range of Chinese and Pakistani airpower and missiles. So, the layers of defensive systems must be operational as soon as possible."
"India's two main rivals have a lot of nuclear-capable missiles. China in particular has a huge arsenal of road-mobile tactical missiles under the People's Liberation Army (PLA) Rocket Force coupled with a strategic bomber fleet and an upcoming generation of submarine-launched Intermediate-Range Ballistic Missiles (IRBM) and Intercontinental Ballistic Missiles (ICBM).
"So even as India spends on acquiring foreign technology it still needs the capacity to assemble its own defenses for protecting every layer of national airspace and territory.
This is what makes the MRSAM significant. India now has the expertise to mass-produce air defenses at scale and this will lead to weapon systems tailored for protecting the republic.
Fortunately, India has a mature aerospace R&D sector, and this makes the development of future weapon systems comparable to the S-400 and S-500 more likely," Miranda added.
India initiated Akash and Trishul SAM projects in the 1980s. The Akash-NG SAM [upgraded variant] has matured to the contemporary level, according to author and strategic affairs analyst, Joseph P Chacko. 
"India can now saturate its borders with cheaper Akash-NG squadrons, which has a proven capability against UAVs too. The Barak-8 derivative MRSAM and the S-400 Triumf system, which are scheduled to arrive in India by the year-end have their work cut out. The inductions are in the initial stages.
"Currently, India banks on the older generation of SAMs as well as some units of Akash and Quick-Reaction-Surface-to-Air-Missiles (QRSAM).
China, on the other hand, fields a host of domestic SAMs in the headquarters series. These are deployed in numbers, but the quality is not known. Pakistan relies on imported SAMs, but the lion's share of air defense lies with its fighter aircraft. At present, all three countries extensively rely on older generation SAM systems," Chacko added.
Aritra Banerjee is a defense journalist who has worked in both online and print media. He has laid an emphasis on issues related to military human resources, tactical psychology, military-media relations, professional military education, and combat fitness. He can be reached on email: aritrareporter@gmail.com.