Canada is sending a fresh consignment of military aid to Kyiv as part of its unwavering support to Ukraine. One system that stands out in the fresh aid package is the Brem Bergepanzer-3 Armored Recovery Vehicle (ARV) based on the 'Leopard-2' tank.
On March 18, Canada's Minister of National Defense Anita Anand posted a video on her official Twitter handle that showed the loading of the ARV Ukrainian AN-124 Ruslan cargo aircraft. The Minister did not specify the name of the system being shipped to Ukraine.
However, military watchers were quick to identify the ARV as the Bergepanzer 3, which is a combined German-Dutch project based on the Leopard 2 tank.
The Bergepanzer 3 is a type of combat support vehicle that can be used for a variety of roles, including moving fighters to the front lines of battle, rescuing the injured, removing barriers, and more.
Anand wrote, "More Canadian military aid is en route to Ukraine. We will #StandWithUkraine for as long as it takes."
This week, Canada declared it will supply Ukraine with 12 anti-aircraft missiles from the stock of the Canadian Armed Forces (CAF) as well as around 8,000 rounds of 155-mm ammunition to support air defense systems.
Ottawa will also deliver more than 1,800 rounds of 105-mm tank training ammunition to complement the Leopard 1 tanks that Denmark, Germany, and the Netherlands are providing to Kyiv.
Anita Anand also announced recently that the Canadian Army has begun sending the additional Leopard 2 main battle tanks it promised to provide at the end of February. In total, eight Leopard-2 tanks have been promised by the Canadian government to Ukraine.
Canadian BREM BERGEPANZER 3, on their way to Ukraine!

The Bergepanzer 3 is an Armored Recovery Vehicle (ARV) based on the Leopard tank and is designed to carry out evacuation and repairs on the battlefield. #Ukraine #Canada #UkraineRussiaWar️ #Tank pic.twitter.com/Y40Ja1AIWN

— EurAsian Times (@THEEURASIATIMES) March 20, 2023
Out of these, at least four Leopard-2 tanks have already been transported to Poland, where a team of Canadian Armed Forces (the CAF) is training Ukrainian soldiers on how to operate them.
According to the official announcement, it is anticipated that all eight Leopard 2 main battle tanks will be in Ukraine in the upcoming weeks, together with the previously mentioned armored recovery vehicle, supporting tools, and ammunition given by Canada.
Brem Bergepanzer-3 Armored Recovery Vehicle
A typical armored recovery vehicle (ARV) is a strong tank or armored personnel carrier (APC) chassis modified for use in warfare for military vehicle recovery (towing) or repair of battle-damaged, stranded, and/or unusable armored fighting vehicles, such as tanks and armored personnel carriers.
Most ARVs have motorized tracks similar to those on a bulldozer or tank that allow them to move over rugged terrain. ARVs may be equipped with winches, jibs, cranes, and/or bulldozer blades to help retrieve tanks.
The Bergepanzer 3 armored recovery vehicle is based on the Leopard 2 main battle tank chassis. It is believed to be one of its kind vehicle that militaries worldwide have successfully operated over the past three decades.
The first vehicles were delivered to the Dutch and German military forces by Krupp MaK on August 4, 1992. Since then, more than 200 series-produced vehicles and a comparable number of recovery kits (i.e., recovery gear for various types of battle tank chassis) have demonstrated their effectiveness during combat support missions and in disaster relief.
The Bergepanzer 3 is equipped with a crane, winch, and front-mounted dozer. This vehicle's primary task is to rescue main battle tanks and other tracked vehicles that have been wrecked, flipped, or swamped. Furthermore, it offers maintenance services or tows them to maintenance facilities.
The other responsibilities of this vehicle include general dozing and obstacle removal.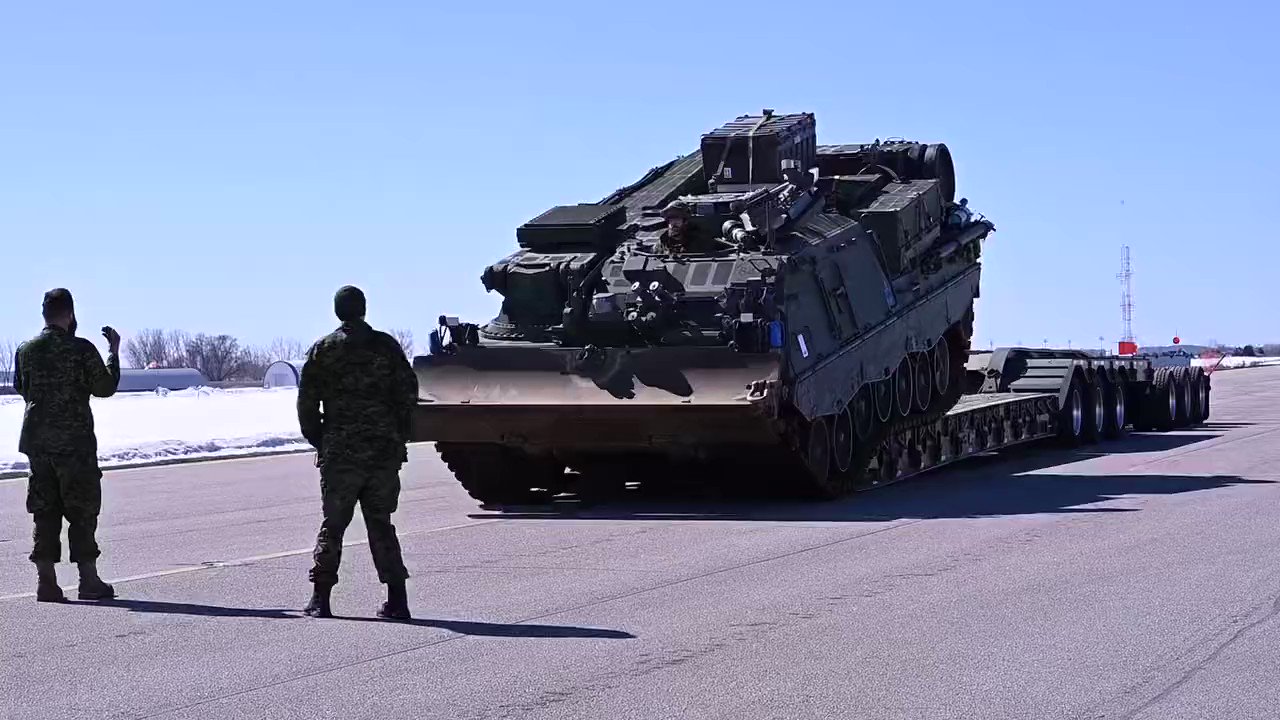 The rotatable platform of the ARV is equipped with a sizable crane that can lift 30,000 kilograms and has a 270-degree turning radius.
Not just that, the device also contains an electrical momentum limiter that guards against overload. It is capable of lifting the turret of most main battle tanks. This will significantly aid Ukraine's effort to recover tanks lost or abandoned in combat.
Moreover, it is employed for additional load-lifting tasks or to raise the power packs of the MBTs.
The Bergepanzer 3 carries a spare power pack at the back of the hull. Depending on the tank model, it can replace the power pack of the Leopard 2 in 25–35 minutes.
The front of the hull houses the main mechanical winch. Vehicles that are damaged, trapped, submerged, or overturned are recovered using the main winch of the Bergepanzer 3. Using rigid or non-rigid hitches, the armored recovery vehicle tows damaged, defective, or uncontrollable vehicles or tanks of a similar design.
The commander, driver, and handler are the three members of this armored rescue vehicle's crew. A two-person crew manages the vehicle in times of peace. The recovery vehicle has three huge doors that open to the interior.
Further, it carries a single 7.62 mm machine gun for self-defense, besides 16 smoke grenade dischargers. The crew is protected by an NBC system and an automatic fire suppression system in the vehicle.
With Ukraine already receiving Leopard-2 MBTs from NATO allies and Russian troops eyeing how these war machines could be rapidly obliterated, receiving armored recovery vehicles based on the Leopard-2 tank could be a blessing in disguise for Kyiv's embattled ground troops.
Contact the author at sakshi.tiwari9555 (at) gmail.com