The Republic of Korea Air Force's (RCAF's) T-50B trainer jets became the first foreign fighters to have performed an aerobatics demonstration in Egypt's Pyramids Air Show on August 3.
Used By Elite Indian Commandos, Ukraine To Receive 850 Black Hornet Micro Drones To Penetrate Russian Defenses
The demonstration supported South Korea's bid to export its FA-50 light attack fighters to Egypt and was suggestive of Cairo's desire for close defense cooperation with South Korea.
T-50Bs of South Korea's Black Eagles aerobatic team flew over the pyramids in Giza, Egypt, together with Egypt's Silver Stars aerobatic team comprising K-8E Karakorum aircraft, as part of the Pyramids Air Show 2022.
The air show was attended by around 1000 people, including senior Egyptian and South Korean officials.
"I am honored to be here to see the historical scene," Ambassador Hong said. "We have shared the view that the air show this time reflects the deep relationship of trust between the two countries."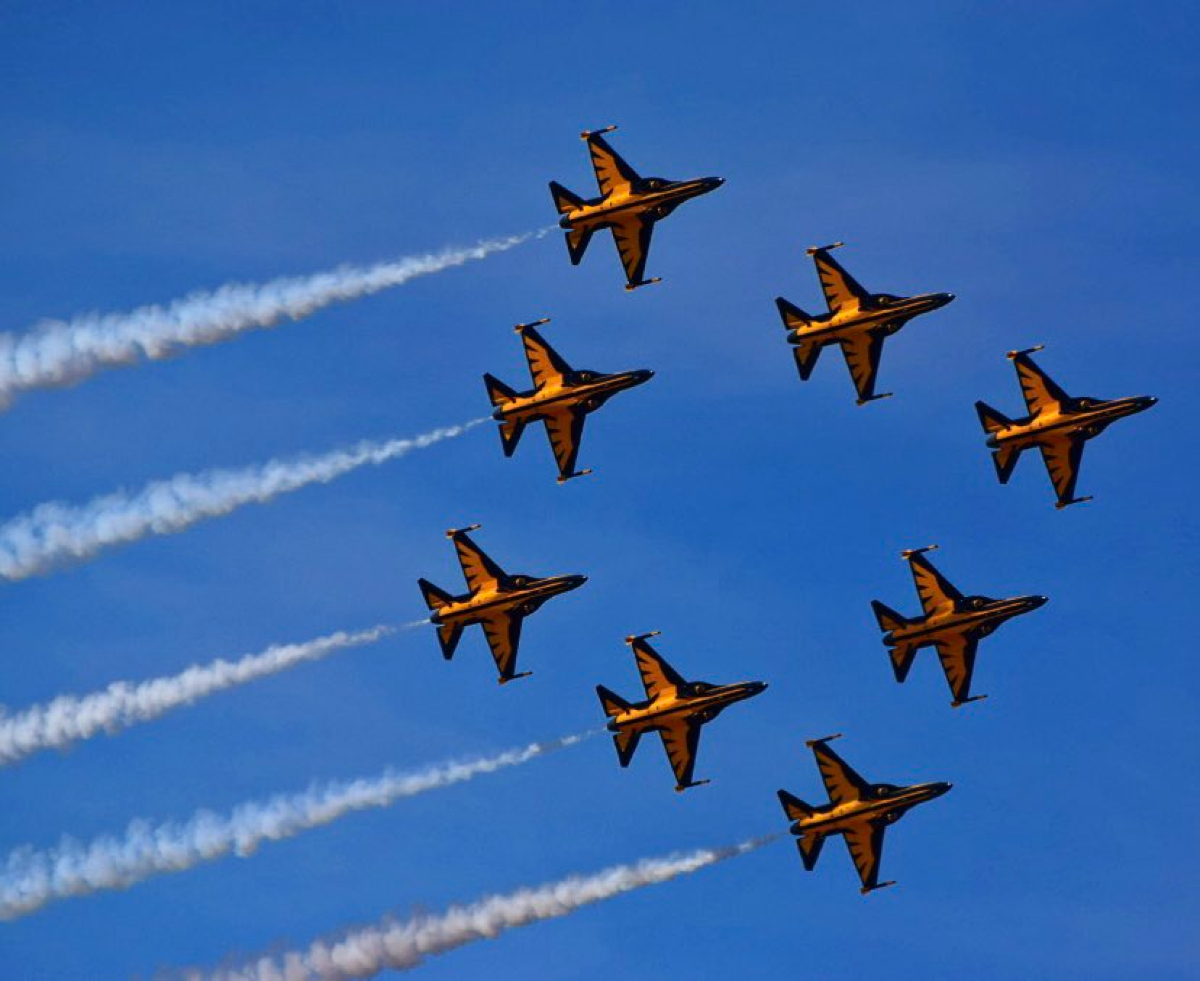 The fighter's manufacturer, the Korean Air Force, and the Korea Aerospace Industries (KAI) worked with Egypt's Air Force to arrange the flight.
"The flight of the Black Eagles T-50B is considered a green light for the export of the FA-50 light attack aircraft to Egypt," KAI said in a statement.
The flyby was a part of KAI's bid to promote its T-50 supersonic trainer jet to capture Egyptian Air Force's advanced trainer business.
Egypt is looking to acquire around 100 trainer jets, providing the second largest market for the trainer jet business after the US, which has a requirement of around 500.
Apart from South Korea's T-50, China's AVIC L-15 and Italy's Leonardo M346 compete for Egypt's contract. The Egyptian Air Force is expected to select a model by 2023.
KAI's FA-50/T-50 On A Winning Streak
If the KAI's T-50 emerges a winner, Egypt would be the fourth country after Indonesia, Thailand, and Columbia to purchase the South Korean trainer jet.
The promotion of the T-50 in Egypt comes after Poland signed a deal to purchase 48 FA-50 jets from Korea in July.
In recent years South Korea has been making concerted efforts to export the FA-50 to various countries.
Apart from Poland, the Philippines and Iraq have also bought FA-50s. The aircraft first witnessed action during the Battle of Marawi in the Philippines when it was used against terrorists affiliated with the Islamic State.
Also, Colombia's Air Force has reportedly selected a mix of T-50 and FA-50 aircraft as part of a $600 million acquisition program to replace its retired Cessna A-37B Dragonfly twin-engine light-attack fleet jets.
KAI aims to sell 1000 FA-50s within a decade. KAI President Ahn Hyun-ho said in July that exporting 1000 jets will open up a market worth 40 trillion won in sales and 100 trillion won in follow-up logistics support.
The Fighting Eagle Vs. India's LCA-Tejas
As stated earlier, Egypt could also buy the light attack variant of the T-50, the FA-50 Fighting Eagle.
EurAsian Times reported that the Egyptian Air Force is looking to acquire around 70 light combat jets, emphasizing local production and technology transfer. In addition to the South Korean FA-50, India's LCA Tejas is also a contender.
Hindustan Aeronautics Limited (HAL), the manufacturer of Tejas, has also offered to set up production facilities in Egypt.
Like South Korea, India has also been pursuing export deals for its Tejas fighter jet with Southeast Asia, West Asia, and North African countries. However, unlike the FA-50/T-50 jets, the LCA Tejas has not been able to bag a single export deal so far.
Apart from Egypt, the FA-50 and LCA Tejas are also contending for the contract of 36 light fighter aircraft for the Royal Malaysian Air Force (RMAF).
Initially, Pakistan's JF-17, Russia's MiG-35 and Yak-130, and Turkey's Hurjet were also in the competition, but according to recent reports, only the Korean and Indian jets remain in the race.
World's Biggest Naval Power – China Goes On A Rampage! Is Secretly Developing Five More Destroyers To Further Expand Its Navy
There have been conflicting reports about which fighter has the best chance of winning the contract.
In early July, there were reports of LCA Tejas having emerged as the top choice of the Malaysian government because of the package deal offered by India to set up a maintenance, repair, and overhaul (MRO) facility in Malaysia for its fleet of Russian-made Sukhoi Su-30 fighter jets.
However, shortly after that, a Singapore-based media outlet claimed to have learned from a senior KAI official that Malaysia could select KAI's F-50 over the LCA Tejas.
EurAsian Times spoke to an expert to clarify the prospects of each fighter bagging the Malaysian contract.
He Yuan Ming, an independent airpower analyst, told EurAsian Times that "in terms of unit cost, the Tejas is believed to be in the ballpark of $42 million with the FA-50 being several million dollars cheaper," and since "Malaysia wants up to 36 LCAs, a very substantial amount would be saved if it takes the FA-50 option."
"However, the cost is just one of several drivers behind any arms-acquisition decision," noted Yuan Ming while adding that "Tejas might be attractive to Malaysia because of its commonality with the RMAF's logistical base as the General Dynamics F404 engine powers it that the service's F/A-18 Hornets also use."
Furthermore, Yuan Ming pointed out the element of conformity with RKAF's mainstay, the Su-30, because of Tejas' ability to accept Russian weapons.
He further said – one major obstacle for Tejas is that some parts of its avionics suit are of Israeli origin. It could influence Malaysia's final decision, given its stance toward the Jewish nation.
"Indeed, should the Indian aircraft be chosen, it is not inconceivable that all the 'Made-in-Israel' parts would need to be replaced with something more politically palatable. This invariably means additional costs.".
While in the case of FA-50, Yuan Ming said that the aircraft has a reliable F404 engine, and it accepts Western armaments, offering logistical commonality with the RMAF's Hornet fleet and probably lower downstream costs.
He further noted that the Golden Eagle is a reasonably well-established platform in the region, as it is also in service with Indonesia and Thailand.
"Should the RMAF get this aircraft, interoperability between its major regional counterparts during exercises and operations could be enhanced" "Moreover, the FA-50 is combat-proven as the Philippines deployed it against the Marawi insurgents," Yuan Ming concluded.