Along with Russian-made jets, the Indian Air Force (IAF) has a long tradition of using French aircraft. The service has been operating Dassault Mirage 2000 since the 1980s. And now Rafales have joined the IAF fleet. 
According to the latest reports, India will be acquiring two dozen second-hand Mirage 2000 aircraft from France. The idea is to bolster the IAFs aging fourth-generation Mirage fighter fleet.
The acquisition is likely to include parts for the IAF's two existing Mirage fighter squadrons. The overall contract for the acquisition is worth 27 million euros and can be broken down to 1.12 million euros per aircraft. The fighter jets will be in operational condition and will soon be shipped to India in containers.
The EurAsian Times had reported last year that India might consider procuring second-hand Mirage 2000s from Taiwan after the latter decommissioned its fleet. The report highlighted major maintenance issues associated with the Taiwanese Mirage 2000 jets, which were believed to have caused a series of crashes. 
The Mirage 2000
Mirage 2000 is a multi-role combat fighter, which has both single-seat and two-seat variants. The fighter platform is currently in use by the French Air Force, UAE Air Force, and the Republic of China Air Force apart from the IAF.
The Mirage 2000 made its maiden flight in March 1978 and received operational clearance in the early 1980s. They were inducted into the IAF in 1985.
The fighter jet has an overall length is 14.3 meters; its wingspan is 9.1m while its height is 5.2m. The Mirage 2000 has a maximum takeoff weight of 38,500 pounds and a combat weight of 21,000lbs. The aircraft is powered by 1×SNECMA M53-P2 turbofan engine, with a thrust of 95 kilonewtons.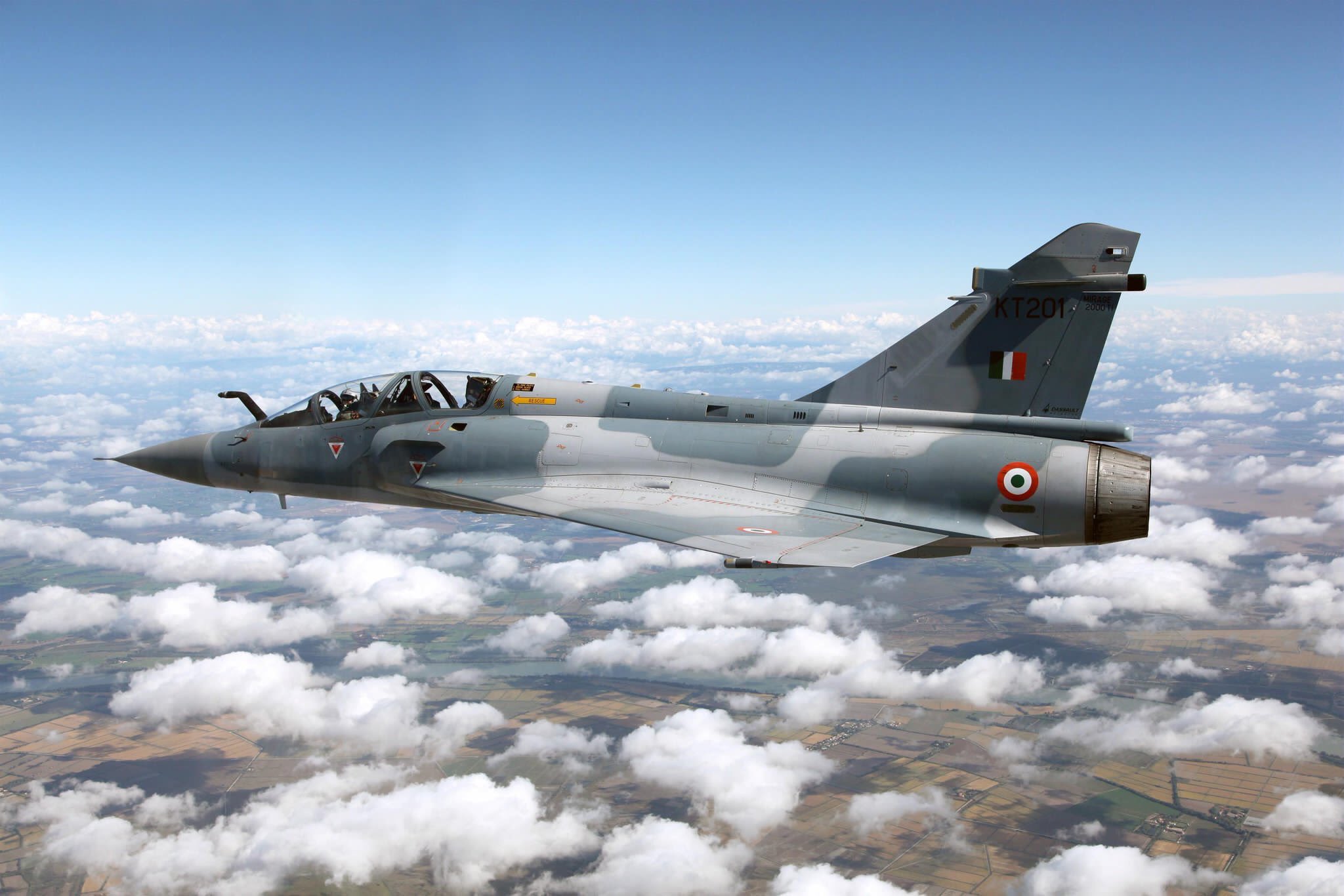 The Mirage 2000 can cruise at Mach 2.2 speeds, reach an approach speed of 140 knots and a maximum climbing 60,000 feet per minute. It takes about five minutes for the Mirage to climb up to altitudes of 36,000 feet.
The fighter jet has an operational ceiling of 55,000 feet and a service ceiling of 17,060m. It has a ferry range of 3,335 kilometers and an operational range of 1,550km. The rate of climb on the aircraft is 285 meters per second.
The aircraft is armed with 2 X 30-millimeter guns, air-to-air missiles MBDA MICA IR/RF, Matra R550 Magic-II, Matra Super 530D. Its air-to-surface missiles include AM.39 Exocet, AS-30L laser-guided missiles, and ASMP tactical nuclear cruise missile. The fighter jet also carries mk82 bombs.
The Mirage 2000's VEH 3020 Head-Up Display has been designed by Thales Avionics and its Laser Designation Pod is a product of Thales Optronics
Mirage 2000: Mid-Life Upgrade
The IAF's Mirage 2000 fighters have held a stellar operational record spanning over its 35 years of service. Its performance in the 2019 Balakot airstrike was hailed by military analysts.
The plan to acquire second-hand Mirage from France stems from IAF's immediate requirement of 300 critical spare parts. Chief of Air Staff, Air Chief Marshal RKS Bhadauria gave the nod to acquire the Mirage 2000s, according to Hindustan Times.
Thirteen of the 24 Mirage 2000 fighters will be operationally intact, which means they will have engines and airframes. Out of these, eight (which amounts to nearly half a squadron strength) will arrive in fly-by condition.
The remaining 11 aircraft will come partially complete, with ejection seats and fuel tanks. These will be scavenged to secure spare parts for two of the IAF's existing fighter squadrons.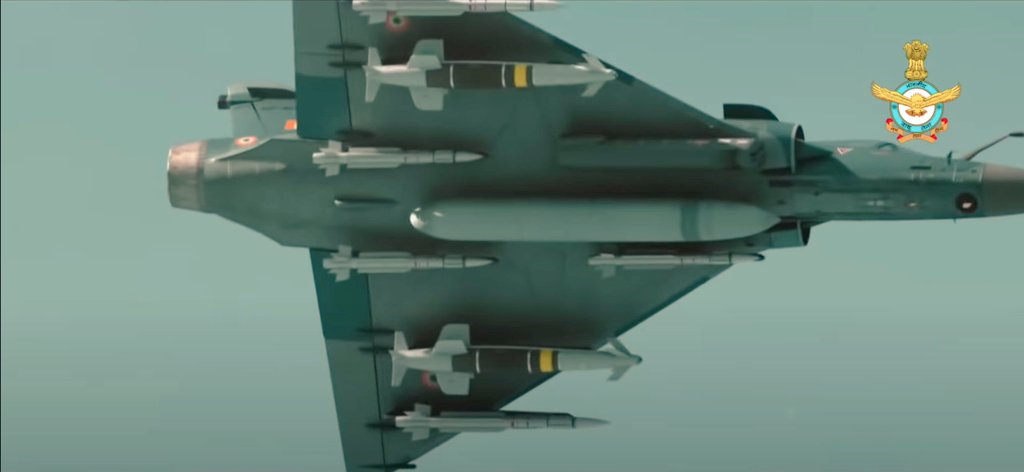 A strategic affairs researcher associated with Rawalpindi-based think tank, Global Defense Insight, shared his take about this prospective acquisition with the EurAsian Times.
"IAF mirages are undergoing a mid-life upgrade, so IAF is procuring 24 second-hand Mirage-2000 aircraft in this context. As per reports, 13 aircraft are in good condition (engine and airframe intact) and eight aircraft are in their flying condition.
These aircraft will just give their parts to IAF's operational fleet. The Pakistan Air Force also signed these kinds of contracts in the past. Such as in the case of Australian Mirages," said the researcher, speaking on the condition of anonymity.
When The EurAsian Times reached IAF spokesperson Wing Commander Ashish Moghe for comment, he said, "As of now, the [Indian] air force would not like to comment on this."
However, former Vice Chief of Air Staff, Air Marshal Bhushan Nilkanth Gokhale (Retd) said, "In my professional opinion the acquisition of the 24 Mirage-2000s is a step in the right direction as it will work to bridge existing shortfalls with a proven 4th generation fighter aircraft."
Group Captain Tej Prakash Srivastava (retd), a strategic affairs analyst, however, shared his views.
"The Mirage-2000 fleet of IAF was inducted in 1985. As a multi-role platform, Mirage-2000 is possibly the most versatile machine in its class. Most French Air Force Mirage-2000s are no longer operationally deployed."
"The Government of India decision to acquire 24 Mirages, a few in flyable condition, is the right step to maintain the IAF Mirage-2000 fleet for another 20 years at least. Most of the 24 aircraft will be used as 'spares'. IAF has already adopted the same process by buying Jaguar airframes and other spares from France," added the IAF veteran.
A former IAF fighter pilot told the EurAsian Times — "It is cost-effective to bolster the operational effectiveness of the IAF, just like it was done for Canberra in the past.
We need to manufacture the components in India to supply other nations that use the Mirages. That would be an opportunity to enhance Atma Nirbharta (self-reliance). In fact, this process should have started in 1985 soon after the acquisition through reverse-engineering with IP protection,"
"We would not have reached such a situation where parts are short. In fact, we should have reverse-engineered a lot of ground-based equipment parts such as SAMs etc. Experienced technicians need to be retained on the old systems instead of rewarding them with posting to modern systems," the former fighter pilot, who did not wish to be named, added.
A Paradigm Shift?
Approximately 50 C and D variants of the Mirage 2000 were inducted into the IAF in 1985. The maintenance contract for this particular procurement ended in 2005. Another contract was signed with the original French manufacturer sometime between 2015 and 2016.
This new acquisition is reportedly geared towards developing indigenous supply chains for spare parts and engines. This will empower original equipment spares to be 'Made in India', which in turn should help counter any possible shortage of spares until the aircraft formally gets decommissioned.
This development also caters to the synergy in acquisition between the IAF and the Indian Navy. However, this view is disputed by experts this writer spoke to.
This move can also be seen as part of a longstanding technological asymmetry between India, Pakistan, and China; the latter two have already made strides in the development of Unmanned Combat Aerial Vehicles (UCAV). Furthermore, China has indigenously developed its first 5th Generation fighter aircraft, the J-2O 'Mighty Dragon.'
CAS visited the Squadrons, flew in a combined formation of upgraded Mirage-2000 & Su-30MKI ac and interacted with the Sqn personnel. 2/2#BalakotAirStrikes pic.twitter.com/pb7wbniWTK

— Indian Air Force (@IAF_MCC) February 27, 2021
India is at least a decade behind Pakistan in combat drone technology and is still procuring 4.5 generation fighters from abroad. This indicates a major pitfall in the country's domestic military research and development. However, with this step towards indigenization and ongoing DRDO projects, this asymmetry may soon be bridged.
Philippines-based defense analyst, Miguel Miranda, said, "The IAF is unlike air forces in Western Europe that organize their fleets around a single model and then develop variants for it. For geographical and 'strategic' reasons, the IAF requires multiple aircraft types for any possible war scenario in the future. Indian air power was decisive in 1965, 1971, and in 1999 and 2019. It's clear this will not change."
The analyst went on to say, "The Mirage 2000s operated by the IAF are superb strike aircraft for targeting the enemy's vital infrastructure and other sensitive locations.
It's a role the existing MiG-21, MiG-27's and Jaguars cannot perform to the same extent. The 242 Su-30MKs have a different mission too since these are best suited against China's own twin-engine fighters such as the J-11."
"So, keeping the Mirage fleet intact is a necessary investment. Hopefully, the IAF puts together a new plan for updating its combat power for the 2030s and beyond as more than half its airframes are becoming outdated," Miranda added.
Safety Concerns  
Veteran defense journalist Shashwat Gupta Ray said — the IAF move echoes an age-old trend plaguing the Indian armed forces, in which they have to be content with obsolete weapon systems.
"It seems that there is a massive cash crunch with the IAF. The budget outlay with the air force has anyway been low and has been reported in the past. They must have exhausted their budget with Rafale induction.
Considering that the IAF squadron strength remains depleted, and increased Chinese threat perception, it has been decided to bridge the gap with refitted Mirage 2000 birds.
#Mirage 2000 is considered #Taiwan's least capable class of fighter & suffers from excessive operational costs, a very high crash rate, cracks in the airframe & other issues related to low manufacturing quality. Jets were manufactured in #France in 1990shttps://t.co/hkwvPxvJkr https://t.co/ee1DWgv1YP

— bishwa (@bishwa55900127) August 30, 2020
"I fail to understand the rationale behind flying rehashed aircraft. We have already seen how troublesome the MiG-21s have been in terms of air accidents and developing engine failures.
"We are now saying that we are not even happy with Su-30s owing to maintenance issues, which is why we opted for Rafale. Yet, we are now going even further back and refitting the Mirage 2000s. Sure, the Mirage 2000s may have performed very well in various conflicts — the Kargil war, and the recent Balakot strikes — but there is a limit to procuring old resources. The world is moving towards 5th and 6th generation aircraft, and we are still talking of procuring Mirage 2000s?
"What happened to the Modi government's 'Make in India' agenda? We have taken ages in developing the LCA Tejas. Tejas is a 4.5 generation single-seat multirole fighter aircraft, which will be available for induction only in March 2024. What then is the purpose of making these aircraft if we have to spend on obsolete foreign fighters?
"MiG 21s may have served well in the 1971 war but does that mean we continue to procure MiG-21s all our lives. Assets are purchased so that they can deliver, one does not acquire an asset for its historical achievements now do they? Just because they have delivered in the past does not mean that we persist with it forever! I fail to understand the reason for this. It only indicates that we have a skewed security policy.
"How can you expect to have air superiority with 3.5 generation and 4 generation aircraft in a world which has 5th and 6th generation fighters? We have been perennially using obsolete defense technology all our lives across the armed forces. Even for automobiles or smartphones, we are paying a premium for the latest technology, yet for military hardware, we seem to be looking backward at the cost of national security.
A Taiwanese Mirage 2000-5Ei (said to be s/n 2040) has crashed north of its Hsinchu base. SAR activated https://t.co/gY81ib3V5S via @RXRoy pic.twitter.com/XkSktjq2Kt

— Mike Yeo 杨启铭 (@TheBaseLeg) November 7, 2017
"Our only saving grace seems to be that our trained personnel who operate these war machines have delivered and made up for technological shortfalls. But this too has needlessly led to the loss of lives. Have we not learned from the mishaps of the MiG-21s and the loss of pilots. This went on despite the various upgrades.
"Do we want to repeat this tragic history with the acquisition of the Mirage 2000s? A national security doctrine is the need of the hour and should be made public. Without it, we are only fooling ourselves and this acquisition is only the latest example.
"By the time we phase out these aircraft, technology will advance further. Our adversaries would be way ahead in possessing modern weapon systems. We will be perennially playing the catch-up game in order to match their prowess.
Let's not forget that the threat of a three-pronged war persists. Pakistan, China, and the Taliban, which too now have access to modern fighters left behind by the US. There's a triple-axis of threat. Do we expect to counter these threats with obsolete aircraft?" asked the veteran defense journalist.
Aritra Banerjee is a defense journalist who has worked in both online and print media. He has laid an emphasis on issues related to military human resources, tactical psychology, military-media relations, professional military education, and combat fitness. He can be reached at aritrareporter@gmail.com.