Ukraine announced on May 16 that it successfully intercepted six Russian hypersonic Kinzhal missiles overnight, effectively neutralizing a weapon that Putin hailed as 'invincible.' 
On the other hand, Russian air defenses reportedly shot down seven of Ukraine's Storm Shadow missiles, the Russian Defense Ministry said on Tuesday.
Russia's military "intercepted seven Storm Shadow long-range cruise missiles, three HARM anti-radar missiles, and seven HIMARS multiple rocket launchers" in a day, the government department said in a Telegram post.
Meanwhile, Kyiv claimed to have destroyed a full barrage of hypersonic missiles fired by Russia. If confirmed, this would serve as a powerful testament to the effectiveness of the newly deployed Patriot systems.
However, an Indian military expert who keenly follows the Russia-Ukraine war says – by the widely available viral video, it appears that the Patriot system fired around 30 missiles in its defense before succumbing to Kinzal missiles. His analysis for the EurAsian Times can be read here.
Meanwhile, as per reports, during an overnight assault, Russia launched 18 missiles at Ukraine, six of which were the high-speed Kinzhal ballistic missiles that travel ten times the speed of sound. 
However, Ukraine claims to have successfully intercepted six Kinzhal hypersonic missiles, resulting in flashes of light and debris raining down over Kyiv. 
Oleksii Reznikov, Minister of Defence of Ukraine, tweeted, "Another unbelievable success for the Ukrainian Air Forces! Last night, our sky defenders shot down six Russian hypersonic Kinzhal missiles and 12 other missiles."
Last night, russian terrorists attacked Ukraine with:
– 6 Kinzhal aeroballistic missiles
– 9 Kalibr missiles
– 3 ground-launched missiles
– drones

ALL TARGETS SHOT DOWN.

Glory to the Ukrainian Air Forces!

We are grateful to our partner states for strengthening our air defense…

— Defense of Ukraine (@DefenceU) May 16, 2023
Valeriy Zaluzhnyi, the commander-in-chief of Ukraine's armed forces, also confirmed the successful interception of all incoming missiles.
Zaluzhnyi said that Ukrainian forces successfully intercepted all six Kinzhal missiles launched from MiG-31K aircraft, along with nine Kalibr cruise missiles fired from ships in the Black Sea and three Iskander missiles launched from land.
Meanwhile, as a result of the missile interceptions, three individuals in the Ukrainian capital sustained injuries from falling debris, according to city authorities. 
Serhiy Popko, head of Kyiv's city military administration, described the attack as "exceptional" in its intensity, with the highest number of missiles launched within the shortest timeframe. Popko made these comments on the Telegram messaging app.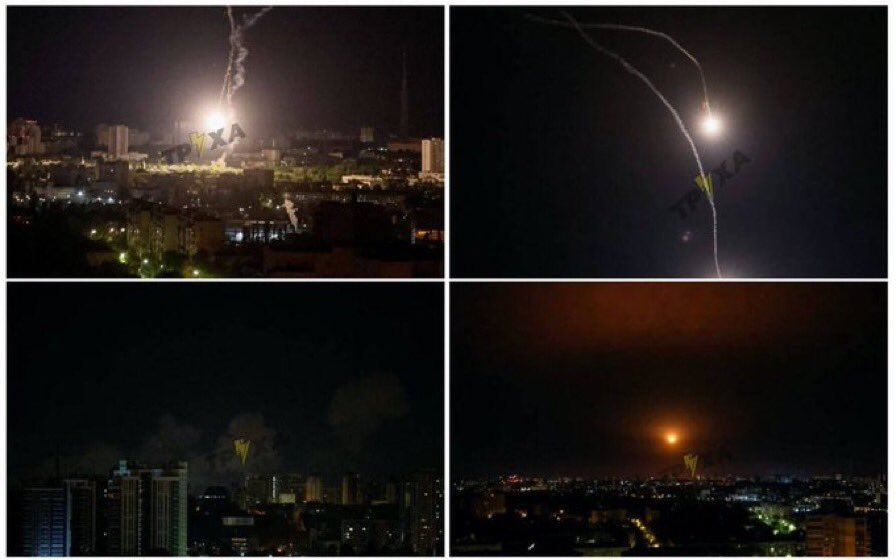 Earlier this month, Ukraine made headlines by claiming to shoot down a Kinzhal missile over Kyiv, marking the first successful interception using the recently deployed Patriot air defense system. 
According to Fabian Hoffmann, an expert on missile technology, the successful interception of Russian missiles by Western air defense systems should give Russian nuclear strategists cause for concern. 
The interception of multiple Russian missile types in a time-coordinated, multi-vector attack suggests that Western air and missile defenses can intercept all of Russia's tactical nuclear delivery vehicles, including SRBM (short-range ballistic missiles) and aircraft.
Russia Claims To Destroy Patriot Systems
Russia claimed to have successfully destroyed a US-made Patriot defense system in Kyiv. Moscow says the targets were destroyed using the hypersonic Kinzhal missile during an overnight strike on Ukraine. 
The Russian military has emphasized that they have hit all the intended targets, which contradicts the Ukrainian claim that they successfully shot down all missiles.
As per the Defense Ministry's statement, the Russian strikes focused on "deployment points of the Ukrainian Armed Forces," as well as ammunition and Western weapons depots. Additionally, they claimed to have intercepted seven British Storm Shadow missiles. 
President Vladimir Putin, who introduced the Kinzhal as one of Russia's "next generation" weapons in 2018, has consistently emphasized its superiority as a formidable component of the country's military arsenal. 
He often highlights the Kinzhal as evidence of Russia's cutting-edge military technology, asserting its capability to outdo NATO forces.
Named after the Russian word for "dagger," the Kinzhal missile can carry conventional or nuclear warheads. Russia deployed these hypersonic missiles for the first time in Ukraine last year, although they used them rarely.
As Ukrainian forces gear up for their counter-offensive, Russia has intensified its long-range airstrikes, marking the highest frequency observed during the conflict.
In May alone, there have been eight instances of drone and missile attacks, surpassing the rate seen during the winter and a period of relative calm in March and April. Kyiv authorities, however, report successfully intercepting and neutralizing most of these attacks.
To bolster its air defense capabilities, Ukraine has acquired two Patriot systems, one provided by the United States and another by Germany.