As the game of drones continues between Russia and Ukraine in the ongoing war, Moscow has reportedly started ground tests of its TrAMP long-range transport drone.
A video of the TRAMP (transport aviation multifunctional platform) revealed that the drone is undergoing the final stage of ground tests, Russian news agency RIA Novosti reported. The drone is likely to take to the skies in April.
The video shows the drone taxiing, inspecting, and troubleshooting its control systems and processes. It could also be seen carrying out several runs without leaving the runway to fine-tune its calculated parameters.
This drone has a two-keel V-tail and a high-positioned straight wing, which are the chief characteristics of a traditional aircraft design from the outside. The engine is located in front of the fuselage. The 2,650-liter cargo compartment is in the middle of the fuselage, which has undergone a large yet smooth extension.
There are drop-down doors on both sides of the cargo compartment, which, when opened, form a large opening to facilitate the loading and unloading of oversized cargo. A recess for retractable rear landing gear is located behind the doors.
First video of Russia's new Long-Range Cargo Drone 'TrAMP'-
It is claimed that the Drone can transport and drop cargo up to 250 kilograms over distances of more than 600 Km.

Reportedly, the final ground tests of TrAMP has begun in #Russia. #Drone #UAV pic.twitter.com/W3mon2vXen

— EurAsian Times (@THEEURASIATIMES) March 15, 2023
Additionally, the device has a cruise speed of 195 km/h and a cruising ceiling of 3000 meters. The landing gear lets users take off and land on ill-prepared and small platforms.
"TrAMP is entering the final stage of preparation for test flights – a regular engine with a large three-bladed propeller will be installed on the car in the near future, standard landing gear instead of technological ones used for ground taxiing. The drone is completing the ground test program – dozens of taxis have already been completed, and the control system has been worked outboard," an informed source told RIA Novosti.
The source sounded positive and said the drone would be sent into the skies in April. He asserted that the absence of specific specialists kept the developers from executing the first flight as soon as they had intended.
The development of this long-range transport drone was first reported in February 2023. At the time, media reports indicated that Russia had developed a transport drone TrAMP that could fly to a considerable distance while hauling a significant cargo load.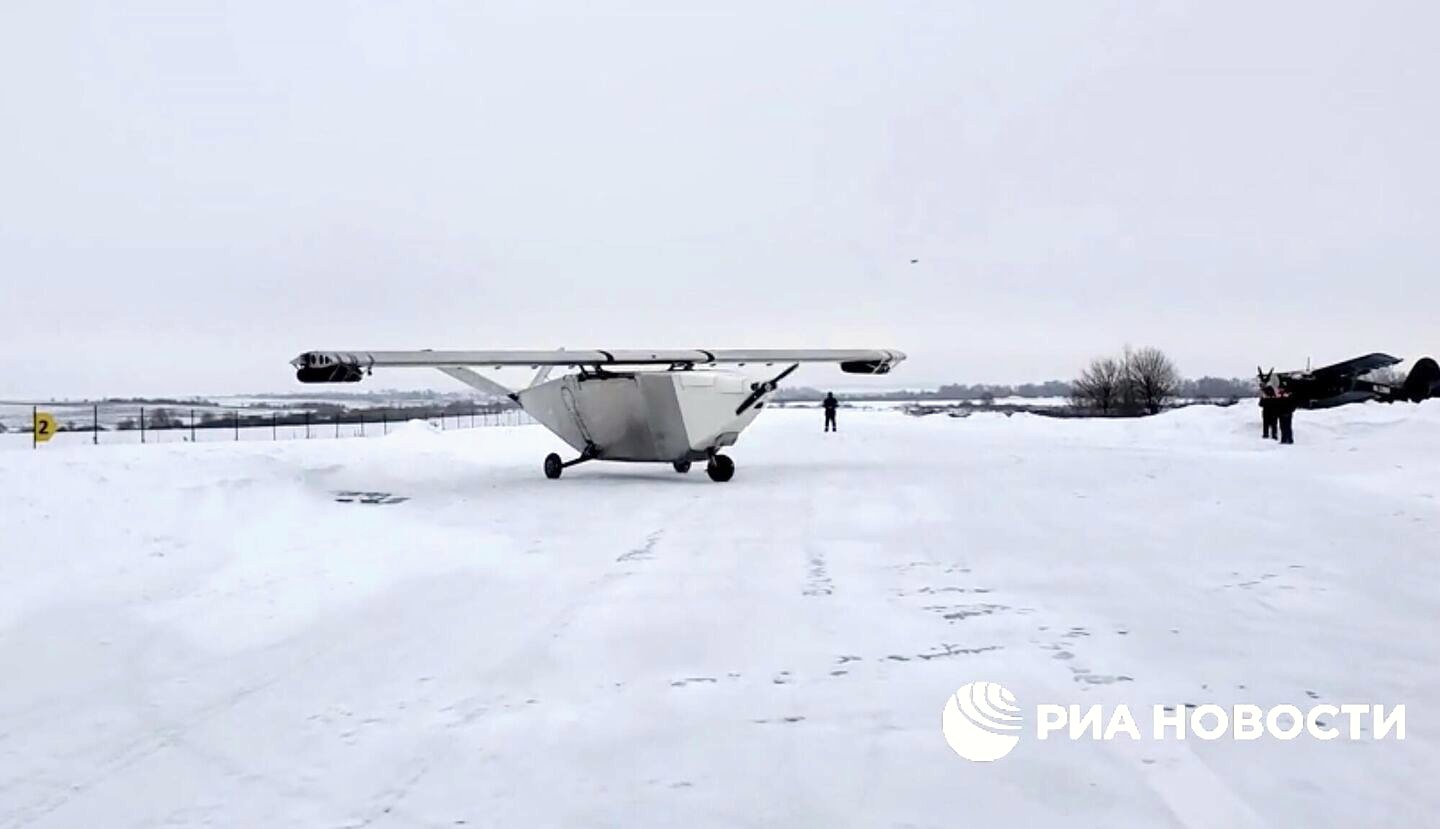 The drone can be used for surveillance in agriculture and broad areas for civilian uses. The compartment can have unique equipment such as radar, optical, cartography, etc. The ability to suspend an impact payload is made feasible by the compartment doors opening downward.
However, the drone is expected to be deployed by the Russian military in the ongoing conflict. The TrAMP's integrated cargo and vehicle rescue system, reinforced landing gear with large-diameter tires for takeoff and landing on short, ill-prepared sites, and a modular design of the main components are further design elements.
One of the most significant features of this drone is that it may have its wings, engines, and landing gear replaced on the spot. Further, the drone is reportedly designed to carry out duties considered dangerous for manned aircraft in inclement weather.
Game Of Drones Continues Unabated
Ukrainian troops have also allegedly intensified the use of drones for conducting long-range operations against Russia – a precedent that is too difficult for Moscow to ignore. For instance, some Russian officials recently accused Kyiv of attempting an attack on Gazprom with an aerial uncrewed system.
Russia's Defense Ministry accused Ukraine of conducting a series of attempted drone strikes against infrastructure throughout the country, including close to the capital, after an oil depot caught fire.
Later, state media published a picture of what it claimed to be the fallen object, which resembled a UJ-22 assault drone built in Ukraine. The UJ-22 is a small, adaptable aircraft that can fly through bad weather and cover up to 500 miles (800 kilometers). The location and timing of the drone's crash are unknown.
In another latest incident, a dramatic video adapted to a song from "Pulp Fiction" captured when a Russian tank tries in vain to flee a Ukrainian kamikaze drone that is stalking it. Overhead footage taken by the suicide drone and made public by Ukraine's Security Service showed the armed aircraft focusing on a T-80BV Russian tank.
Collision likely damaged Russian Su-27 as well- #Pentagon: "We assess that it (collision) likely caused damage to the Russian aircraft as well."

"We know that the Russian aircraft did land.. I'm not gonna go into where they landed." #MQ9 #Blacksea #US #Russia #UAV pic.twitter.com/7dgyfJkDKe

— EurAsian Times (@THEEURASIATIMES) March 15, 2023
Notably, the Russian TrAMP drone video surfaced when drone warfare saw an uptick in the ongoing conflict.
In an unprecedented incident, a Russian Su-27 fighter jet was accused of downing a US MQ-9 Reaper drone over the Black Sea, significantly raising tensions between the two sides.
As the war continues unabated and airspaces become more saturated with modern air defense systems, long-range drones with huge payload capacity could significantly bolster operations for the Russians.
Contact the author at sakshi.tiwari9555 (at) gmail.com