Tensions in the Korean peninsula have reached a tipping point after North Korea fired two short-range ballistic missiles raising fear that a nuclear missile launch could be a matter of time. As anxieties mount, South Korea is stimulating a 24-hour-long attack with its most trusted ally, the U.S.
On October 31, the United States and South Korea started one of their biggest joint military drills, with hundreds of jets from both sides simulating attacks around the clock for more than a week.
In a statement last week, the U.S. Air Force said that the operation, codenamed Vigilant Storm, will go until November 4 and involve around 240 warplanes flying 1,600 sorties. It added that the number of missions is the highest ever for this annual event.
According to the Yonhap News Agency, South Korea sent out about 140 aircraft, including F-35A stealth fighters, F-15K and KF-16 jets, and the U.S. sent out about 100 assets, including KC-135 tankers, U-2 high-altitude reconnaissance aircraft, EA-18 electronic warfare aircraft, and F-35B stealth fighters based in Okinawa, Japan.
These joint air drills were first conducted back in 2015. However, to promote inter-Korean harmony, they were discontinued in 2018 by the then-Moon Jae-in administration. These are touted as the largest air drills on the peninsula.
The drills between the two seasoned allies come amid North Korea's unprecedented launches of ballistic missiles that have sent alarm bells ringing in the entire region. The exercises will be the biggest of their sort conducted by the two nations since North Korea conducted a nuclear test in 2017.
Among other aircraft, the Vigilant Storm military drill will feature F-35 stealth fighter variants from the U.S. and South Korea. In addition, Australia will also send out an aerial refueling aircraft.
✈️??????Five days of joint US-South Korean military exercises begin today

South Korea and the US will hold major combined air drills,involving some 240 military aircraft,to verify the allies wartime operational capabilities,amid the growing "North Korean security threats"

— AZ ???? (@AZgeopolitics) October 30, 2022
"(South Korea) and U.S. Air Forces will work together with the joint services to perform major air missions such as close air support, defensive counter air, and emergency air operations 24 hours a day during the training period," the U.S. Air Force said. "Support forces on the ground will also train their base defense procedures and survivability in case of attack."
Earlier this month, 150 North Korean jets participated in a coordinated air-attack exercise on October 8 under the direction of Kim Jong-un. Su-25, MiG-29, MiG-23, MiG-21, and MiG-19, all Soviet-era vintage fighter jets, were among the fighter jets visible in the photographs from the drills that went viral on social media.
While the South Korean military emphasized that these joint drills would bolster operational capabilities between the two partners and deter North Korea from carrying out provocations, Pyongyang warned that these drills were aimed at practicing an invasion.
Technically, the two Koreas remain at war in the absence of any tangible peace treaty.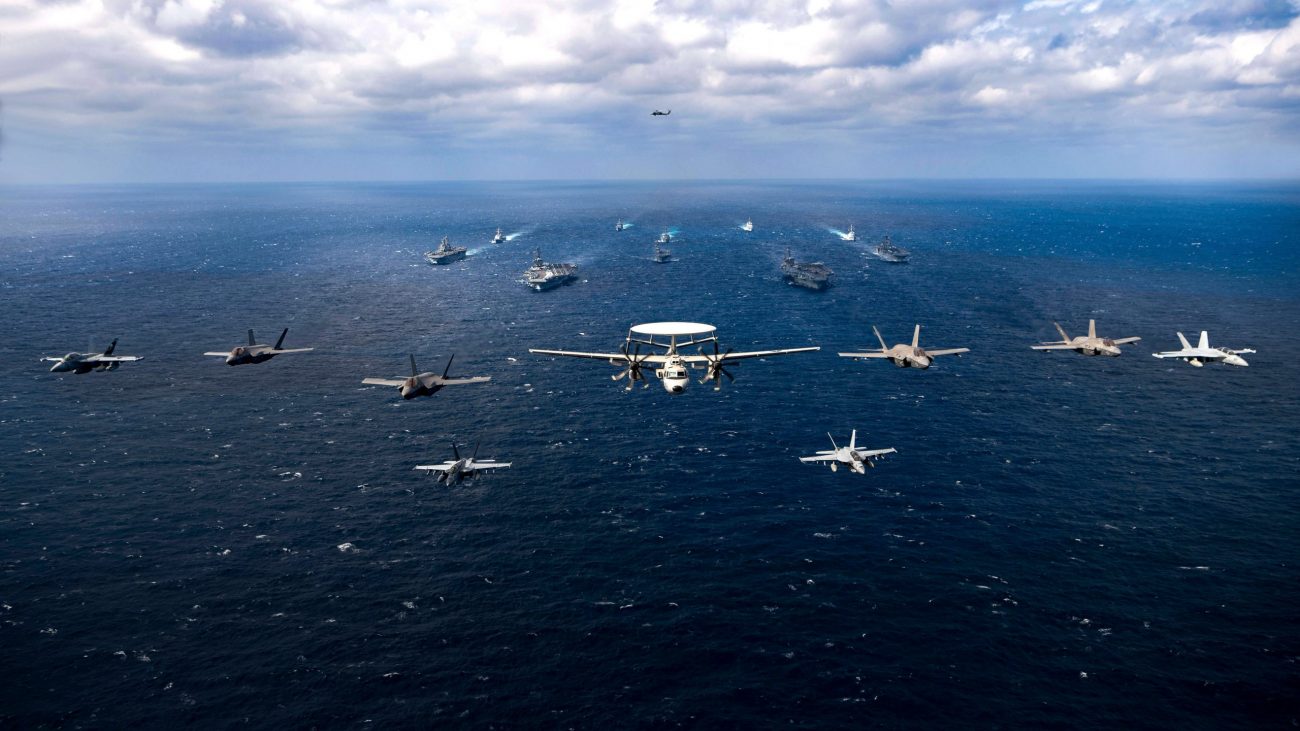 Rising Hostilities
The two ballistic missiles launched by North Korea last week marked the 28th launch in 2022 alone. They came against the backdrop of South Korea wrapping up its Hoguk military drills, a joint amphibious operation between the South Korean navy, marine corps, and air force.
The U.S. and South Korea, thus, claimed that such training is necessary to combat possible threats from North Korea, which has conducted a record number of missile launches this year and has started preparing to resume nuclear testing for the first time since 2017.
This year has been one of the busiest in terms of military activity on the Korean peninsula.
In August 2022, South Korea and the United States launched regular joint military exercises called 'Ulchi Freedom Shield' on August 22 that included field training for the first time in four years. These drills saw computer simulations for command posts, field training, and civil defense drills.
On September 30, the U.S., South Korean, and Japanese Naval forces conducted a trilateral anti-submarine warfare drill in the East Sea in response to ballistic missile launches by Pyongyang. The trilateral anti-submarine exercise was held for the first time in five years.
Later, at the beginning of October, the nuclear-powered U.S. aircraft carrier USS Ronald Reagen, which has now been redeployed to the Sea of Japan, participated in joint maritime exercises with South Korea in response to North Korea's ballistic missile launches and air attack drills.
North Korea fires a ballistic missile into Sea of Japan after the USS Ronald Reagan aircraft carrier strike group arrived in South Korea to participate in war games for first time since 2017

— Lucas Tomlinson (@LucasFoxNews) September 24, 2022
These latest drills assume significance, as they come after the North Korean state media broke the silence and said the recent spate of missile testing was meant to demonstrate Pyongyang's readiness to fire tactical nuclear warheads at potential targets in the South.
On the fortnight of the Vigilant Storm drills, the head of the U.N. nuclear watchdog International Atomic Energy Agency (IAEA), "everybody is holding its breath about" a potential North Korean nuclear test, which could provide further "confirmation of a program which is moving full steam ahead in a way that is incredibly concerning."