Rotorcraft designer and manufacturer Russian Helicopters will present military equipment for the first time at the Dubai Air Show, scheduled for later in November, Andrey Boginsky, the company's CEO, said.
As Russia Takes Its Latest Fighter Jet To Dubai, Will Su-75 'Checkmate' American F-35 Aircraft For UAE Deal?
"This is probably the first time we are taking military equipment to Dubai. This is the Mi-28 [helicopter], an export version, and the Ka-52 helicopter, also an export version," Boginsky told reporters after the opening ceremony of the construction of a new workshop at the Kazan helicopter factory.
The company will present a "fairly wide" line of equipment at the air show, due to be held from November 14-18, he added.
Boginsky recalled that two years ago, his firm brought an Ansat helicopter to Dubai. This year, it will present an Ansat helicopter with the brand of the Russian luxury carmaker Aurus, as well as the same vehicle with a medical module; Business Jet and Superjet in the style of Aurus; as well as K-226 and Mi-171A2 helicopters, he explained.
The company is negotiating with partners in different countries on the sale of helicopters of the Aurus brand. In Dubai, the main focus will be North African and Middle Eastern markets, Boginsky said.
Mi-28 'Night Hunter'
The Mi-28 is the successor to the Mi-24 Hind, as well as the Apache's counterpart. The Mi-28N was first introduced in the 1990s, with the NM model being the most recent variant. Russian troops call it Mi-28N 'Night Hunter' because of its ability to conduct combat missions at any time and in any weather condition.
Its export version, the Mi-28NE, carries the same nickname.
The Mi-28NE is created to enhance fire support of land forces and can be used to destroy armored vehicles, low-flying, and low-speed air targets, and to conduct air surveillance. The Night Hunter is well-armored and has a high combat endurance. Additional advantages include all-weather and 24-hour warfare application capabilities, as well as powerful firepower.
Multi-cyclone dust protection devices with a revolutionary air purification approach and great dust-removal efficacy are installed on Mi-28NE gunships. This attack helicopter is designed to use in hot and arid environments.
The recent variant is sophisticated and has capabilities similar to those seen in American helicopters. In addition, Russia has previously used this platform in combat operations during Syria's civil war.
The new electronics will enable pilots to get target designations from advanced aircraft intelligence units, considerably enhancing the efficiency of ground forces interaction since spotted targets may be eliminated quickly.
Move Over S-400 & S-500! Russia Announces Development Of 'Never Seen Before' S-550 Missile Defense System
Ka-52 'Alligator'
The Ka-52E helicopter can perform attack, reconnaissance, and command missions. It can undertake maneuvers such as funnels and flat turns, because of its coaxial rotor system, allowing it to efficiently engage moving targets in less protected regions.
The Ka-52 is equipped with both passive and active countermeasures, as well as signature control equipment. The 'Alligator' is stated to be the world's first operational helicopter with ejection seats.
Having a coaxial rotor design specifically seen on Kamov helicopters, it is very different in design from its American counterpart, the AH-64E Apache Longbow, The EurAsian Times earlier reported.
The Alligator is considered superior to the US' Apache because its anti-ship missiles have a better range than those of the American chopper.
The Alligator's other key advantages are its great efficiency in the mountains and over the sea surface, low susceptibility to wind impacts, high combat survivability, and open avionics design, which allows the operator to install the equipment of his choice.
The Ka-52 is based on the Ka-50 helicopter, but with a few tweaks. Because of the twin-seat cockpit, the helicopter has a broader nose and a longer fuselage.
The K-226T
Another helicopter that would be visible at Dubai Airshow is Ka-226T.
The Kamov-226-T is a light, twin-engine multi-role helicopter, manufactured by the Kumertau Aviation Enterprise, Russia. It can perform surveillance, reconnaissance, search, and rescue (SAR) missions, as well as transporting cargo and troops. The military version has been specifically designed to operate in high-altitude terrains. 
The military variant of the Ka-226T is intended for use in difficult-to-reach upland areas as well as hot and cold climates.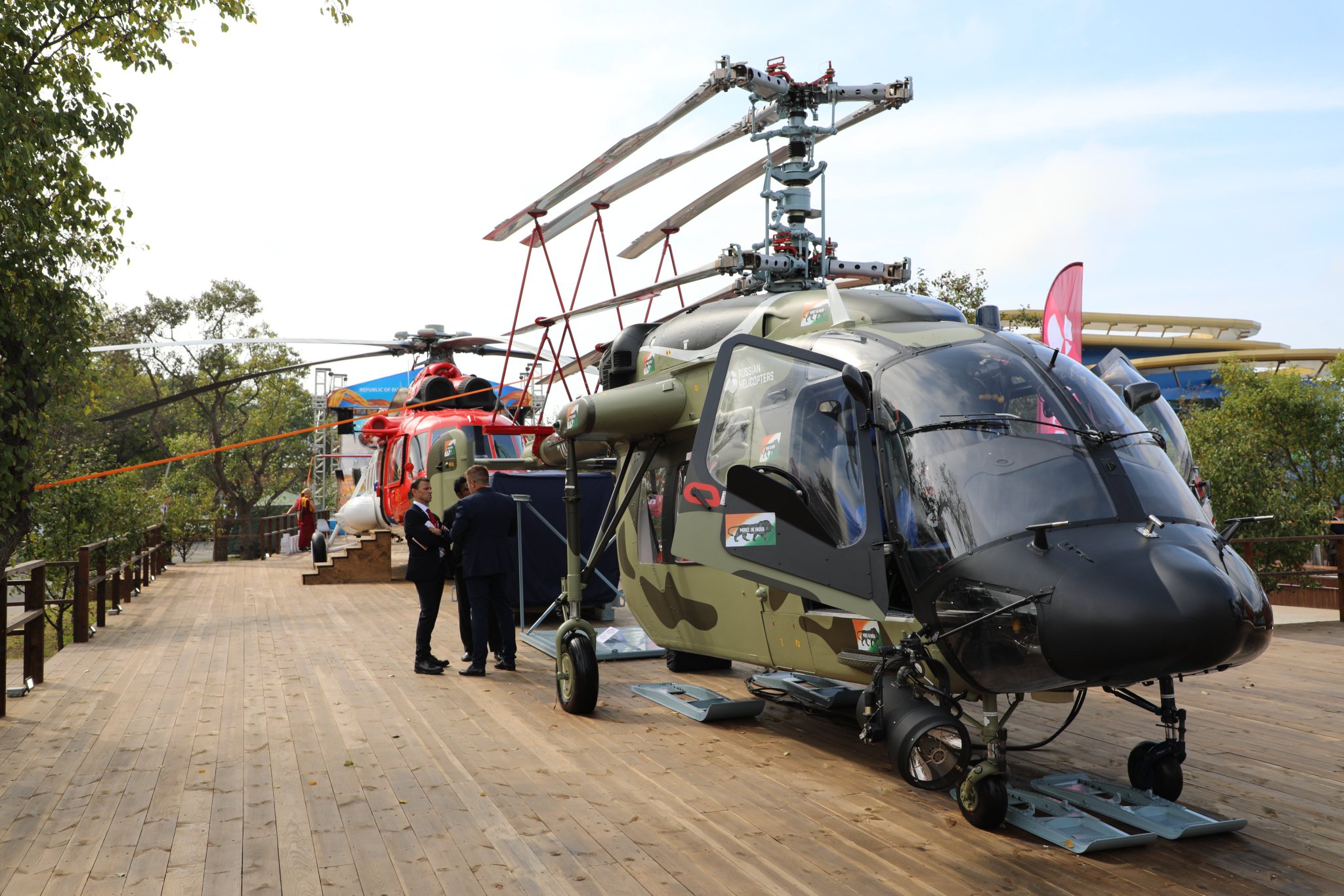 In 2015, India and Russia signed an Inter-Governmental Agreement (IGA) for at least 200 Ka-226T twin-engine utility helicopters worth more than $1 billion, with 60 helicopters being imported directly and the rest 140 being constructed domestically.
India's helicopter fleet has been in desperate need of an upgrade, with the outdated Chetak and Cheetah helicopters reaching the end of their technological life.
However, due to India's demands on the degree of local manufacture, negotiations on the delivery and launch of licensed production of Ka-226T multi-role helicopters have stretched on.