Ukraine will receive around a dozen Estonian-made THeMIS unmanned ground vehicles (UGV) for battlefield Casualty Evacuation (CASEVAC), two months after a Russian think-tank ordered a one million ruble bounty to capture the system.
The contract was signed between Milrem Robotics and German defense company Krauss-Maffei Wegmann (KMW) to deliver 14 THeMIS unmanned ground vehicles (UGV) to Ukraine for casualty evacuation (CASEVAC).
There is no indication of a combat role so far.
In September, EurAsian Times reported how Russia's Center for Analysis of Strategies and Technologies (CAST) announced the reward to capture an intact THeMIS and study its technology.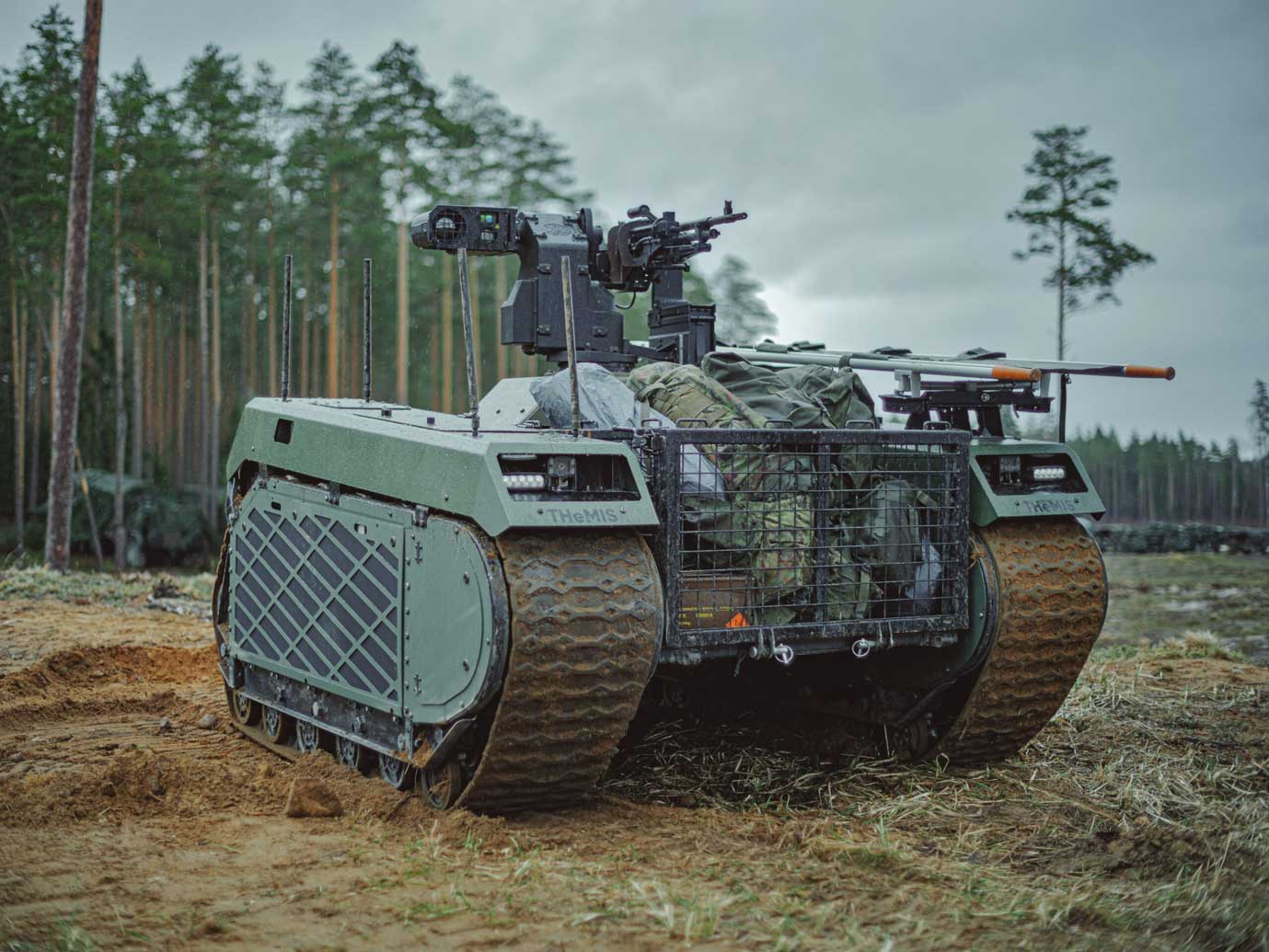 The UGV would also become the first such system to be deployed in the war, apart from the large-scale use of Unmanned Aerial Vehicles (UAV).
However, that the UGV would be in an exclusively non-combat role means that Estonia is wary of irking Russia. Other Baltic nations like Latvia and Lithuania have been hawkish on Russia and have supported all punitive measures, including sanctions on its energy exports and industry, and voting against it in multiple United Nations motions.
The THeMIS has been described as a multi-terrain capable, self-propelled, remote-controlled vehicle with a maximum speed of 25 kilometers an hour, sporting a mounted camera.
"Of the 14 vehicles, seven will be configured for casualty evacuation (CASEVAC) and are scheduled to be delivered by the end of this year. The other seven, to be delivered in the second quarter of 2023, will be configured for route clearance with payloads from the French defense manufacturer CNIM Systèmes Industriels. The German Ministry of Defense is funding the effort," said the company.
?? QĐ #Ukraine đã nhận được xe robot THeMIS đầu tiên do cty Milrem Robotics của #Estonia chế tạo.

THeMIS là xe tự hành bánh xích đa địa hình, tốc độ max ~25km/h, gắn camera & được điều khiển từ xa, dùng để tải thương hoặc ship hàng hóa trên mặt trận. pic.twitter.com/8lJAEn61Zm

— c0mmand0: tin tức Ucraina/Ukraina -Nga/Russia (@c0mmand0_2022) September 4, 2022
It is a multi-mission unmanned ground vehicle with an open architecture that enables it to be rapidly configured from having a transport function to being weaponized, performing ordnance disposal, or supporting intelligence operations according to the nature of the mission.
The weaponized version can be armed with light or heavy machine guns, 40mm grenade launchers, 30mm automatic cannons, anti-tank missile systems, and 81mm mortar rounds to provide rear support and indirect fire for mobile forces.
Sixteen countries have acquired THeMIS UGVs, eight of which are members of the North Atlantic Treaty Organization (NATO), including Estonia, Germany, France, the Netherlands, Norway, Spain, the UK, and the US.
"Casualty evacuation and route clearance are two labor-intensive activities that require the engagement of several people who remain in constant threat of enemy fire.
Automating these tasks with unmanned vehicles alleviates that danger and allows more soldiers to stay in a safe area or be tasked for more important activities," explained Captain (res) Jüri Pajuste, Defence R&D Director at Milrem Robotics.
Russia Wants A Piece Of The THeMIS
CAST director Ruslan Pukov had been quoted in a previous report saying this was the most unique and technologically advanced product supplied to Ukraine in recent times. "Since this device is of great technical interest, CAST declares a reward of one million rubles to any military or law enforcement personnel or those who master the THeMIS platform in Ukraine in partial or complete condition.
The robot must be handed over to the Russian Defense Ministry in more or less intact condition," the center said in a statement by Daily News.
Some Russian nationalist commentators close to President Vladimir Putin's United Russia party said that the capture of the THeMIS would be more "symbolic" than a military win.
They said it would embarrass the "ungrateful and selfish" Baltic nations. They say these countries owe a lot of their economic stability and industry to the former Soviet Union, of which they were a part and became independent nations after it dissolved in 1991.