Russia began flying medical assistance to Italy to help it battle coronavirus pandemic after receiving a go-ahead from President Putin, a goodwill gesture that Moscow labelled "From Russia with Love".
Russian SU-24 Bomber Almost Shot-Down By Turkish Forces: WATCH NOW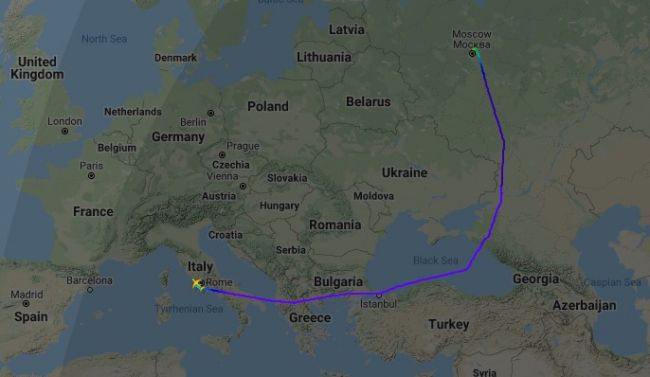 Russian Il-76 military planes began taking off from an airbase in the Moscow region after Putin spoke to Italian Prime Minister Giuseppe Conte on Saturday and agreements were later reached between respective defence ministers.
«From Russia with love". With these stickers on the sides, Russia's two military planes with experts and equipment takes off from Chkalovsky airfield and is heading to #Italy to assist in combating the #coronavirus pandemic. Photos courtesy of the Defense Ministry pic.twitter.com/oxT3zE8vNG

— Sputnik Insight (@Sputnik_Insight) March 22, 2020
However, the netizens were left wondering why IL-76 aircraft of the Russian military which was to provide humanitarian assistance, took a strange, unusual flight path to Italy?
Judging by the flight route tracking site flightradar24.com, the planes, flying from Moscow, headed south, passed over the Black Sea, then over the territory of Turkey, Greece and Albania, after which it landed in Rome.
How Russian Air Force Jammed Turkish F-16 Fighter Jets Over Idlib, Syria?
The Russian IL-76 travelled over three thousand kilometers. Directly, if the Il-76 were flying over Belarus, Poland, the Czech Republic, Austria or Germany, the route would have been about 2 thousand kilometers – a thousand less.
So why did the Russian travel 1000 km extra to reach Italy. The main version, according to netizens is that Poland did not permit Russian military planes to fly over its territory, which is a strategic NATO ally and considered an "eastern outpost of NATO."
Turkish President Erdogan Begs Donald Trump For Help Against Russia
Russia offered medical equipment to Turkey besides the heavy-duty Kamaz trucks mainly used by the Russian armed forces. Perhaps NATO considered the equipment as a military cargo, which is forbidden to be transported (over NATO nations) even via an air transit corridor. There is no official explanations of the "detour" of the Russian IL-76 yet.
Andrzej Wilk – a Senior Fellow at the Department for internal security in Eastern Europe indirectly confirmed that it was Poland that didn't let IL-76 of the Russian Air Force help Italy, as a result of which the aircraft was forced to fly over the Black Sea and the Balkans.
How Russian Air Force Jammed Turkish F-16 Fighter Jets Over Idlib, Syria?
"Russia's support for the fight against coronavirus may have consequences for future ties between Moscow and Rome and Italy's position regarding Russia's military threat to Europe. The actions demonstrating Russia's earlier preparation for this type of assistance, as well as the way to agree on this issue, allow us to consider it as another element of Moscow's efforts to destroy the cohesion of NATO allies, similar to the actions taken against Turkey a year ago (when Moscow lured Turkey to purchase S-400 air defence systems)