Following India's induction of Dassault Rafale fighter jets, Pakistan Air Force Air Marshal recently expressed his apprehension and claimed that New Delhi is planning an "offensive in 18-24 months". 
Erdogan Claims Jerusalem; Has Turkey Replaced Iran As The Biggest Threat To Israel & The Arab World?
Pakistan Air Force (PAF) Air Marshal Mujahid Anwar Khan speaking at the Centre for Aerospace and Security Studies in Pakistan claimed an imminent threat from Rafale fighters equipped with BVR Meteor missiles.
"I would imagine India offensive in 18-24 months. As it received a sizable number meteor equipped Rafales from France. Only this time she will enter deeper than 5 kilometers and engage multiple targets to stamp its superiority in the aerospace domain. I imagine India's willingness to spread the conflict in the air beyond Kashmir and possibly at the international border," he said.
Why Pentagon's Plan For Lightweight Aircraft Carrier Could 'Severely Weaken' The World's Mightiest US Navy?
Earlier, the foreign office of Pakistan had issued a statement saying that acquisition of nuclear-capable Rafale jets was a clear indication that India was amassing military capabilities beyond its security needs.
With the arrival of 4++ generation Rafale jet loaded with the lethal BVRAAM (Beyond Visual Range Air to Air Missile) Meteor, Pakistani jets including the F-16s and JF-17s suddenly have an opponent that can outdo the PAF jets.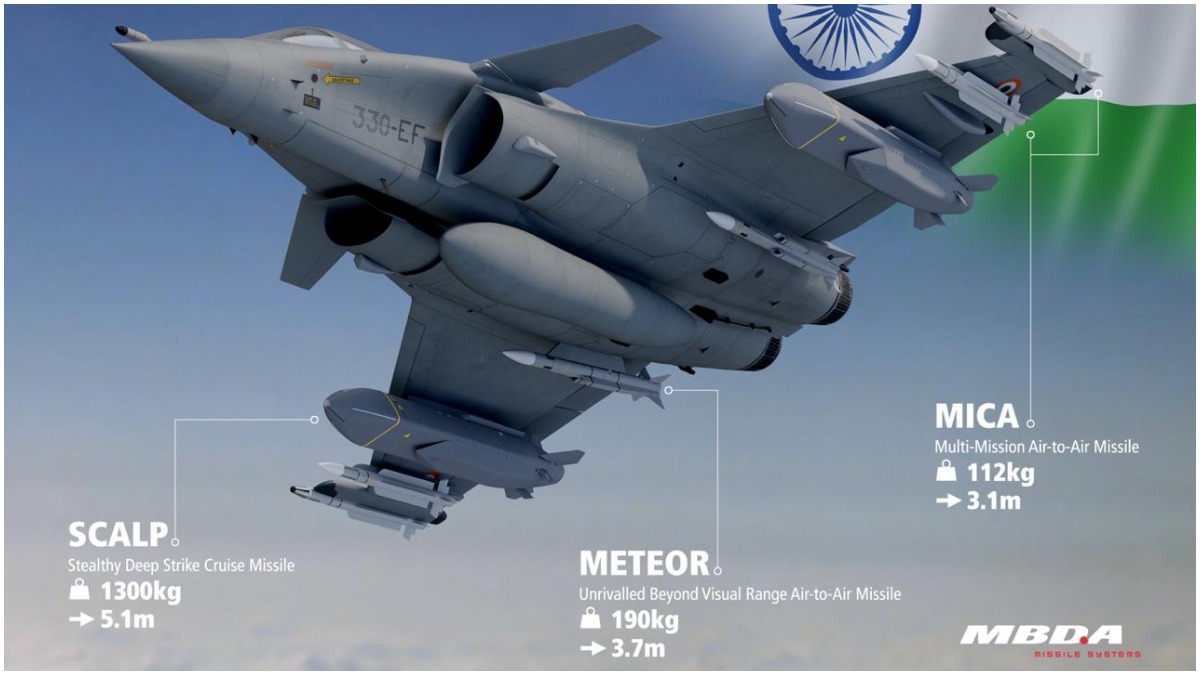 Unlike Rafale jet which is manufactured by Dassault Aviation, the meteor missile is produced by MBDA and is a game-changer for the IAF. Even the stealth, fifth-generation F-35s that the UK (Royal Air Force) is operating is equipped with meteor missiles.
It is an active radar-guided beyond-visual-range air-to-air missile (BVRAAM) and is powered by a propulsion system and uses GmbH's solid fuel, variable flow, ducted rocket system, also called ramjet.
The Ramjet propulsion system gives Meteor the ability to throttle its engine (control engine power) during the various stages of its flight towards its target. The propulsion system in a standard air-to-air missile does not give this option.
India Ready For Conflict
The Indian Air Force (IAF) Air Chief Marshal RKS Bhadauria said at a press conference last week that India is ready to for any possible conflict including a "two-front war", pointing at China and Pakistan, at the northern and eastern border. 
Why US Navy Has 'Shot-Down' Proposal To Invest In 6th-Gen Fighters & Will Stick To F-18 Super Hornets & F-35 Jets?
"The integration of Rafales brings in a platform which is way ahead and would give us an edge and capability to strike first and deep," he said. "Indian Air Force is ready for any possible conflict, including a two-front war."
#WATCH The emerging threat scenario in our neighbourhood & beyond mandates need to have a robust capability to fight across the entire spectrum of warfare…I can share with you with confidence that operationally, we are amongst the best: IAF chief Air Chief Marshal RKS Bhadauria pic.twitter.com/SEgfwOUP3E

— ANI (@ANI) October 5, 2020
The statement by the IAF Chief irked Islamabad and drew a sharp response from Pakistan Foreign Office spokesperson Zahid Hafeez Chaudhri who reminded India of its "defence limitations".
"While making such braggadocio, the Indian air force chief must not forget India's defence limitations, so embarrassingly exposed to the world, first during its misadventure in Balakot and more recently in Ladakh," he said, reported Pakistani media, The Dawn.
He further warned India not to underestimate the resolve of the Pakistani nation and the preparedness of its armed forces against any "ill-conceived misadventure by India."
Pakistan Air Force carried out Road Runway operations today. Fighter jets along with trainer aircraft from various Squadrons of PAF, participated in the exercise.
PAF regularly undertakes road runway operations as part of its operational preparedness plan. @DGPR_PAF pic.twitter.com/2dMNxQBp24

— Javeria Siddique (@javerias) October 7, 2020
Is India Looking For Revenge?
In 2019, following the Pulwama attack that killed 40 Indian defence personnel, Indian warplanes crossed the border and dropped bombs in the vicinity of the town of Balakot in Pakistan.
Indian Navy Wants Three Aircraft Carriers To Counter China; Will Modi-Government Concede To Demands?
IAF claimed to have bombed Jaish-e-Mohammed's biggest training camp. The very next day, Pakistan tried to target military installations. The PAF managed to shoot-down a MiG-21 Bison in aerial combat besides capturing IAF pilot Abhinandan Varthaman, who was handed over to India on March 1, 2019.
As per a EurAsian Times report, last week Pakistan Air Force (PAF) fighter jets participated in a tactical landing exercise on the Islamabad-Lahore motorway on Wednesday as 'contingency planning'. 
After landing, the aircraft were refueled before they took off for respective bases. Interacting with the participating crew the Federal Minister lauded PAF for living up to the expectation of the nation on 27 Feb 2019, when a befitting response was given to the enemy. pic.twitter.com/C7Ja7jFBTT

— DGPR (AIR FORCE) (@DGPR_PAF) October 7, 2020
An expert talking to EurAsian Times, who did not wish to be named, said that PAF is expecting a revenge from India for shooting down its Indian Mig-21 last year.
And with the ongoing conflict with China, the Indian Air Force would ideally love to teach a lesson to both China and Pakistan with one strike, and that can only be accomplished if IAF shoots down some of JF-17s – jointly developed by China and Pakistan.
Not only Pakistani jets but Chinese claims of being super-power would go down the drain.
China, Pakistan vs India
India inducted the first batch of newly acquired fighter jets on September 10, in a grand ceremony attended by Defence Minister Rajnath Singh with his French counterpart Florence Parly at the Ambala airbase. 
While India is engaged in a border stalemate with China, it is facing an increasing threat from Beijing's 'iron brother', Islamabad, with increased shelling as Pakistani troops continue to violate ceasefire on the Line Of Control (LOC). 
Indian Defence Minister Rajnath Singh while addressing a virtual inauguration of Border Roads Organisation (BRO) projects at forward bases had stated – "a border dispute is being created under a mission" by China and Pakistan.
"You are well aware of the conditions created on our northern and eastern borders. First, it was Pakistan, and now also by China, as if a border dispute is being created under a mission. We have a border of about 7,000 kilometres (km) with these countries, where tension prevails on a daily basis," he said. 
India-Pakistan Talks
Pakistan PM Imran Khan's adviser on national security has claimed that New Delhi has shown a desire for talks with Islamabad. Moeed Yusuf, the special assistant to Khan said India has sent a message to Pakistan with "a desire for conversation" but refused to give details.
Among the conditions set by Yusuf for a dialogue with India is the release of political prisoners in Jammu and Kashmir, making Kashmiris a party to talks, ending restrictions in the region, rescinding the domicile law that allows non-Kashmiris to settle in the region, and stopping alleged human rights abuses.
He also said the changes in Jammu and Kashmir are "not an internal matter", and are "a matter for the UN". Yusuf made the remarks in an interview with journalist Karan Thapar for the news portal, TheWire.