Indian Navy recently inducted two Sea Guardian drones (unarmed variants) on lease from General Atomics of USA. More could be inducted later.
These two drones are flying with the Indian Navy logo, and are under the full operational control of the service and India will have exclusive access to all the information that the drone will capture or relay.
The lease is reportedly under the emergency procurement, perhaps related to the stand-off in Ladakh. Officially, the MQ-9 Guardian/Predator-B has been leased for a year for surveillance in the Indian Ocean Region (IOR). The maintenance of the drones will be managed by the company technicians in India.
Inducted on 21 November, they are operating from the Indian Navy airbase at INS Rajali, near Arakkonam in Tamil Nadu. In a similar fashion, earlier India had leased the Chakra nuclear submarine from Russia. The long endurance of the drones would supplement the Boeing P8-I maritime patrol aircraft.
Interestingly General Atomics Global Corporation recently appointed Indian-American defense industry veteran Vivek Lall as its new Chief Executive.
Recent Unmanned Combat Action
The just-concluded conflict between Armenia and Azerbaijan over the disputed Nagorno-Karabakh region included the heavy use of missiles, drones, and rocket artillery. The 44-day war featured drones of Russian, Turkish, Israeli, and indigenous designs performing both reconnaissance missions to support artillery use and strike missions.
Unmanned aerial vehicle (UAV) and loitering munitions attacks were able to destroy heavy ground units, including T-72 tanks and advanced S-300 air defenses.
On 3 January 2020, a United States drone strike near Baghdad International Airport targeted and killed Iranian major general Qasem Soleimani while purportedly on his way to meet Iraqi Prime Minister Adil Abdul-Mahdi in Baghdad.
Soleimani was commander of the Quds Force, one of five branches of Iran's Islamic Revolutionary Guard Corps (IRGC), and was considered the second most powerful person of Iran, subordinate to Supreme Leader Ali Khamenei.
On 14 September 2019, drones were used to attack the state-owned Saudi Aramco oil processing facilities at Abqaiq and Khurais in eastern Saudi Arabia.
The Houthi movement in Yemen claimed responsibility. U.S. military has carried out hundreds of drone strikes in Pakistan and Afghanistan between 2004 and 2017 targeting Taliban and individual leaders.
UAVs in Iraq
Between 1991 and 2003, the US used a variety of UAVs in combat operations during Operations Desert Storm. These included the Pioneer, the Pointer, the Hunter, the Predator, the Global Hawk, the Dragon Eye, the Desert Hawk, and the Shadow.
The combat roles undertaken by UAVs included reconnaissance, target designation, and air to ground strikes among others. UAVs have some advantages over manned aircraft.
These include no risk to human life, lower operational costs, continuous real-time sensor data flow, and reduced sensor to shooter time. UAVs are especially useful for extremely long reconnaissance missions and for missions in areas of extreme danger. The percentage of unmanned aircraft sorties should continue to grow as UAV capabilities increase.
Future is Unmanned
Unmanned aircraft technologies have now matured well beyond just reconnaissance, security, and targeting. Unmanned Aerial Systems (UAS) are now undertaking all missions including heavy-lift cargo.
World is at a transition. There are some who see the JSF F-35 Lightning II as the last dedicated manned fighter/bomber. Solar-powered UAS are already flying.
Currently, the solar-powered Airbus Zephyr holds the endurance record for UAVs, with 25 days in the air. Dual-use (optionally manned) aircraft are also flying. USAF has already modified F-4s and F-16s to fly them remotely.
For long the Russians have been using unmanned MiG-21s as targets. In France, Dassault leads a multi-nation project for delta wing UCAV 'Neuron' of the size of Mirage 2000. 'Taranis' is the name of UK's future unmanned project.
Meanwhile, American UAVs like the Northrop Grumman X-47B are autonomously carrying out all operations from a moving aircraft carrier deck. Many UAVs are performing autonomous aerial refueling operations.
The Lockheed Martin "Sea Ghost" is a proposal for the United States Navy's qualification requirement for an Unmanned Carrier-Launched Airborne Surveillance and Strike aircraft. It will be a "flying-wing" design and inherent stealth.
The proposed new American bomber, the Northrop Grumman B-21 Raider is likely to be optionally manned. Uninhabited helicopter convoys will deliver supplies to troops deployed on combat front lines. Coordinated UAS swarms have been tested by both the US and China.
The US Army's dramatic shift to a nearly all-unmanned flight over the next three decades is embedded in the UAS roadmap. USAF's UAS vision document indicates that by the year 2047 every mission would be unmanned.
UAVs in India
All the three wings of Indian armed forces operate mostly Israeli UAVs. Israel Aerospace Industries (IAI) Heron is a medium-altitude long-endurance (MALE) UAV that can operate for 52 hours and up to 10.5 km (35,000 ft) altitude.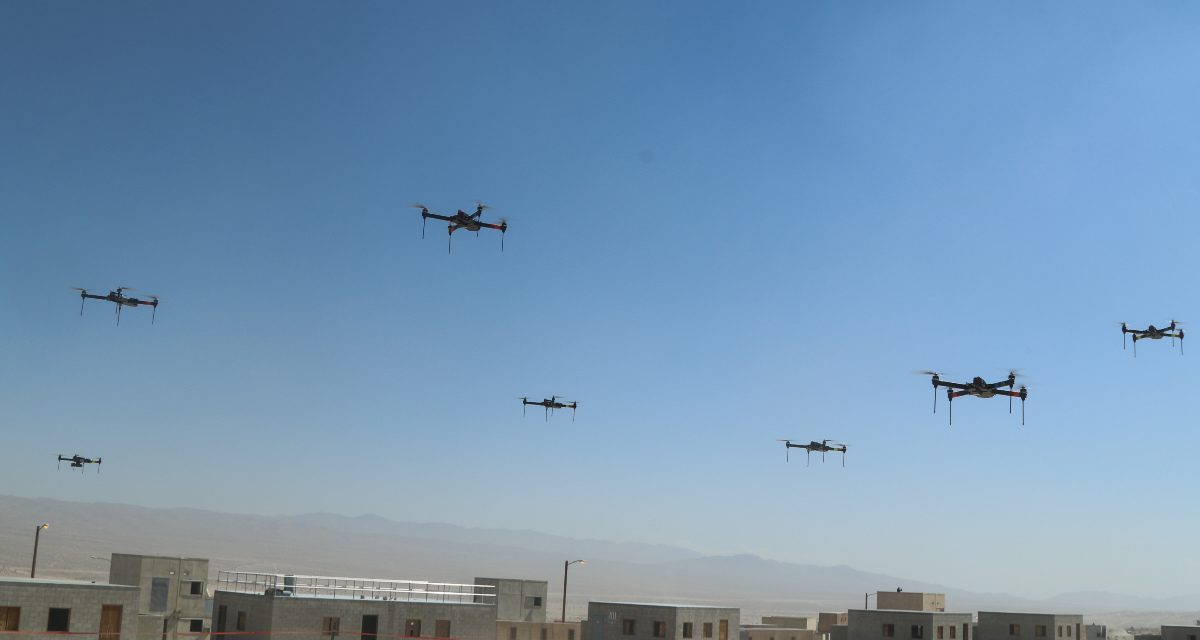 The advanced variant Heron TP is on offer. The IAI Searcher is a reconnaissance UAV. India has the Mk II which is a scaled-up variant. The new design features include updated avionics and sensor systems with greater flight endurance as well as increased redundancy for improved survivability.
With a maximum speed of 200 km/h, endurance of 18 hours, it can operate up to 6,100 m (20,000 ft). More than 100 Searcher IIs are being operated in India.
The IAF also acquired the IAI Harpy loitering munition designed to attack radar systems and is optimized for the suppression of enemy air defense (SEAD) role.
It carries a high explosive warhead. Later these were replaced by the advanced Harop (Harpy 2) that can either operate fully autonomously, using its anti-radar homing system, or it can take a human-in-the-loop mode.
If a target is not engaged, the drone will return and land itself back at base. Harop has loiter (flying) time of 6 hours and a range of 1,000 km both ways. It is designed to target enemy air-defense systems and its stealth helps evade SAMs. Indian Army also operates many small tactical UAVs.
India's current UAV Acquisition plans
While the Navy was keen on U.S. Sea Guardians, the Indian Air Force (IAF) wants the armed  Predator B. India needs a dual-use UAV for both surveillance and attack. American drones are expensive considering the meager Capital budget of India.
There were reports that Americans had initially offered 22 Sea Guardians at around $2 billion. These were mainly meant for Intelligence Surveillance and Reconnaissance (ISR). Indian Ministry of Defence had also floated the proposal. However, due to fund crunch, the numbers were reportedly reduced to 12 later. The new proposal seems to be for 30 MQ-9 UAVs, and these would cost around $3 Billion USD.
Indigenous UAVs
India's DRDO first made the Pilotless Target Aircraft "Lakshya" as a cost-effective re-usable high subsonic aerial target system powered by a gas turbine engine and launched either from land or ship. It carried two targets towed behind at 1.5 km with radar, IR or visual signature augmentation.
Multi-mission "Nishant" is for battlefield surveillance and reconnaissance, target tracking & localization, and artillery fire correction. The 380 kg UAV requires rail-launching from a hydro-pneumatic launcher and is able to be recovered by a parachute system.
The DRDO Rustom is a MALE UAV. It has clearly been evolved from the Long-EZ designed by Burt Rutan, which this author has had a chance to fly. The project is being driven under the production agency cum development partner (PADP).
It would mean private participants would bid for it. Currently, negotiations are underway between these companies and the three Indian armed forces and Indian Government since the private majors are looking for support and commitment in terms of numbers and price. TAPAS-BH-201 (Rustom 2) has an endurance of 24 hours and at present is capable of reaching an altitude of 23000′.
Automatic take-off (ATO) flight was conducted on 07 Nov 2020 which is an indigenous development of an important operational feature. The range of operations touched 250 km on 03 Nov 2020 using satellite communication (SATCOM). The future of this project will decide the technological future of indigenous UAV development in the country.
DRDO is also developing autonomous stealth UCAV for IAF 'AURA', named 'Ghatak'. It will be similar in design to Northrop Grumman's' B-2 Spirit' flying-wing and capable of releasing missiles and precision bombs.
ADE along with CSIR-NAL are also working on Micro & Mini UAVs vehicles have an endurance of 20 mts to 1 Hr. Three MAVs namely Black Kite, Golden Hawk and Pushpak have been designed and developed. These are fully autonomous air vehicles.
To Summarise
Artificial Intelligence enabled drone swarms are already flying exhibiting complex behavior, achieve mutual coordination and accomplish complex tasks. Drones are also flying as wingmen to fighters or are being launched from larger mother ship aircraft. Directed-energy and other weapons to counter drones and swarms are evolving.  The US, China and Russia are in the lead.
Israel is doing great work. There are concerns for rogue governments and terrorists to misuse drones. There are also ethical, legal and regulatory issues. Chinese UCAV designs are aggressively taking shape.
WZ-2000 is a long endurance version of Global hawk class UAS. Shenyang's 'Dark Sword' is the stealth forward-swept wing UCAV of Boeing X-45 class. Developed in Pakistan, 'Burraq' (Chinese UCAV design) and 'Shahpar' surveillance UAS were inducted in late 2013.
Future is clearly unmanned and no one shares high-end UAS technologies. It is time for India to get its act right lest it gets left too far behind.