India's Modi government had reportedly ordered the army to deploy homegrown Prithvi ballistic missiles in the Rajasthan sector bordering Pakistan when Indian Air Force (IAF) pilot Abhinandan Varthaman was held captive by the neighboring country in 2019. 
How Did Then-IAF Chief Dhanoa Break The Balakot News To India's NSA Ajit Doval?
During the post-Balakot border skirmishes on February 27, 2019, the 37-year old IAF pilot's aircraft was shot down in an aerial dogfight by a Pakistani jet after which he was captured by the Pakistan Army.
In the wee hours of February 26, India had carried out cross-border airstrikes at Balakot to dismantle terror infrastructure. The operation was launched to avenge the killings of 40 Indian CRPF troopers in Jammu and Kashmir's Pulwama by the Pakistan-based terror outfit Jaish-e-Mohammed on February 14, 2019.
According to Hindustan Times, the-then Research and Analysis Wing (RAW) chief Anil Dhasmana had made a rare phone call to his counterpart, Lt General Syed Asim Munir Ahmed Shah of Inter-Services Intelligence (ISI), demanding the immediate release of Varthaman.
During the phone call, he apparently threatened the Pakistani intelligence chief that India would not hesitate to use its arsenal if the Indian pilot was inflicted any harm, HT reports. 
New Delhi had then ordered its military to move mobile Prithvi ballistic missile batteries to the Rajasthan sector as a pressure tactic against Pakistan to make it release the captured Indian pilot. Wing Commander Varthaman was subsequently walked out of captivity after 60 hours.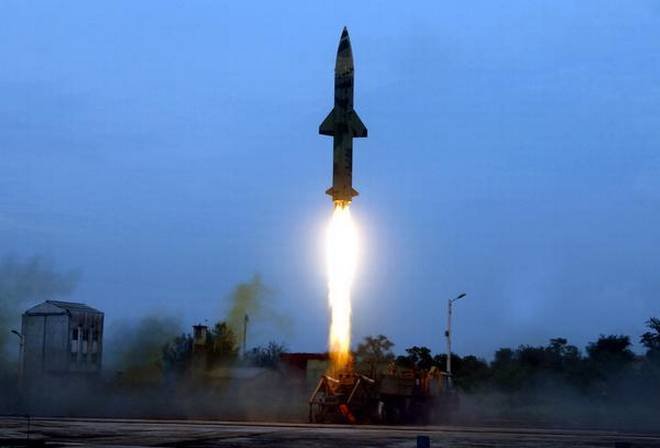 Why India Chose To Deploy Prithvi Missiles
Developed by India's Defence Research and Development Organisation (DRDO), the Prithvi is a tactical surface-to-surface short-range ballistic missile (SRBM).
The Prithvi (meaning Earth) is the country's first indigenously-developed ballistic missile produced under the Integrated Guided Missile Development Program (IGMDP).
While two versions of the missile — Prithvi-I and Prithvi-II— are now in service with the Indian armed forces, the third missile, Prithvi-III, is under development.
With a range of 150 km and a 1,000 kg payload, the Prithvi-I is capable of striking roughly a quarter of Pakistani territory including areas of Islamabad and major cities.
The Prithvi-II, which has a range of 250 km and a 500-750 kg payload, can strike at least half of Pakistan, which means it can destroy key military targets and major cities.
While India has not used any of these missiles in recent times, the post-Balakot situation had all the triggers required for the country to change its stance, according to former DRDO scientist Ravi Gupta.
Gupta told The Eurasian Times – "When our pilot was captured by the Pakistani forces, it was necessary to ensure that no harm was done to him.
"That was a moment when our pilot was captured and we needed two things, technological and military way of resolve. And, the second thing was political will. Fortunately, this time, the political will too, was very strong.
Thank you for everyone??#AbhinandanVarthaman pic.twitter.com/1YvAI5QpCr

— Abhinandan Varthaman ?? (@Abhinandan__IAF) March 2, 2019
"The message sent was very loud and clear, that if you meddle with us, any harm done to our pilot, then you will have to pay a price that you cannot afford. And that has reflected in the outcome. The adversaries were forced to release the pilot unconditionally." 
According to the former DRDO official, the fact that Prithvi was indigenous, there was no chance of there being an "arm-twist".
"I can ensure that we have all the technological abilities. Our missile systems are all indigenous, completely indigenous, so, nobody can arm-twist. When you are having imported systems, the countries from where you import, they try to arm-twist, that okay, you don't use them against such and such (country)."
"But, because all our ballistic missiles are indigenous, and that fact is known to the world, (It could work in our favor)," Gupta maintained.
The Prithvi missiles make up for most of India's arsenal of short-range ballistic missiles and can be used for tactical and battlefield purposes. They are highly maneuverable and mobile and can be used according to the needs.
"In terms of maneuverability and speed, it is comparable to any other missile of its class in the world. It is highly maneuverable, so it is very, very difficult, almost next to impossible to counter it."
"Once the Prithvi missile is fired, it is bound to hit the target. So, that sends shivers down the spines of our enemies because they know that once it is fired, it is going to hit and the accuracy is very high. The target is bound to get destroyed, whether it is a building or a bunker or whatever it is," added Gupta.
Follow EurAsian Times on Google News