India and China are trying to transcend each other in constructing border infrastructure in the disputed, treacherous region up in the Himalayas. The construction of a road to a border airbase near China is believed to have triggered the deadly Galwan Valley clashes. 
When India-China Diplomatic Row 'Almost Erupted' Into A Full Scale War In 1967
The 225-km-long Darbuk Shyok Daulat Beg Oldi Road in the Ladakh region connects Layyah with a military airbase at Daulat Beg Oldi, 5,000 feet above sea level. The road has been planned and built for a very long time.
With the construction of this strategic road, India will be able to rapidly move its defence equipment and deploy troops in this strategic area which is only eight kilometers away from the Pakistan-China border. The road between Pakistan and China under the CPEC project is not very far from this area.
After the clash between Chinese and Indian troops in Galwan Valley, there were fears that it could escalate into a full-fledged war between the two nations. The 3500 km long border between China and India has never been agreed upon and soldiers of the two countries have clashed many times in the mountainous areas of the extremely challenging terrains.
India and China have also invested manpower and financial resources in building roads, railways and strategic airports in the border region. In addition, the two countries are spending heavily on modernizing their forces.
India's construction, including the Darbuk Shyok Daulat Beg Oldi has reportedly infuriated China. The two countries view each other's construction in the area with extreme suspicion. Unlike India, China has been building roads and other facilities along its border for years.
India vs China
The Daulat Beg Oldi airport was expanded and made reusable in 2018, making it possible for India to access the airport through this road. The construction of this road has made it much easier for the Indian Army to transport its troops and defence equipment to the sensitive border region.
The road will be available in all weather conditions for 12 months of the year and is only 20 km from the Karakoram Pass and is parallel to the Line of Actual Control with China in eastern Ladakh.
Indian forces have been stationed at the site long before Daulat Beg Old Airport was made reusable and supplies for the troops were delivered by helicopter before the road was built. Military equipment delivered to the area could never be repatriated due to high costs, and the site had been turned into a military cemetery.
Additional roads and bridges are being developed in the area which will also make it easier for the Indian Army to patrol the border areas. Despite the clashes, India has indicated that it will continue its construction in the sensitive border region, much to the fury of China.
India has not stopped work on a comprehensive road and railway project in the region. India has approved the construction of 73 strategic vital important roads and bridges, however, the pace of work has been slow.
New Delhi has also approved nine railway lines of national importance, including Bilaspur-Mandi- Manali-Leh line. These railway lines will greatly facilitate the movement of the Indian troops with their heavy weapons.
When it comes to airports, there are 25 Indian military airports near the Line of Actual Control, but now the focus is on the Advanced Landing Ground (ALG).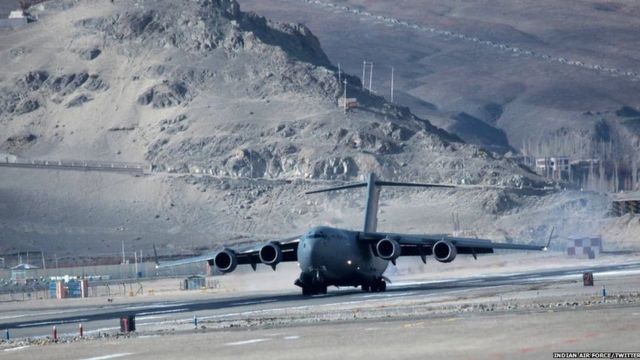 In 2018, India announced that it would upgrade eight existing ALGs and build seven new ALGs near the border. In the eastern border region with China, the Indian Air Force has a key airport in Assam where it has deployed front-line SU-30 MKI jets.
Overall, the construction work in the border areas has been slow due to financial constraints, bureaucracy, land acquisition and other issues. India has a lot of work to do to catch up with China.
China is Ahead
China has already built a network of airports, military bases, roads and railway lines using its vast resources and financial power. Beijing began building roads in the Himalayan region in the 1950s. It now has an integrated network of roads and railway lines in along the LAC.
In 2016, China developed its infrastructure to access roads near the Indian border with Bhutan and Nepal. Work is underway on a road between Xinjiang and Tibet that will connect National Highway G219. National Highway G219 is located along the China-India border.
A paved road near the Indian state of Arunachal Pradesh is also under construction and China says it will be completed by the end of this year. A new railway line is under construction in the same area, connecting Shigatse, Tibet to Chengdu via Nyingchi. There are also plans to build another railway line near Sikkim.
There are more than a dozen airports in China's border areas, five of which are located in Tibet, used for both civil and military operations. China is also building three new airports, while work is underway in Shigatse, Ngari Gunsa and Lhasa.
Surface-to-air missiles and state-of-the-art fighter jets have also been deployed at Ngari Gunsa Airport. The airport is located at an altitude of 4274 meters above sea level and is only 200 kilometers away from the contentious Pangong Lake.
The only objective of these constructions on both sides is to promote the movement of military equipment and troops in the event of war. According to a 2019 report by the US-based Center for a New American Security, when all these construction projects are completed, India will have greater ease in transporting its troops in comparison China, a thought of which threatens Beijing.
Until the BJP government, India had been reluctant to develop infrastructure in the region so that in case of war these resources would not be used by China to push their troops and heavy armoury deep into India. But now, the old argument is being rejected and reworked under the Modi Government which explains the frequent India-China border clashes.
Syed Shafiq. Via: BBC. Views Personel