British PM Boris Johnson has accepted India's invitation to be the chief guest at Republic Day. Given the growing defense relations between India and France, would French President Emmanuel Marcon have been a better choice as India's Republic Day chief guest than British PM Boris Johnson?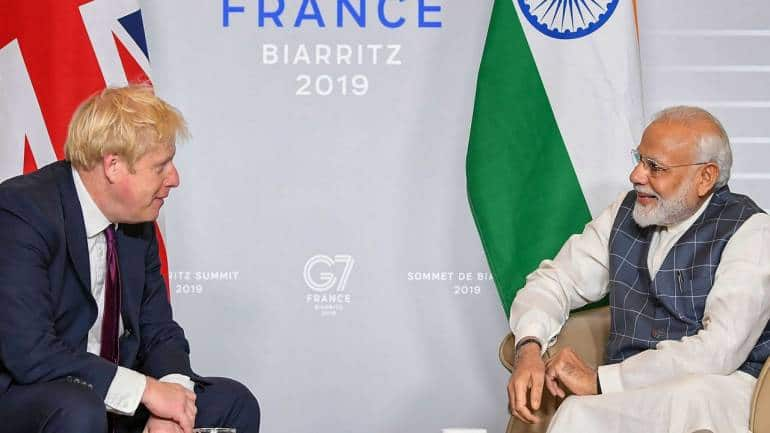 According to a diplomatic source, Johnson was extended an invite for the Republic Day celebrations through a telephonic conversation by Indian Prime Minister Narendra Modi on November 27.
While officials have suggested that the UK Prime Minister is keen on visiting India as soon as possible, there has been no official confirmation regarding his acceptance from the British High Commission so far. A Zee News report, however, claimed that Johnson has accepted the invitation.
But I wish it had been Emmanuel Macron instead ???

— Abhishek (@AbhishBanerj) December 2, 2020
India and Britain have shared a modern partnership over recent years, bound by strong historical ties. Their bilateral ties were upgraded to a strategic partnership in 2004, during which then-Prime Minister David Cameron visited New Delhi thrice in his first term. But then, India and France have come much closer and their strategic ties have reached a different level after Narendra Modi became prime minister in 2014.
For instance, Modi visited Britain in 2015 in a bid to enhance their bilateral relationship, followed by another trip in 2018 to attend a meet of the Commonwealth Heads of Governments.
Compared to this, Modi has been to France four times (3 official visits), which indicates the growing proximity between New Delhi and Paris.
"The defense cooperation between the two countries is multi-dimensional with institutional exchanges, joint production, joint military exercises and training", according to Aparna Pande, a researcher at the Washington DC-based Hudson Institute. She has even termed France as India's "new best friend".
India-France Relations
Following the $8.7-billion landmark deal under which the Indian Air Force (IAF) is procuring 36 Dassault Rafale jets from France, New Delhi is now set to acquire new submarines from the French shipbuilder Naval Group to boost its maritime security.
India, which has for long enjoyed military partnerships with the likes of Russia and the United States, now sees France as its go-to ally, thanks to the Rafale deal
As the country is locked in a months-long border standoff with China in Eastern Ladakh, the 4+generation twin-engine, canard delta wing, multirole Rafale jets are likely to give the much-needed air superiority over its rival.
According to Laxman Behera, a defense expert at the Manohar Parrikar Institute for Defence Studies and Analyses, the French Rafales are a game-changer for India.
"It (Rafale) is one of the finest combat aircraft available in the global market. It is much more advanced and lethal than the current fighter aircraft available in China. It is definitely a boost to India's defense preparedness. The timing of the arrival of the jets is perfect."
India will have unmatched air power in the region when it has all the 36 Rafale aircraft. It will be a game-changer for India, he added. So far the country has received five Rafale jets from France.
India has also ramped up its naval preparedness to secure its waters amid Beijing's expansionist approach in the South China Sea and the Indian Ocean Region (IOR).
According to a Nikkei Asia report, Paris-made defense contractor, Naval Group, will make an offer for a P75I class submarines to the Indian Navy.
The deal which is expected to be worth a whopping $5.6 billion is said to be in line with India's 'Make in India' initiative.
Under the deal, the tender will seek to build around six stealth submarines with air-independent propulsion technology that would have a longer submerged range than subs already possessed by the Indian Navy.
Emphasizing the growing ties between the two countries, Prime Minister Modi had said during his 2019 Paris visit,
"India and France have excellent bilateral ties, which are reinforced by a shared vision to cooperate for further enhancing peace and prosperity for our two countries and the world at large."
Under an agreement signed between Modi and Macron in 2018, the two country's navies have the access to use each other's naval bases — Indian warships will be allowed to make use of French bases in Indian as well as Southern Pacific oceans.
Apart from defense, France has also come forward for a collaboration in space research. The European nation recently announced a partnership with India for ISRO's Venus Mission, scheduled for 2025.
In a first, a French payload will be carried on an Indian space exploration mission. The French space agency, Centre National d'Etudes Spatiales (CNES), said that it "will coordinate and prepare the French contribution", to the mission.
Rajeswari Pillai Rajagopalan, in an article in The Diplomat wrote that the mission became a reality due to the two countries' confidence in one another. He argued that this is made possible because of "India's and, in particular, ISRO's comfort in doing business with France."
UK-India Ties
While it has been established that France is a bigger defense partner for India, the same does not apply to the UK.
Aaditya Dave wrote/ in an artcle for the Royal United Services Institute, a think tank, saying that the "relatively limited UK–India defense equipment ties" are due to New Delhi's preference for government-to-government (G2G) agreements. He said while the UK is usually not involved in such arrangements, countries such as France and Russia have accepted this model.
According to data from the Stockholm International Peace Research Institute, France is currently India's third-largest arms supplier — significant progress from the eighth position it had occupied in the period 2010-2014 — trailing only after Russia and Israel.
Both nations have taken giant leaps in enhancing their ties not just in defense cooperation but also in support for each other, as displayed by India standing in solidarity with France in condemning the recent attacks in Paris over the publication of controversial Charlie Hebdo cartoons.
Similarly, France supports India's candidacy for a permanent seat in the UN Security Council. 
In the light of these developments, one can safely argue that Marcon would have been a better choice as India's Republic Day chief guest than Johnson.
Follow EurAsian Times on Google News