Massive protests led by the opposition were witnessed on Sunday in the Pakistani city of Karachi against Prime Minister Imran Khan, who is accused of rigging elections and being promoted and supported by the powerful Pakistan Army.
China Threatens To Stoke 'Kashmir & Khalistan Fire' If India Questions 'One China Policy'
Nine major opposition parties formed a joint platform called the Pakistan Democratic Movement (PDM) last month to begin a nationwide agitation against the government, reported Reuters. 
پی ڈی ایم کے کراچی جلسہ میں عوام کا سمندر، فضاء میں سلیکٹڈ حکومت کے خلاف نعروں کی گونج#ShuhadaKaWarisBilawal pic.twitter.com/fFkFsM8uId

— PPP (@MediaCellPPP) October 18, 2020
The biggest protest against Imran Khan's rule, since he took office two years ago, was seen on Friday, organised by the opposition alliance in the central Pakistani city of Gujranwala. 
Former Prime Minister Nawaz Sharif addressed the crowd on a video call from London accusing General Qamar Javed Bajwa, the Pakistani Army chief of "toppling his government, pressuring the judiciary, and installing Khan in the 2018 elections," stated Aljazeera in its report.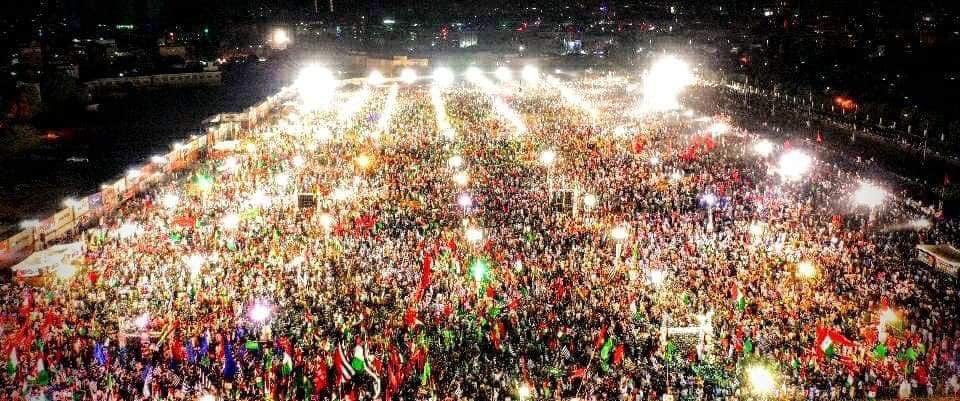 "General Qamar Javed Bajwa, you packed up our government, which was working well, and put the nation and the country at the alter of your wishes," Sharif said. Reportedly, his comments were censored on all Pakistani television channels due to government orders.
Salute to martyrs of Karsaz. Whose supreme sacrifice gives us strength to fight. Thankyou to the PDM leaders for coming to Karachi, and to Karachi for showing the love that you did. The people have spoken. They will not be silenced in this fight for democracy. #PDMJalsaKarachi pic.twitter.com/cx86Tp2muO

— BilawalBhuttoZardari (@BBhuttoZardari) October 18, 2020
He further accused the army of breaking the "country into two" and directly accused army chief General Qamar Bajwa and Inter-Services Intelligence (ISI) chief Lt General Faiz Hameed of installing a "puppet government".
Imran Khan is accused of stifling dissent and for leading a crackdown on opposition leaders in his two years in office. 
Pakistan Depleting Foreign Relations
While Khan is battling many issues at home, Pakistan has seen a deterioration in its international relations. Apart from Turkey and China, Islamabad has managed to upset its very close allies – Saudi Arabia and the United Arab Emirates (UAE).
After Saudi Arabia failing to stand with Pakistan on the Kashmir issue at the Organisation of Islamic Cooperation (OIC), Pakistan foreign minister Shah Mehmood Qureshi openly criticised Saudi Arabia for failing to allow OIC to stand against India on the Kashmir issue. 
"Today, I am telling the OIC to convene the meeting of the council of foreign ministers. If they can not do it, then I will be compelled to ask the prime minister to call a meeting of Islamic countries that are ready to stand with us on the issue of Kashmir and support the oppressed Kashmiri Muslims," said Qureshi.
Following Qureshi's palpable anger towards Riyadh, Saudi Arabia demanded Pakistan an early repayment of a part of $3 billion loan and even froze $3.2bn oil credit facility to Pakistan.
Analysts believed that Islamabad's repeated calls over the Kashmir issue were ignored by Riyadh partly due to the fear of offending New Delhi, with whom it shares friendly relations. 
On the other hand, Pakistan displayed a tepid reaction on the UAE-Israel peace deal brokered by the US.
"We have noted the joint statement announcing agreement of UAE and Israel to have full normalisation of relations. This is a development with far-reaching implications," said a statement by Foreign Office spokesperson Zahid Hafeez Chaudhri. 
Khan has rejected the possibility of establishing any relations with Israel. "Our stance is very clear from day one and Quaid-i-Azam Muhammad Ali Jinnah had said Pakistan can never accept the state of Israel until the people of Palestine get rights and state," he said in an interview with a new channel, as per the report in Express Tribune.
With withering relations in the Gulf, Beijing has proved to be the real 'iron brother' of Pakistan. "Within hours and not days of Saudi Arabia conveying its demand to Pakistan, China offered to place $1bn with our state bank [central bank]," said a senior government official, noted FT.
"Beijing has proven beyond doubt that they have an ironclad commitment to Pakistan's future, prosperity and welfare."
Apart from China, Turkey has lent its support on the Kashmir by raising the issue in the United Nations General Assembly. Turkey was one of the three countries, besides China and Pakistan, to condemn India's decision to revoke J&K's special status.
Nawaz Sharif's Challenge to Army
While Nawaz Sharif is a premier who served as Pakistan's Prime Minister for three terms is not just challenging a political opponent but a serving Army chief. 
"Some 43 years ago in 1977, shortly after the military coup, the usurper Gen Ziaul Haq released the deposed Prime Minister, Zulfikar Ali Bhutto, from detention. As soon as he was freed, Bhutto didn't hide his intention to fix Zia as soon as he came back to power.
Given the massive public reception that Bhutto received wherever he went, Zia knew that there was one grave and two bodies. He decided that Bhutto will go into that grave.
Four decades later, Nawaz Sharif has decided to do a Bhutto against a serving army and ISI chief," wrote Sushant Sareen, a Senior Fellow at Observer Research Foundation (ORF) in his paper titled 'Nawaz Sharif crosses Pakistan Army's line of control'.
Sareen observed that while Sharif is no "political suicide bomber", he isn't a "fool" either. This raises the question of what is behind Sharif's move to take such a bold step to take on a serving army chief.
Sharif, who was sentenced to seven years in prison in a corruption case last year, has been out on bail on medical grounds and is currently in London for his treatment.
According to Sareen, Nawaz has accused top generals of the Pakistan army of committing treason under Article 6 of Pakistan's "much-abused and mutilated" constitution. 
It is yet to see how Sharif's fight against Khan and the Army will go down. Will he be successful in ousting the current Prime Minister while taking on a powerful army chief? Or will he need a helping hand from someone to achieve this feat?