With Taiwan becoming more vocal about its discourse on being an independent nation, its tensions with China have been rising with every passing day. Beijing, which claims Taiwan to be an integral part of China, has threatened that it will go to any extent to make it part of the mainland, even if it means using force.
After Chinese Mobile Apps, India Looks To Tighten Screws On Chinese Universities
On 8 October, Chinese and Taiwanese diplomats came to blows, leaving a Taiwanese official in the hospital with a head injury. Reportedly, two officials of the Chinese embassy had come uninvited to a hotel in Fiji's capital Suva, where Taiwanese officials were holding their National Day celebration.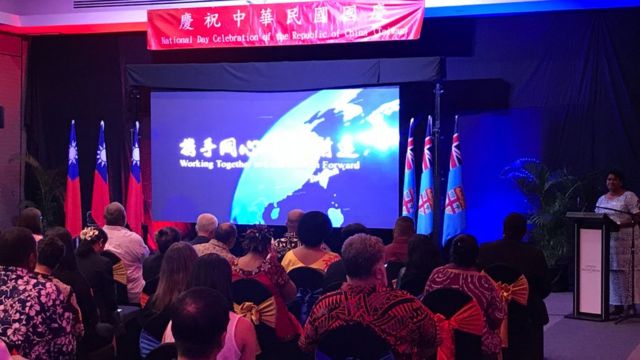 As per Taiwan's ministry of foreign affairs, Chinese embassy officials began "harassing" and photographing guests including Fijian ministers, foreign diplomats, NGO representatives and members of Fiji's ethnic Chinese community.
When Taiwanese staff confronted the officials, a fight broke out between them, following which police was called at the hotel and probe has been initiated in the matter. China has accused Taiwan officials of acting in a provocative manner and injuring and harming a Chinese diplomat.
The Chinese embassy in Fiji said that their staff was in a public area outside the venue for their official duty when they were provoked by the Taiwanese officials and also injured one of their diplomats.
China considers Taiwan a separatist province of the Chinese mainland but Taiwan claims it's a sovereign country. Beijing considers any recognition of Taiwan by other countries as a violation of the One-China Policy.
Chinese foreign ministry spokesman Zhao Lijian, during a press briefing, had said – The facts are that the Taiwan trade office openly held a 'national day' event and openly displayed the flag of a 'false country' and had that false country flag on a cake as well".
A professor of Chinese studies at Jawaharlal Nehru University in New Delhi Srikanth Kondapalli has termed the incident "very nasty" and states that the whole incident could have been avoided but since tensions are running high, it happened.
In India also Taiwan's National Day was observed and it happens every year. Kondapalli says that unlike India, Fiji is divided as it receives a lot of aid from China. "Previously they had diplomatic relations with Taiwan. But chequebook diplomacy has been at works there," he says.
Violation of One China Policy
Experts are suggesting that with US's open support to Taiwan, China is getting aggressive in countering its claims openly. Reports of a military alliance between the US and Taiwan have been a matter of concern for Beijing.
The White House had reportedly told Congress to supply advanced weapons to Taiwan.
A China expert talking to the Eurasian Times said that wherever there is anything about Taiwan, a region claimed by Beijing, Chinese diplomats will surely intervene. Beijing follows the One China policy and in such a situation, if any country gives undue importance to Taiwan, then China is bound to act.
It was in the 1990s that China had given autonomy to Taiwan under "one country two system" system. Taiwan had refused the offer but eased movement and investment in China and also declared that war was over with China.
However, the election of pro-independence presidents in Taiwan since 2000 has angered China. In 2016, Tsai Ing-wen of the Democratic Progressive Party (DPP) won the elections. The party also advocates independence from China. Tsai has won the 2020 elections as well, which says a lot about China's aggressiveness.