China, which perceives India and the US as direct competitors in the regional and global order, is increasingly upgrading its military arsenal with newer and advanced technologies. 
After Djibouti, China Sets Eye On Another Military Base In Africa To Control The Indian Ocean?
China's ZTZ-99A is an advanced hunter-killer tank that may pose a threat to its adversaries.
The ZTZ-99A, also known as Type 99A, is one of China's latest main battle tanks (MBT), with better firepower capabilities and anti-tank missiles.
Meanwhile, India and the US operate the third-generation Russian-made T-90 and M1 Abrams, among others as their main battle tanks, respectively.
China's ZTZ-99A
China's indigenous battle tank program dates back to the 1980s and the ZTZ-99 is China's third-generation main battle tank that was commissioned into the service in 2001.
One of the most advanced battle tanks, Type 99 is a product of the military modernization of China's People's Liberation Army (PLA).
The National Interest reported on the technical advancements of the Chinese 99A (a variant of Type 99) which has not been in combat yet. Meant to be a "true competitor to international designs", 99A made its debut at the 2015 Victory Day Parade.
It comes with improved gun carriers, a more powerful 1500 hp engine along with an integrated propulsion system, an independent commander's sight, and a laser warning receiver.
This model has wider and thicker angled turret faces, a redesigned hull that resembles American M1 Abram, hunter-killer capability, and a soft-kill APS.
A bit of mystery on turret armor design is newest ZTZ-99A. However still it's hull sides are only 50mm thick + thin sheet metal/rubber side skirts. However we should not assume that perhaps there are no ERA kits for it's hull sides. pic.twitter.com/sTUnTfBxwm

— Damian Ratka (@DRatka1) May 5, 2020
In February 2021, Global Times reported on the deployment of Type 99A at high-altitude border frontiers, near Karakoram Pass at PLA's Xinjiang Theater Command, amid the border standoff with India.
The 57-ton 99A rests in the middle of American 70-ton Abram and 48-ton Russian T-90 (one of India's MBTs). 
---
30 Times Faster Than Speed Of Sound: Is China Really Winning The Hypersonic Race With Its JF-22 Wind Tunnel?
---
China Irked By India-US Bonhomie
India has taken a visible tilt towards the US in recent times and their bonhomie has been growing ever since.
The US-led Quadrilateral Security Dialogue (QUAD), which includes three Indo-Pacific powers — India, Australia, and Japan — is gradually transforming into a military alliance to counter China's growing aggression in the region. 
---
Has China Deployed Its 'Most-Powerful' S-400 Missile Defense System Near The 'Disputed' India-China Border?
---
Calling the group "Asian NATO", Beijing has repeatedly questioned the principles of the QUAD, saying it is a means to contain China's "peaceful rise".
"What [QUAD] pursues is to trumpet the Cold War mentality and to stir up a confrontation among different groups and blocs and to stoke geopolitical competition. What it maintains is the dominance and hegemonic system of the United States," Chinese Foreign Minister Wang Yi had earlier said.
#IntegratedExercise of IAF & @indiannavy with @USNavy Ronald Reagan CSG.

In video: Cockpit view of the joint flypast executed yesterday. pic.twitter.com/nlpn1TdboU

— Indian Air Force (@IAF_MCC) June 24, 2021
Apart from trade and economic ties, India and the US are driven by a robust defense partnership. Last year, India signed the third of the three foundational agreements to import any sensitive equipment from the US military.
The three agreements are — Logistics Exchange Memorandum of Agreement (LEMOA) signed in 2016, Communications Compatibility and Security Agreement (COMCASA) in 2018 and Basic Exchange and Cooperation Agreement (BECA) in 2020.
---
Why India's Ladakh Region Is Crucial For China's Rise As An Economic Super-Power?
---
The US is India's fourth-largest arms supplier after Russia, France, and Israel, according to a 2021 report by Stockholm International Peace Research Institute (SIPRI).
In the backdrop of the year-long border deadlock between China and India, India has acquired the 22 Boeing-built Apache helicopters for the Indian Air Force and is planning to purchase MQ-9 Predator-B drones for the Indian Navy.
MBTs Of India & US
Though the Chinese tank fleet is younger and newer compared to the American Cold war relic Abrams and the Russian T-90s, the latest variants like T-14 Armata and advanced M1A2D (a variant of M1 Abram) are likely to beat the Chinese tank, as reported by National Interest.
The combat-proven M1 Abrams is the iconic MBT that destroyed Iraqi armor in the 1991 Gulf War. Capable of penetrating 15-25% more armor, the M1A2D is equipped with Commander's Independent Thermal Viewer and advanced sensors, ammunition, laser rangefinder, and color cameras.
The Indian Army currently operates the two Russian-build MBTs, T- 72 M and its upgraded version T-72 M1 Ajeya MBTs, and T-90 that has been deployed at Himalayan borders.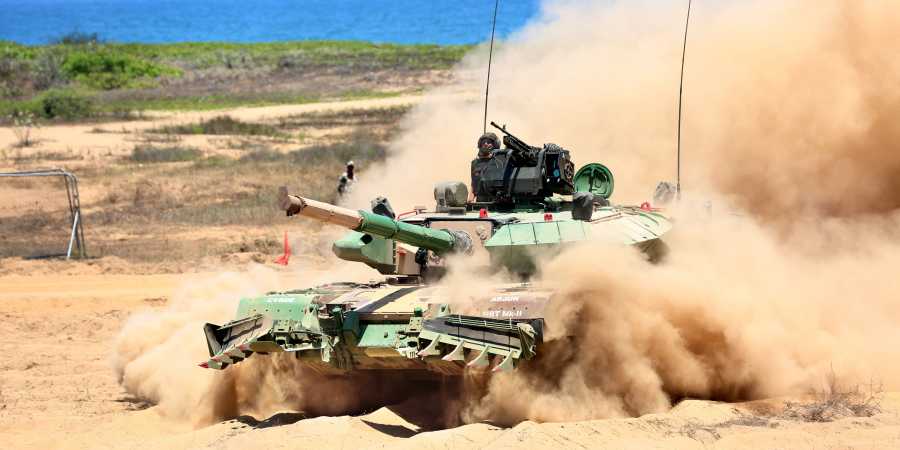 The other MBT is the homegrown Arjun MK II or the MK 1A developed by the Defence Research and Development Organisation (DRDO).
In February 2021, the Ministry of Defense granted its approval to acquire 118 indigenously manufactured 'hunter-killer' tanks with all-weather capability, better firepower, and stability.
The EurAsian Times earlier reported how India is eyeing to acquire 1,700 hi-tech Future Ready Combat Vehicles (FRCVs) and 350 lightweight tanks to operate at high-altitude battlefields, eyeing the Chinese aggression.
READ MORE
Watch: The Ultimate Dogfight Between US & Russian Fighter Jets Over A 'Top-Secret' Air Base In Nevada
---
30 Times Faster Than Speed Of Sound: Is China Really Winning The Hypersonic Race With Its JF-22 Wind Tunnel?
---