Amid the existing tensions between China and Taiwan, hundreds of sand miners continue to intrude into the Taiwan-controlled waters off the coast of Matsu islands.
This tactical intimidation by the Chinese is known as the "gray-zone strategy" or hybrid warfare in which the enemy's defenses are exhausted and eventually pressured to surrender without firing a bullet, according to a report by Nikkei Asia.
Dragon On Fire – Why China Would Be Furious With US-Russia Summit In Geneva
Lately, Chinese dredgers are seen at the coastal waters of Matsu islands in hundreds, looking for sand in the depths of oceans to fuel vast infrastructure and land reclamation projects back in the mainland.
Taiwan's Coast Guard has been conducting round-the-clock operations to chase away illegal sand dredgers intruding into the island's sovereign waters. If not entering Taiwan-controlled waters, the dredgers just anchor off the 6 km zone, putting the small Coast Guard at constant alert.
The seemingly peaceful and unharming activity is in reality intimidating tourists and destroying marine life in and around the islands whose people predominantly rely on the fishing and tourism economy.
China officially calls these sand dredgers "illegal" and "rogue vessels" but the efforts to contain them remain limited. According to Taiwan government estimates, at least 4,000 such dredging vessels were expelled last year from waters near the Taiwan Strait.
The dredgers usually do not have a registered ship name or port, as per the Nikkei Asia report.
Historical Connect
The Matsu Islands are a group of 19 islands with a total population close to 13,000, governed by the Republic of China (Taiwan) since the 1949 Chinese civil war. The relatively peaceful islands historically remain a friction point between communist China and the Taiwan nationalists.
UAE Being 'Forced' To Opt Between US & China; F-35 Stealth Jets & Huawei's 5G Rollout – Reports
China that lays claims over the democratically-governed Taiwan is hell-bent on unifying the island to the community mainland, whether naturally or by force. In recent years, it has employed direct and indirect intimidation tactics to – and influence its people who mostly do not wish to be ruled by the Communist Party of China (CPC).
Last week, China conducted a military exercise in the troubled waters off the South China Sea's Fujian Province, overlooking the Taiwan Island, as reported by Eurasian Times.
The proximity of Matsu islands to mainland China compared to Taiwan's capital Taipei increases the insecurities of the islanders and makes patrolling harder for Taiwan's coast guard. While it takes an hour-long flight to reach Taipei, the Chinese coast is just a 25-minute boat ride away.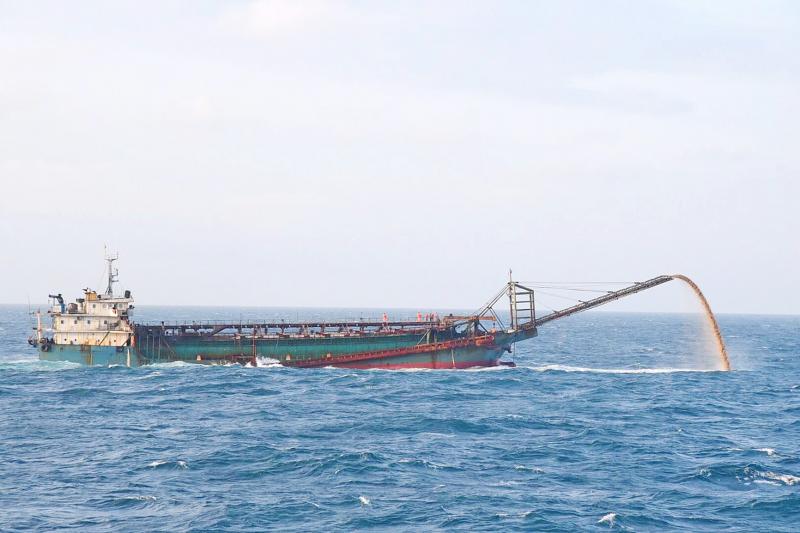 China has been consistent in its Taiwan policy and does not recognize the sovereignty of the Republic of China (ROC) based out of Taiwan.
"If anyone dares to separate Taiwan from mainland China, the People's Liberation Army will hit back and be determined to protect national unity and territorial integrity at all costs," China's Defense Ministry spokesman Wu Qian had earlier said.
Taiwanese officials call the dredging routine "a part of [China's] psychological warfare against Taiwan, similar to what they are doing in Taiwan's southwestern airspace," referring to the repeated intrusions by Chinese jets.
Taiwan Signs Another Major Deal With The US To Ward Off China; Will Acquire HIMARS & Harpoon Missiles
Blurring Security
Apart from ecological and livelihood damage, the sand mafia is increasingly posing a security threat for the islanders.
The alarming presence of hundreds of dredgers weighing 2,000 tons across the coastline brings back haunting memories of the mid-1950s Taiwan Strait crisis when Mao Zedong's forces from mainland China (or the People's Republic of China) bombed this tiny group of islands with artillery shells, prompting the US to dispatch its 7th fleet in the waters between mainland and Taiwan.
Unused cement bunkers and old air-raid tunnels can still be seen as relics of bombardment.
Pro-democracy and anti-mainland China politician Tsai Ing-wen, who was re-elected as Taiwan's President last year, commissioned a new class of coast guard vessels, similar to the design of missile boats.
Tsai also vowed to "enforce a crackdown with no mercy on Chinese dredging in Taiwan waters".
This year in March, Taiwan signed a memorandum of understanding with the US to establish a coast guard working group "to strengthen cooperation and training and the sharing of information related to law enforcement," as per the report.
China Finds A New Way To 'Mock' Adversaries Including India, US & Japan
The locals fear that the presence of sand dredgers off Matsu might be a ploy towards occupying Taiwan with the islands being the first step.
"The main thing is we are afraid that the sand dredging is just an excuse. Are they actually armed boats, will they come here?" said a resident of Matsu in conversation with Nikkie Asia.
"[The dredgers] are training to familiarize themselves with the water area. Once the party [CPC] needs them, they will become a gray zone, and behind this will be their coastguard, behind the coastguard will be their navy," said Wang Ting-yu, a Taiwanese legislator.
READ MORE