The navies of the United States and Bangladesh have come together for a bilateral naval exercise "CARAT Bangladesh 2020", the US Department of Defense released pictures on Saturday.
The exercises commenced on November 4th, marking the 26th iteration of Cooperation Afloat Readiness and Training (CARAT), a multinational exercise designed to enhance U.S. and partner navies' abilities to operate together in response to traditional and non-traditional maritime security challenges in the Indo-Pacific region.
"Working together with our friends and partners is a force multiplier for peace and stability," said Rear Adm. Fred Kacher, commander, Expeditionary Strike Group (ESG) 7 during the opening of the event. "We will continue to operate with and learn from the Bangladesh Navy and we stand shoulder-to-shoulder in our commitment to a free and open maritime commons."
This is the second time CARAT is being conducted with the Bangladesh Navy this year, following the CARAT Brunei conducted in the South China Sea early in October. The country has been a participant in such exercises since 2011.
Pleased the ??& ??navies launched Cooperation Afloat Readiness & Training (CARAT) Bangladesh 2020 today. CARAT demonstrates the ??'s commitment to work w/??to address shared maritime security concerns & ensure a free & open #IndoPacific
https://t.co/bHrZYrQXIx

— U.S. Embassy Dhaka (@usembassydhaka) November 4, 2020
"We are continuing to grow U.S.-Bangladesh cooperation and training foundation through virtual means and at sea," said Capt. Ann McCann, commodore, Destroyer Squadron (DESRON) 7 during the virtual opening ceremony. "While we cannot meet in person this year, our communication and bonds remain strong, and we look forward to practicing maritime professionalism when we meet at sea and online."
The exercise is poised to be held virtually and with no-contact in the waters, where the surface ships of both the navies would be involved in joint tactical maneuvers to enhance the cooperation and interoperability among the services.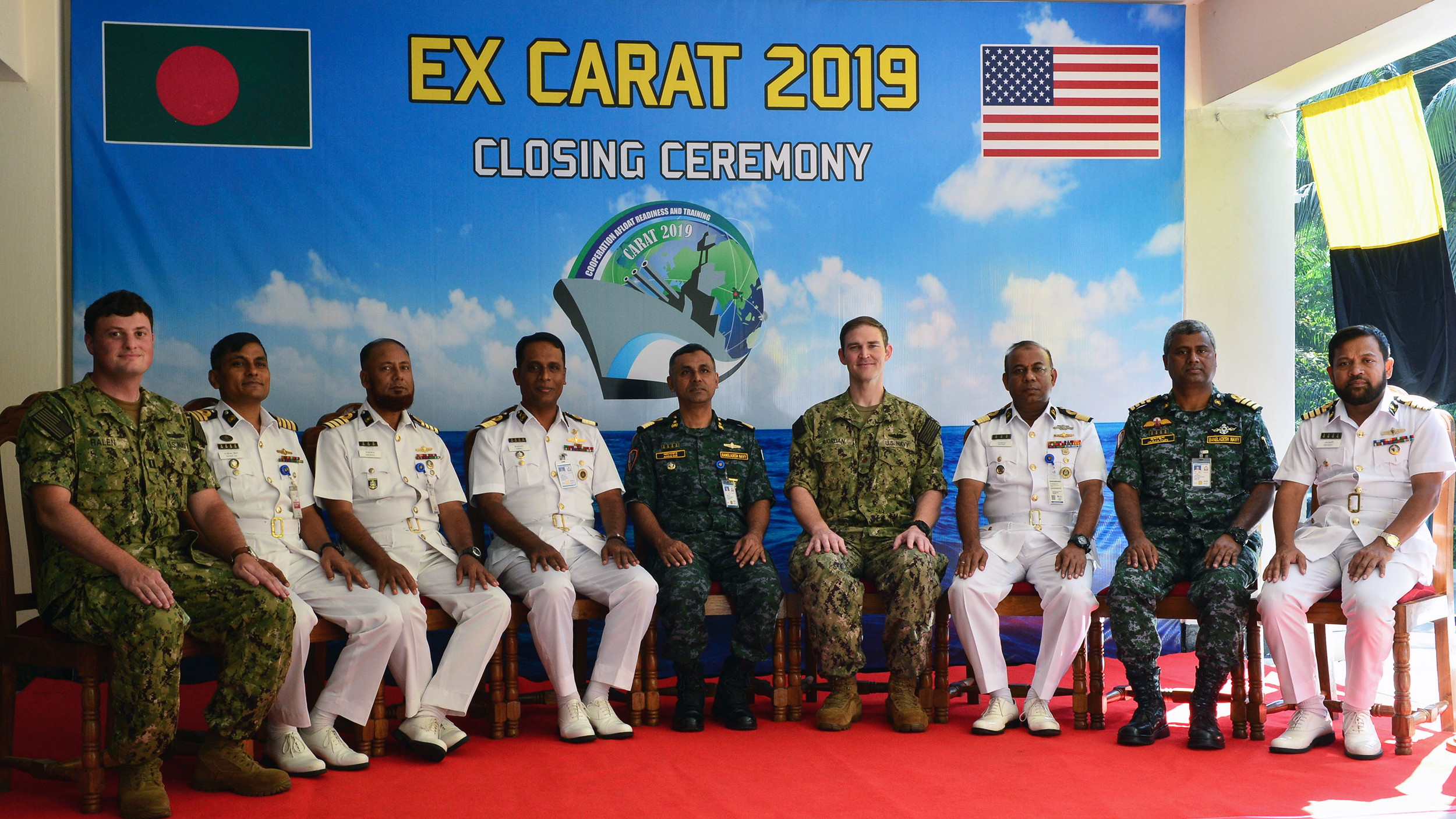 U.S. assets that participated in CARAT Bangladesh include staff from Commander Task Force (CTF) 72, CTF 73, CTF 76, DESRON 7. Afloat units included the Spearhead-class expeditionary fast transport USNS Millinocket (T-EPF 3).
According to the press release, the virtual SMEE events featured a variety of joint training opportunities, to include replenishment at sea (RAS) training, maritime domain awareness (MDA), legal regulations at sea, and aviation best practices of unmanned aerial vehicles (UAVs), helicopters, and maritime patrol and reconnaissance (MPRA) fixed-wing aircraft.
Rear Adm. Mahbub Ul-Islam, commander of the Bangladesh Navy, appreciated the relations between his country and the United States and said that the exercise "with this level of difficulty, of enhancing cooperation, and in friendship, and strengthening professional interoperability, has become a unique forum to work with the U.S. Navy."