The US is bolstering its combat readiness with its best fighter jets that may be quickly deployed in case of a potential military confrontation with China. The US Air Force recently deployed the mighty F-22 Raptors to test its Agile Combat Employment (ACE) capability.
In June, Hawaii-based F-22 Raptor fighter jets were deployed in Japan to participate in Agile Combat Employment (ACE) training exercises with F-15C/D Eagle fourth-generation fighter jets and the F-35A Lightning II stealth fighter jets.
"This is the first time the 354th AEW has conducted dynamic force employment with multiple airframes from multiple home stations. We are excited to bring the Hawaiian Raptors into our AEW and refine our high-end warfighting capabilities in a forward-deployed ACE setting," US Air Force Colonel David Berkland, the commanding officer of the 354th Air Expeditionary Wing, said in a press release.
The Hawaiian Raptors have trained with the 18th Wing's fourth-generation F-15C/D Eagles at Kadena Air Base in Japan for the past few weeks, followed by the 354th AEW's fifth-generation F-35A Lightning IIs.
The F-22 will also train with the F-35Bs of the III Marine Expeditionary Force while deployed in Japan.
The training comes a few days after eight fighter jets (F-15 and F-16) from the US and Japan participated in a tactical combined military exercise in the Sea of Japan's airspace to show their joint combat preparedness against regional threats.
Beijing has enhanced its activity in the East China Sea and the western Pacific, for which its transits through the Japanese straits.
#US and #Japan have conducted a tactical joint military exercise in the airspace of the Sea of Japan with the participation of 8 fighter jets to demonstrate the allied forces' readiness to bounce regional threats, Exercise included 4 JSDF F-15 & 4 US F-16 fighter jets. #china pic.twitter.com/QVxtJMpNw6

— Defence Core (@defencecore) May 27, 2022
The risk of a clash between the two sides cannot be ruled out given Japan's proximity to Taiwan, which China eventually hopes to occupy and unite with the mainland. As a result, both sides have enhanced their offensive and defensive capacities.
The US is alive to the challenge faced by an adversary like China, which has sophisticated defense along its coast and several long-range strike weapons that can strike US assets in the Indo-Pacific and its Pacific territory of Guam.
It is also aware of the logistical problem in the Asian region, barring a few partners and allies. This is where Agile Combat Employment (ACE) comes into the picture.
ACE & The F-22 Raptors
The ACE training maintains US Forces' flexibility and readiness to move in the Indo-Pacific by utilizing Multi-Capable Airmen, flexible logistics, and decentralized command and control, according to the US Pacific Command.
Agile Combat Employment was introduced by the Air Force to quickly deploy across dispersed operational areas within a theatre without compromising combat capability.
Operations would have to be carried out from what would generally be regarded as austere locations and airstrips because large military bases would quickly become targets in a near-peer battle.
Using ACE ideas, combat assets would constantly move from place to place, taking advantage of opportunities to assault while protecting crucial assets. This is why the F-22 Raptors stationed on the island of Hawaii were brought to Japan to conduct training with fighter jets stationed at Kadena Air Base.
The US military's capacity to disperse its air forces over the Indo-Pacific area of operations will be crucial in a conflict with China, which has formidable long-range firepower, as doing so will make it more difficult for the Chinese military to eliminate them with ballistic or cruise missiles.
@usairforce Airmen assigned to @EielsonAirForce arrive at MCAS Iwakuni, Japan, for Agile Combat Employment training. ACE is @PACAF's model to project combat power via a network of distributed operating locations throughout the @INDOPACOM region. #TogetherWeDeliver pic.twitter.com/DjJXzO0X6B

— USTRANSCOM (@US_TRANSCOM) June 15, 2022
According to a recent Department of Defense (DoD) report, the US has a problem of "insufficient logistics" in Asia, which might present a significant challenge for its military in the event of a war. The DoD is concerned that American forces in Asia may not have the logistical support to resupply and rearm in a regional military conflict.
In this backdrop, Agile Combat Employment (ACE) becomes even more significant. For one, the F-22 Raptors have earlier been part of several ACE training exercises, including the Polar Force Exercise conducted earlier this year by the Pacific Air Force Command.
#F22 Raptors from the 3rd Wing and 477th Fighter Group participate in a close formation taxi with an E-3 Sentry and #C17 Globemaster III, March 26, 2019, during a Polar Force exercise at #JBER. #ElephantWalk (#USAF photo by Justin Connaher) pic.twitter.com/McFU3fohRb

— U.S. Air Force (@usairforce) March 28, 2019
Additionally, a separate agile deployment strategy for the F-22 Raptors is called the 'Rapid Raptor Program.' A minimum of four F-22 jets equipped with ready crews, C-17 Globemaster III support, fuel, and armaments can launch an urgent, quick-strike attack anywhere on the planet as per the program.
The Air Force's "Agile Combat Employment" strategic exercises, designed to disperse basing and staging areas to enable rapid deployment, may well be influenced by this "Rapid Raptor" program, which spans crucial hotspots and remote regions throughout a wide range of potential operating environments, according to  The National Interest.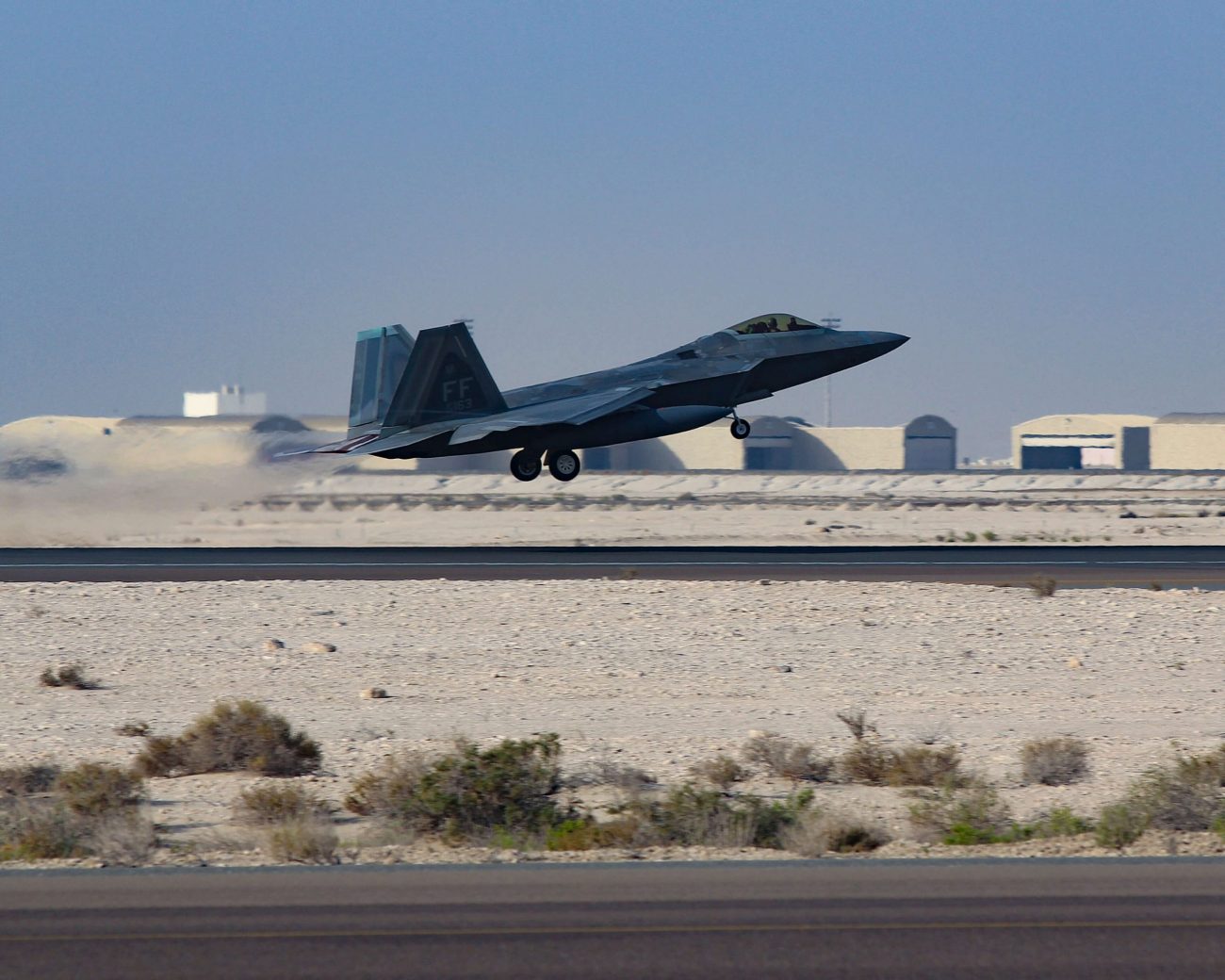 The Mighty Raptors
The F-22 Raptor, the first fifth-generation stealth fighter, is an air-dominant, multi-role fighter that combines stealth, speed, and agility. The F-22 Raptor is a dangerous foe because of its sensors and air-to-air capabilities.
The F-22 Raptor's thrust vectoring capabilities make it a fantastic dogfighting fighter jet. The F-22 Raptor can quickly reposition by vectoring power in the opposite direction than the one it is flying using unique nozzles on the ends of its two Pratt & Whitney F119-PW-100 turbofan engines.
The F-22 Raptor can reach speeds of more than 2 Mach, supercruise, or maintain supersonic flight without using its afterburners. It has an operational ceiling of 50,000 feet and an operational range of almost 1,900 miles (but with two external fuel tanks that would negate most of the aircraft's stealth capabilities).
The stealth aircraft can carry two AIM-9 Sidewinder heat-seeking air-to-air missiles and six AIM-120 AMRAAM radar-guided air-to-air missiles when it comes to armament — after all, the F-22 Raptor is an air dominance fighter jet.
There are 186 F-22s in the Air Force, 36 of which are Block 20s. However, the Air Force is mulling the retirement of 33 old Raptors to focus with some resistance from the Senate.