According to recent reports, the Biden administration is planning to ask the US Congress to approve a US $1.1 billion arms sale to Taiwan, including the VAMPIRE counter-drone system. Interestingly, the US could also send the VAMPIRE weapons system to Ukraine.
The island nation is on a heightened alert following the massive Chinese military drills in waters surrounding Taiwan, during which the Chinese People's Liberation Army (PLA) fired live weapons in the Taiwanese Exclusive Economic Zone (EEZ).
On September 1, the Taiwanese Ministry of National Defense (MND) announced that its armed forces shot down a civilian drone conducting aerial photography in the area of the Kinmen Islands located off the southeastern coast of mainland China.
On August 28, Taiwan said that its army will take necessary measures to "drive away" drones in the future by blowing whistles, issuing radio warnings, and firing signal flares; however, if the drone does not depart, it will be "shot down."
The decision to shoot down intruding drones came after a Chinese unmanned aerial vehicle violated Taiwanese airspace and filmed close-ups of Taiwanese soldiers, with some of them seen throwing rocks at the drone.
"Chinese drones flying over China's territory — what's there to be surprised at?" Chinese FM spokesperson Zhao Lijian on private drones flying from Chinese mainland to the Jinmen island. https://t.co/7ReF007HN9 pic.twitter.com/Ofe9U7bnr1

— Global Times (@globaltimesnews) August 30, 2022
Similar drone incursions have been observed over the Matsu Islands.
In July, the Kinmen Defense Command documented 23 intrusions by Chinese UAVs over Kinmen county.
In the wake of this heightened Chinese drone activity over its territory, Taipei announced plans to deploy a new remote-controlled drone defense system at 45 facilities across Taiwan in 2023.
In addition, Taiwan is looking to acquire the highly mobile VAMPIRE counter-drone system from the US, which will also be supplied to Ukraine for shooting down Russian drones.
VAMPIRE Counter Drone System
Developed by Melbourne, Florida-based L3Harris Technologies, VAMPIRE stands for Vehicle Agnostic Modular Palletised ISR Rocket Equipment. It is a small four-barreled rocket launcher designed to strike ground targets and take out low-flying aircraft, particularly drones.
The entire weapons system, which includes a 'sensor ball' to track drones and a laser designator to hone in on the targets, can be assembled by a two-person crew on a pickup truck or flatbed lorry in two hours. It can be operated by a single person who can use it to strike either ground or airborne targets.
VAMPIRE fires 70mm laser-guided rockets like the APKWS II rockets that the Pentagon announced to send to Ukraine in May.
The APKWS II (Advanced Precision Kill Weapon System II) is an upgrade for the US military's vast stocks of old Hydra 70 rockets.
These 25-pound 70 mm rockets were developed in the 1940s, carried in pods of seven or nineteen by attack aircraft and helicopters, and fired in volleys to cover an entire area. The US used them extensively in Vietnam.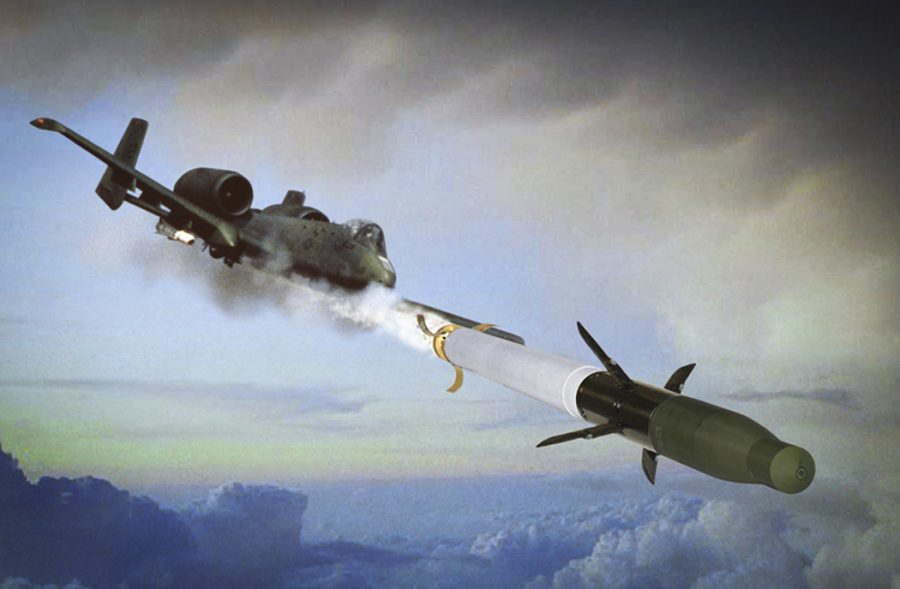 In 2005, the US Army started a new development program called APKWS II. BAE Systems was selected as the prime contractor for the program, while other contractors included General Dynamics and Northrop Grumman.
As part of this program, these unguided Hydra 70 rockets were converted into precision munitions by introducing a laser seeker guidance section and a control unit that closes in on the target painted by a laser designator.
When launched by a helicopter, the APKWS II has a range of around 4.82 kilometers, but its range could be far less in a ground-launched version.
Also, the APKWS II is not known much for its use in the anti-air role. However, the US Air Force (USAF) has been testing its use as an air-to-air weapon onboard its F-16s equipped with more sensitive AESA radars and advanced targeting pods.
The US military reportedly used the VAMPIRE system against the commercial drones used by ISIS that were adapted to drop grenades or conduct surveillance of the US positions in Syria.
It remains unknown when this weapon system will be delivered to Taiwan, as the entire weapons package proposed by Biden Administration is yet to be approved by the US Congress.
Ukraine To Be The First Country To Deploy VAMPIRE Weapon System?
It appears that Ukraine could be the first country to deploy the VAMPIRE in the ongoing Ukraine war, according to L3Harris, who said that the counter-drone system would be delivered early next year.
The US announced its plans to send the APKWS II rockets to Ukraine in May but did not say which platform would be used to deploy them.
Pentagon announced to send the VAMPIRE system to Ukraine in August.
Apart from that, Germany has also recently announced its plans to deliver pickups equipped with 70mm launchers capable of firing laser-guided rockets.
Therefore, it is possible that the transfer of APKWS II earlier this year and the German pickup trucks to Ukraine could be linked with the delivery of the VAMPIRE weapons system in planned months.
Has Ukraine Already Begun Using The APKWS II Rockets?
As EurAsian Times earlier discussed, APKWS II could also be fired by Turkish-made TB2 Bayraktar Drones belonging to the Ukrainian armed forces if the rocket has to be used for ground strikes.
The Bayraktar drones are not known to have fired an APKWS II before. They can fire the CIRIT missiles made by the Turkish company Roketsan, a 70mm laser-guided rocket compatible with NATO standard laser designators launched from existing aircraft-mounted rails and pods.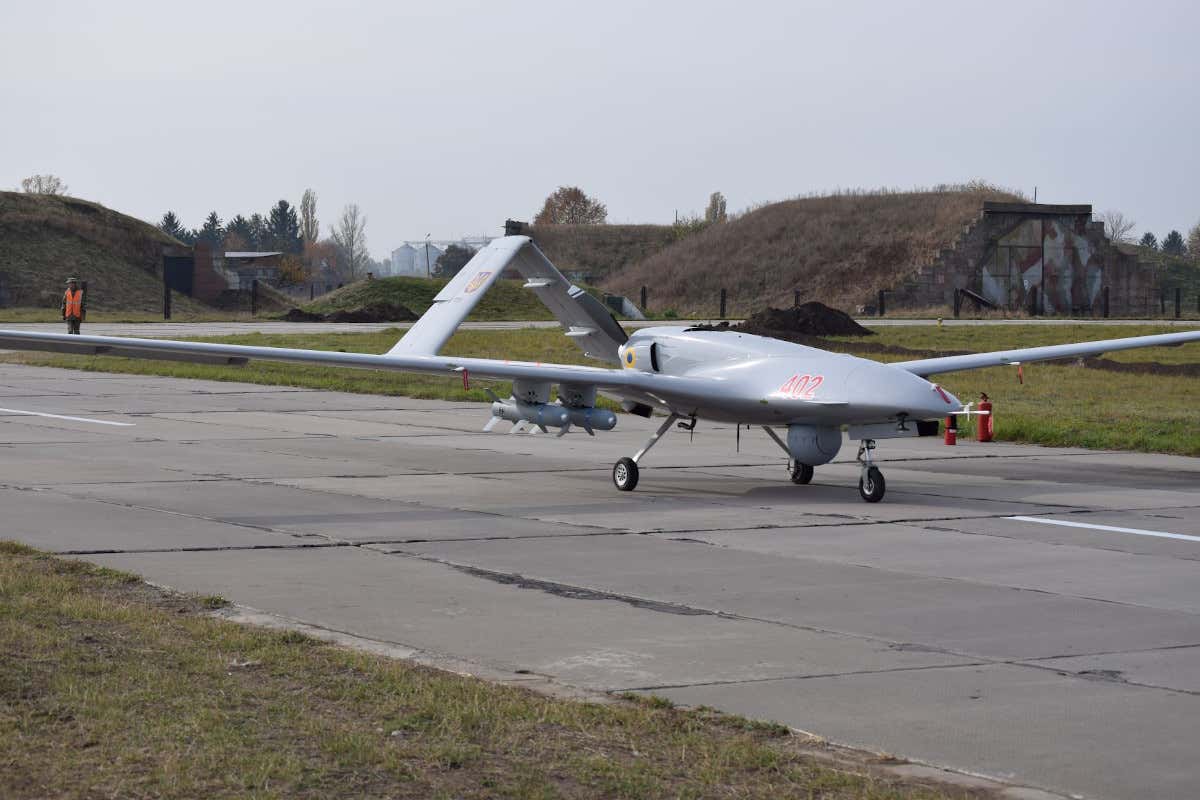 Also, the APKSW is light in weight compared to the current MAMs carried by Ukrainian TB2s, allowing the drone to carry six or more APKWS instead of four MAMs.
Another option is mounting the 70mm rocket pods on Mi-17 Hip helicopters, which the US is sending to Ukraine to bolster its existing fleet from the military equipment acquired initially for Afghanistan.
The helicopters can be equipped with a laser designator to guide the rockets to their target, or there can be another laser designator on the ground or another aircraft.
The laser-guided rockets could also be deployed in other ground-launched formats, such as large vehicles, boats, or even on vehicles as small as wagons, which Ukraine is already using as anti-tank guided missile platforms.
These are all-terrain two-seater vehicles armed with a Ukrainian-made Stugna-P anti-tank system, which provides a swift, potent weapon in rough terrain.
#Ukraine: A curious buggy (all terrain vehicle) armed with a Stugna-P anti-tank guided missile was recently destroyed in the vicinity of Izium, #Kharkiv Oblast. Such vehicles are currently used by many Ukrainian hit-and-run and raid teams in the region. pic.twitter.com/6JW9FbDpLB

— ?? Ukraine Weapons Tracker (@UAWeapons) April 28, 2022
An unverified Russian media report has claimed that Ukrainian forces have already begun using the APKWS II missile, which was not expected to arrive in Ukraine anytime soon.
According to to report, the APKWS II launchers have been installed on vehicles by the Ukrainian forces and are guided toward the target using the laser target designators on board the Turkish Bayraktar TB2 drone.
If true, this would be the first documented instance of the APKWS II rockets being used in Ukraine.