The Russian invasion of Ukraine has sparked concerns that even China could someday launch a military operation against Taiwan, an island territory that Beijing claims as its own.
Just a few days ago, Taiwan had announced that it was set to more than double its missile development capacity to about 500, amid increasing military threats from China.
In a fresh development, the US Naval Air Systems Command (NAVAIR) awarded defense giant Boeing, a contract to produce Harpoon Coastal Defense Systems (HCDSs) for Taiwan, the Pentagon stated on March 2.
The contract was awarded on the same day when a top US delegation arrived in Taiwan to discuss military cooperation in the face of "increasing" Chinese military threats, according to Taiwanese officials. China has denounced all support to the self-governing island by third parties as interference in its internal affairs and violation of the 'One China' policy.
Last month, Beijing sanctioned American defense firms Lockheed Martin and Raytheon for providing arms to Taiwan. The countermeasures against the two companies were due to a $100-million arms sale on February 7 that "undermined China's security interest", foreign ministry spokesman Wang Wenbin said.
The USD 498.3 million contract with Boeing comprises the delivery of 100 HCDS launcher/transporter units, 25 radar units, and training equipment, according to the US Department of Defense (DoD).
The defense contractor will work on Harpoon Coastal Defense System launchers in a number of locations around the United States, primarily in South Dakota, Wisconsin, Pennsylvania, Missouri, and New York.
The talks about arming Taiwan with HCDS have been ongoing for a while now. In November last year, the US announced that its military leaders were assisting in the development of missile coastal defense systems for Taiwan under the terms of a $220 million agreement issued in September, according to Military Aerospace.
Boeing had then been asked to provide engineering and configuration support for Taiwan's HCDS by officials from the US Naval Air Systems Command at Patuxent River Naval Air Station in Maryland.
The United States had announced in 2020 that it would sell 100 land-based anti-ship missile systems to Taiwan in a package that included 400 RGM-84L-4 Harpoon II missiles, four RTM-84L-4 Harpoon II training missiles, 100 launch vehicles, and 25 radar trucks for a total cost of US$2.37 billion (NT$66.04 billion).
'USA ?? approved sale of 400 #RGM84L4 #Harpoon Block II anti-ship missiles with 125km range & 100 Harpoon Coastal Defense Systems (#HCDS) to #Taiwan for up to $2.37 billion to defend against possible invasion of the island state by #China ??.' Thx to @Konflikt_Sicher: ⬇️⬇️⬇️ ? https://t.co/7uBm2s7C8A

— Felix Woessner (@FeWoessner) October 29, 2020
As the Navy and Air Force already have three Harpoon missile systems, Taiwan will have four different variants of the same weapon once the new deliveries arrive. Work is expected to be completed by December 2028.
The Harpoon is considered among the best and most advanced missiles in America's arsenal. According to Taiwan News, an arrangement to station US experts in Taiwan to do maintenance work on the latter's Harpoon missiles was extended until 2025 last month.
Harpoon Coastal Defense System
Boeing has designed and manufactured the Harpoon, an all-weather, over-the-horizon, anti-ship missile.
According to the Taiwan Ministry of National Defense, the acquisition strategy is based on a computer simulation analysis that shows that increasing the number of anti-ship missiles is necessary to eliminate 50% of the enemy's naval targets. However, the Chinese Academy of Science's (which produces weapons for Taiwan's military) production capacity is insufficient.
The HCDS is a land-based version of the Boeing Harpoon missile Block II anti-ship and land-attack missile designed to destroy enemy coastal defenses, surface-to-air missile launch facilities, aircraft, ports, and moored ships.
RGM-84L-4 Harpoon Block II surface-to-air missile with a maximum range of 75 miles, radar vehicles, and support and test equipment make up the HCDS.
Active radar guidance, a low-level sea-skimming cruise trajectory, terminal mode sea-skimming or pop-up maneuvers, and the Harpoon's warhead design, according to Navy experts, ensure great survivability and effectiveness. Since 1977, the Navy has had the Harpoon missile in its arsenal.
For sea and land-based targets, the Harpoon Block II uses a 500-pound warhead.
Harpoon Block II missiles, which have been in production since 2011, have an autonomous, all-weather, over-the-horizon capability and can carry out missions against both sea and land targets, such as coastal defense sites, surface-to-air missile sites, exposed aircraft, port or industrial facilities, and ships in port.
The Harpoon Block II+ provides the US Navy with a new GPS guidance kit, increased weapon reliability, and survivability, a new data link interface that allows in-flight updates, improved target selectivity, an abort option, and improved resistance to electronic countermeasures. It can take off from a variety of air and surface platforms.
US Support To Taiwan
Over 300 Harpoon missiles have been sold to the Republic of China (Taiwan) Air Force for its F-16 A/B Block 20 fleet and the Taiwanese Navy.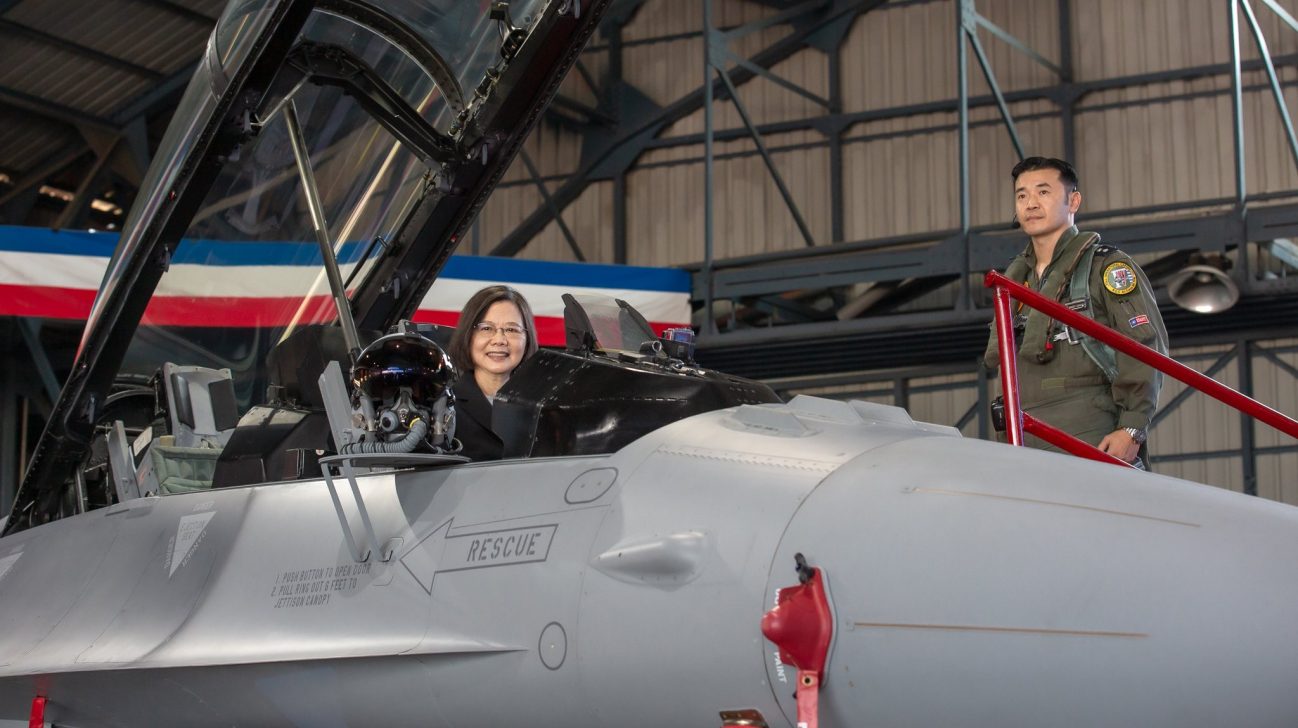 The missile can also be used by two Zwaardvis/Hai Lung submarines and 12 P-3C Orion aircraft. In November last year, Taiwan inducted the advanced variant of F-16, called the F-16 Viper which can also fire AGM-84 Harpoon anti-ship missiles.
At a meeting with a US security delegation recently, Taiwanese President Tsai Ing-wen highlighted that her island confronts challenges comparable to those faced by Ukraine.
Just weeks before the invasion of Ukraine, Moscow and Beijing signed a joint statement agreeing to a number of foreign policy objectives, including Taiwan's status as "an inalienable part" of the mainland.
The United States is arming Taiwan as it finds itself drawn into this flashpoint by virtue of being an ally of Japan, whose security would be jeopardized in an event of Taiwan's invasion.
Recently, an Arleigh-Burke class guided-missile destroyer passed through the Taiwan Strait, much to China's detriment. The US senators have also proposed to introduce a bill in Congress to sanction China if it invades Taiwan.