Confronted with the growing military prowess and the consequent belligerence of China in the Indo-Pacific, the United States (US) is rallying the support of its allies and partners in the region to develop a deterrence that is more and more "integrated."
US B-2 Bomber Fires 'Cutting Edge' Stealthy Cruise Missile Amid China, Russia Tensions; Enhanced Role On Cards For Bombers
The mantra seems to be the "holistic power projection" through synergy with friends to maintain "a free and open Indo-Pacific."
In the Indo-Pacific, the United States has five regional treaty alliances—with Australia, Japan, the ROK (South Korea), the Philippines, and Thailand. The leading regional powers the US calls "partners" include India, Indonesia, Malaysia, Mongolia, New Zealand, Singapore, Taiwan, Vietnam, and the Pacific Islands.
The mantra of holistic power projection has been displayed in some essential multilateral military exercises (apart from the bilateral ones) involving allies and partners in recent months.
Military Drills
At the moment, the Royal Australian Air Force (RAAF) is hosting "Exercise Pitch Black" (August 19, 2022, to September 08, 2022), a biennial, multinational exercise.
Almost 2,500 personnel from over 17 countries and 100 aircraft are engaged in both Offensive Counter Air (OCA) and Defensive Counter Air (DCA) combat drills.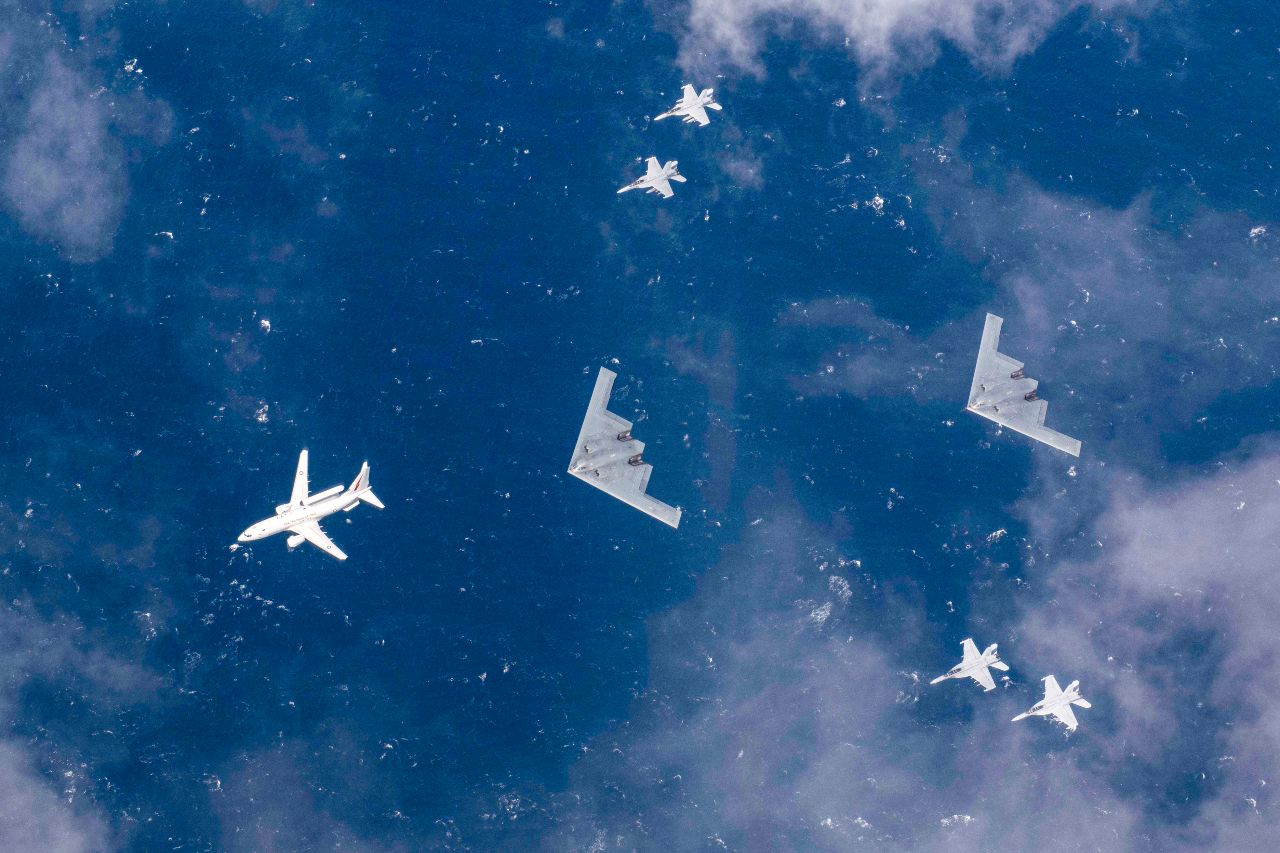 Countries attending it include the US, India, the UK, France,  Germany, France, UAE, Malaysia, New Zealand, Indonesia, Singapore, Japan, the Republic of Korea, the Philippines, Thailand, Canada, and the Netherlands.
The Indian contingent includes more than 100 air warriors, four Sukhoi-30MKI fighters, and two C-17 heavy lift aircraft.
"Super Garuda Shield," the US and Indonesia's annual joint combat exercises, which concluded recently with the participation of 14 nations, including India, were joined for the first time by Australia, Japan, and Singapore. Incidentally, India and Indonesia conducted a bilateral exercise between the Special Forces of their armies called "Garuda Shakti."
It may be noted that other than bilateral exercises as per their respective security treaties, the Indo-Pacific has witnessed major multilateral exercises such as "Malabar," a Japan-US-India trilateral exercise, since 2007.
"Malabar 2021" was conducted as a quadrilateral exercise among Japan, the US, India, and Australia. The exercise took place in both the Pacific and Indian Oceans.
Then, there are the likes of "La Perouse 21" involving Japan, France, Australia, India, and the United States in the Bay of Bengal; and Japan- US-UK-Netherland-Canada-New Zealand multilateral exercise in the South China Sea.
According to the Commander of America's Indo-Pacific Command, Adm. John C. Aquilino, "Indo-Pacific Command is a key component of our national security. The same is true of our international partners, and we understand the importance of what you do.
"We need to continue to improve our capabilities. The defense of our homeland is clearly of vital importance. Assisting in defending our allies and partners is essential to what we do. It solidifies and protects the rules-based international order."
As outlined by the Biden Administration early this year, the Indo-Pacific strategy of the US says: "Integrated deterrence will be the cornerstone of our approach. We will more tightly integrate our efforts across warfighting domains and the spectrum of conflict to ensure that the United States, alongside our allies and partners, can dissuade or defeat aggression in any form or domain".
It further said, "Consistent with our broader strategic approach, we will prioritize our single greatest asymmetric strength: our network of security alliances and partnerships. Across the region, the United States will work with allies and partners to deepen our interoperability and develop and deploy advanced warfighting capabilities as we support them in defending their citizens and their sovereign interests.
"We will continue to modernize our treaty alliances with Australia, Japan, the ROK, the Philippines, and Thailand; steadily advance our Major Defense Partnership with India and support its role as a net security provider; and build the defense capacity of partners in South and Southeast Asia and the Pacific Islands.
"We will also work with partners inside and outside the region to maintain peace and stability in the Taiwan Strait, including by supporting Taiwan's self-defense capabilities, to ensure an environment in which Taiwan's future is determined peacefully under the wishes and best interests of Taiwan's people."
What is noteworthy here is that if these policies, along with statements of senior US civilian and military officials, are any indication, the air and missile defense (against the growing missile strength of China and North Korea) appear to be a significant challenge for the Indo-Pacific allies and partners.
According to Maj. Gen. Brian W. Gibson, commander of the 94th Army Air and Missile Defense Command, who is responsible for all Army air defense assets in the Indo-Pacific Theater, "We frequently say that air defense is as joint as it gets, and the service members we are recognizing today are a clear example of that."
As it is, the US Indo-Pacific Command's (USINDOPACOM) Integrated Air and Missile Defense (IAMD) "Vision  2028" represents an innovative leap forward in integrated air and missile defense, supporting the United States and its Allies and partners as they maintain a competitive advantage in the Indo-Pacific region.
IAMD Vision 2028 suggests a network architecture that all Allies and partners can share and "any sensor, any shooter" in the region can leverage to thwart an incoming threat.
Instead of bilateral area air defense plans, "IAMD Vision 2028 advocates for an area of responsibility (AOR)-wide integrated, netted, and layered sensor coverage. Beyond the robust US–only command and control for its forces, IAMD Vision 2028 proposes a regional integrated and interoperable fire-control architecture and an advanced joint and combined IAMD battle management and engagement coordination system", says Col Lynn "Riddler" Savage of the US Air Force.
"The revolutionary changes IAMD Vision 2028 envisions are credible, fixed, mobile, and expeditionary operations that untether interceptors from sensors and tailor multilateral information sharing agreements throughout the region, enabling Allies and partners a holistic freedom of maneuver and power-projection presence to maintain a free and open Indo-Pacific", Savage adds.
The IAMD Vision 2028 talks of defending critical fixed sites dispersed over a vast AOR and mobile and expeditionary forces.
Given China's growing ballistic missile, cruise missile, unmanned aerial systems (UAS), and hypersonic weapons arsenal and capability, the vision suggests that fixed sites, regardless of location, throughout the Indo-Pacific (Guam, Hawaii, the United States mainland, and Allies' and partners' binding sites), are vulnerable to a missile attack by China.
This vision to seamlessly integrate with regional partners is "the revolutionary aspect of the new vision."
Since in the Indo-Pacific there are US-built sensors and interceptors, Russian-built sensors and interceptors, Israeli-built sensors, and a plethora of indigenous systems, attempts are on to see how they best can be integrated or interoperated.
For instance, AIR6500, a Royal Australian Air Force program designed to develop a joint air battle management system that maximizes the capabilities offered by fifth-generation systems against air and missile threats, is expected to be interoperable with existing US systems and able to maintain high interoperability with coalition partners.
Similarly, Japan and the United States have been working on missile defense since 2004, with Australia joining the two nations to form a multilateral engagement venue in 2015. The Trilateral Missile Defense Forum, conducted annually, is steadfast in its charter to increase combined missile defense capability in the region.
In late 2021, Philippine Air Defense officers observed Japanese forces firing Patriot missiles as an opportunity to socialize the capability and inform the Philippine Air Force Flight Plan 2028.
Earlier this month, the United States, South Korea, and Japan participated in a ballistic missile defense exercise off Hawaii's coast, reviving combined drills with an eye on North Korea and China.
The United States and South Korea have worked on missile defense against North Korea for decades. China is deeply perturbed over the Terminal High Altitude Area Defense (THAAD) system installed in South Korea and is threatening Seoul to curb trade unless the new government goes back to its predecessor's policy of saying "No" to this missile on Korean soil.
Considering all this, Savage has a point when he says, "When Vision 2028 becomes every Ally's and partner's vision, both on the political and military fronts, it will no longer bring the nation's side by side against a common enemy but rather transform the Allies and partners into a seamless amalgamation. This new front will be greater than the sum of its parts, presenting a much greater deterrence to China due to the integrated, netted, and layered sensor coverage and ultimately due to the integrated, netted, and layered alliance of like-minded allies and partners."
Author and veteran journalist Prakash Nanda has been commenting on politics, foreign policy on strategic affairs for nearly three decades. A former National Fellow of the Indian Council for Historical Research and recipient of the Seoul Peace Prize Scholarship, he is also a Distinguished Fellow at the Institute of Peace and Conflict Studies. CONTACT: prakash.nanda@hotmail.com