The US Navy announced on April 13 that during an Office of Naval Research (ONR) test in February, an all-electric, high-energy laser weapon was employed for the first time to neutralize a target simulating a subsonic cruise missile in flight. 
The weapon utilized in the test was Lockheed Martin-designed Layered Laser Defense (LLD) it was developed to serve as a multi-domain, multi-platform demonstration system. 
"The ground-based laser system homed in on the red drone flying by, shooting a high-energy beam invisible to the naked eye," the Navy said in a press release, detailing the demonstration.
"Suddenly, a fiery orange glow flared on the drone, smoke poured from its engine and a parachute opened as the craft tumbled downward, disabled by the laser beam," it added. 
The drone that was shot down by the system was part of a test at the White Sands Missile Range in New Mexico by the US Army's High Energy Laser Systems Test Facility. The test was supported by the Office of Naval Research (ONR), the US Navy said in a press statement. 
The system also tracked or shot down a range of threats during the White Sands test, including unmanned fixed-wing aerial aircraft, quadcopters, and high-speed drones that resembled subsonic cruise missiles.
With a high-powered laser, this system can counter unmanned aerial systems and fast-attack boats. It can also use its high-resolution telescope to track in-bound air threats, support combat identification, and conduct a battle damage assessment of engaged targets. 
Rear Adm. Lorin C. Selby, Chief of Naval Research, emphasized the importance of this type of system, saying, "Innovative laser systems like the LLD have the potential to redefine the future of naval combat operations." 
"They present transformational capabilities to the fleet, address diverse threats, and provide precision engagements with a deep magazine to complement existing defensive systems and enhance sustained lethality in high-intensity conflict," he added.
Why Is The System Crucial For US Military? 
The Department of Defense (DoD) and all the Services have long recognized the potential of directed-energy weapons like lasers and have continued to invest in research.
Recently, Heidi Shyu, the Defense Department's chief technology officer, released a list of 14 technological areas deemed most important for investment, highlighting directed energy as a crucial technology area for the Pentagon.
The LLD testing, according to the US Navy, is part of a larger strategy by the naval research and development community to advance technologies and deploy a line of laser weapons that can counter diverse threats with a multitude of rising options, in collaboration with the fleet.
These capabilities vary from non-lethal methods like optical "dazzling" and sensor impairment to complete target elimination.
For naval warfighters, laser weapons bring new levels of precision and engagement speed. Since the lasers are not reliant on traditional propellants or gunpowder-based weaponry used on ships, they streamline logistics and make ships and their crews safer.
Alternatively, modern high-power lasers are powered by electricity, which makes them fundamentally safer and capable of providing weapon capabilities as long as a ship has power. Even though the only consumable component used to power the system is fuel, the cost per encounter for a laser weapon can be quite modest.
While the LLD will not be deployed, it does provide a glimpse into the future of laser weaponry, said the Navy. It's compact and potent, yet more efficient than prior models. It incorporates artificial intelligence to better track and aim, as well as sophisticated optics to observe a target and focus laser pulses to maximum effect. 
"LLD is an example of what a very advanced laser system can do to defeat significant threats to naval forces," said David Kiel, a former Navy captain who is a program officer in ONR's Aviation, Force Projection, and Integrated Defense Department, which managed the testing. "And we have ongoing efforts, both at ONR and in other Navy programs, to keep building on these results in the near future." 
The Navy further stated that the ONR is a key player in the development of laser weapon technology and has deployed demonstration systems for operational testing.
In 2014, the Laser Weapon System was successfully tested aboard the USS Ponce in the Persian Gulf. In 2021, the Laser Weapon System Demonstrator was deployed by ONR aboard the USS Portland.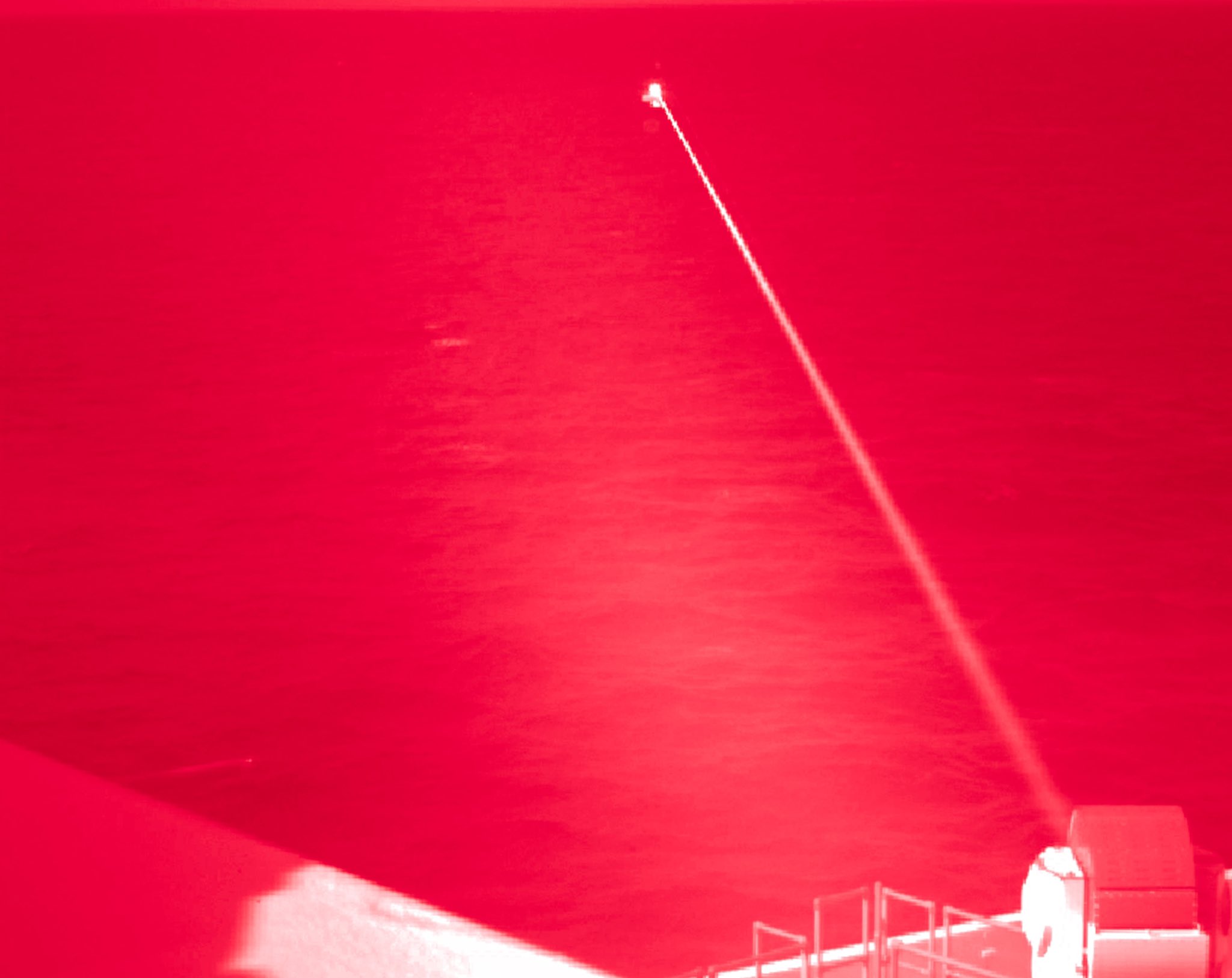 Early this year, it was also reported that the US Navy is working on laser weapons in the Middle East to counter Iran's deployment and usage of unmanned aerial vehicles (UAVs) in the region. 
Why Laser Weapons? 
Laser weapons are becoming increasingly important, especially as the global 'drone threat' has grown, and can change the course of a conflict, as the Armenia-Azerbaijan war demonstrated.
Lasers offer significant advantages in terms of speed, stealth, precision, and a "virtually infinite magazine." They're also more cost-effective because of their low 'cost per shot.'
Although laser weapons lack the "kinetic pushback" effect, even a weak laser beam might disable adversary missiles with pinpoint accuracy. Laser weapons with high output can further degrade a missile's flight control fins while also thermally activating its warheads.
Any force that has laser weapons can saves time and money by not having to move massive volumes of ammo. There is no need to carry munitions to regions that are vulnerable to attacks because the tremendous power of laser weapons comes straight from the systems' power sources, such as generators or batteries.
This also lessens load, requiring fewer equipment and allowing for more stealthy troop movement.
Energy weapons are also needed to provide a closer tier of protection, which is critical for the penetration of stealth bombers like the B-2 and the upcoming B-21 into hostile airspace.
The existing position, in which stealth jets equipped with beyond visual range missiles are preferred, may alter if laser weapons are utilized in large numbers. This is because many missiles are used to achieve a kill, however laser weapons are difficult to avoid because of their great velocity and accuracy.