Last month, when Russia and its ally Belarus were holding military drills as a precursor to the invasion of Ukraine, US Marines conducted drills in the Indo-Pacific region involving America's oldest and the latest stealth fighters.
During the first two weeks of February, aviation assets from the San Diego-headquartered 3rd Marine Air Wing (MAW) were deployed to the annual Winter Fury exercise on the West Coast.
The participation of the world's first operational stealth fighter, the F-117 Nighthawk, as an aggressor aircraft was the highlight of this exercise. The US Air Force had formally retired this fighter aircraft in 2008, but it made an appearance in the 'Red Flag' exercise near Area 51 last year, as previously reported by the EurAsian Times.
In the Winter Fury exercise, the focus appeared to be on being able to combat the most powerful enemy in the region — China. Any combat with Beijing could necessitate the ability to jump across Pacific islands in order to thwart the Chinese military's ability to seize contested regions in the region.
Further, the Indo-Pacific region does not naturally favor the US as its bases at Guam in the Western Pacific and Okinawa in Japan are nearly 1,500 miles from some of the disputed islands in the South China Sea. The Winter Fury exercise, therefore, incorporated long-range strikes.
Marines and sailors with the 3rd Marine Aircraft Wing (MAW), which Marine Corps Air Station Yuma is a part of, took part in an island-hopping campaign as part of an advanced naval base training exercise during Exercise Winter Fury 22. https://t.co/KsPuTeho5E pic.twitter.com/qQxTj2Fa4N

— James Gilbert (@YSJamesGilbert) March 3, 2022
It focused on interoperability in a disputed marine environment against a modern peer-state foe, demonstrating the Marine Corps' shift toward preparing for a potential Pacific battle. F-35Bs were pitted against stealthy F-117 aggressors with the latter potentially representing the Chinese stealth fighters.
Drills In Indo-Pacific
Gen. David Berger, the Commandant of the Marine Corps, has made it a goal to make USMC more flexible and nimble, with the capacity to quickly set up in a contested area, strike a target, and move on before being attacked, or stay for a period of time to defend a remote outpost. These objectives become all the more relevant when faced with an enemy like China.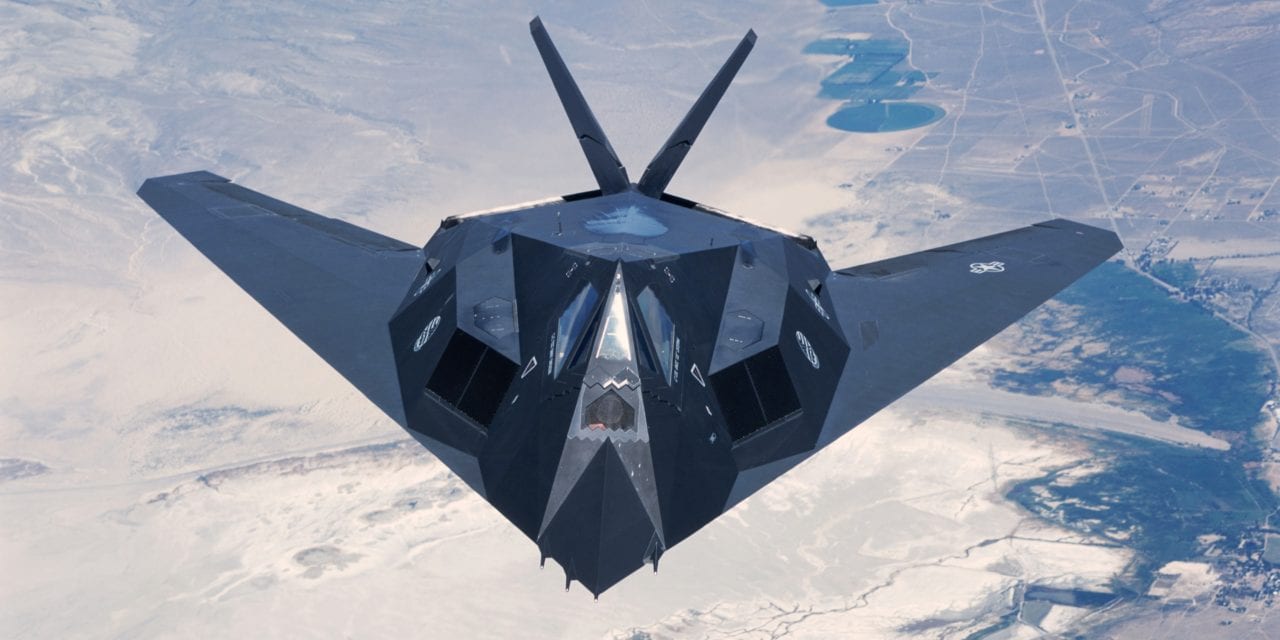 The Winter Fury exercise saw F-35Bs and F-117S simulating long-range strikes in Washington. Taking an airfield, repairing runways quickly, and other never-before-seen training scenarios were also part of the drills.
F-35B aircraft w/ VMFA 211, MAG 13, @3rdMAW, participate in the Winter Fury exercise at Grant County Municipal Airport, WA. Winter Fury 22 is the largest Marine aviation exercise on the West Coast and provides realistic aviation combat element warfighting. pic.twitter.com/AVFAUb9Ez9

— F-35 Lightning II Joint Program Office (@theF35JPO) February 15, 2022
The F-117 Nighthawk had previously landed at MCAS Miramar in the afternoon on October 20, 2020, and departed two days later, returning directly to Tonopah Test Range following a mission offshore in the W291 range off Southern California.
Winter Fury '22 began with three MV-22Bs flying from MCAS Miramar, just outside of San Diego, to the snow-covered Grant County Municipal Airport in Moses Lake, Washington. The MV-22B Osprey is a tiltrotor V/STOL aircraft that can be used as a helicopter or a turboprop aircraft for assault support.
The stealthy fifth-generation fighter jet F-35Bs took off from Yuma for the 1,100-mile trek to Washington, which involved aerial refueling from KC-130Js, after securing the airfield and setting up a perimeter.
The F-35s were refueled on the ground and reloaded with AIM-120 air-to-air missiles before heading out to the range for a local operation. They returned to Yuma the same day, thanks to a Forward Arming and Refueling Point (FARP) set up.
FARPs are an important part of expeditionary advanced base operations (EABO) because they allow the Marine Corps to refuel and rearm in a scattered combat zone, close to the area of operation, instead of the main operating base.
F-35B Vs F-117 Nighthawk
F-35Bs from the Marine Fighter Attack Squadron (VMFA) 225 "Vikings" located in Yuma also participated in the exercise and were deployed to MCAS Miramar. They were seen performing anti-air warfare operations against the F-117 that had been forward-deployed to MCAS Miramar for the second time.
The Marine Corps F-35B is capable of short takeoff and vertical landing (STOVL), designed to operate from remote bases and a variety of air-capable ships. It can also take off and land conventionally on longer runways on major facilities.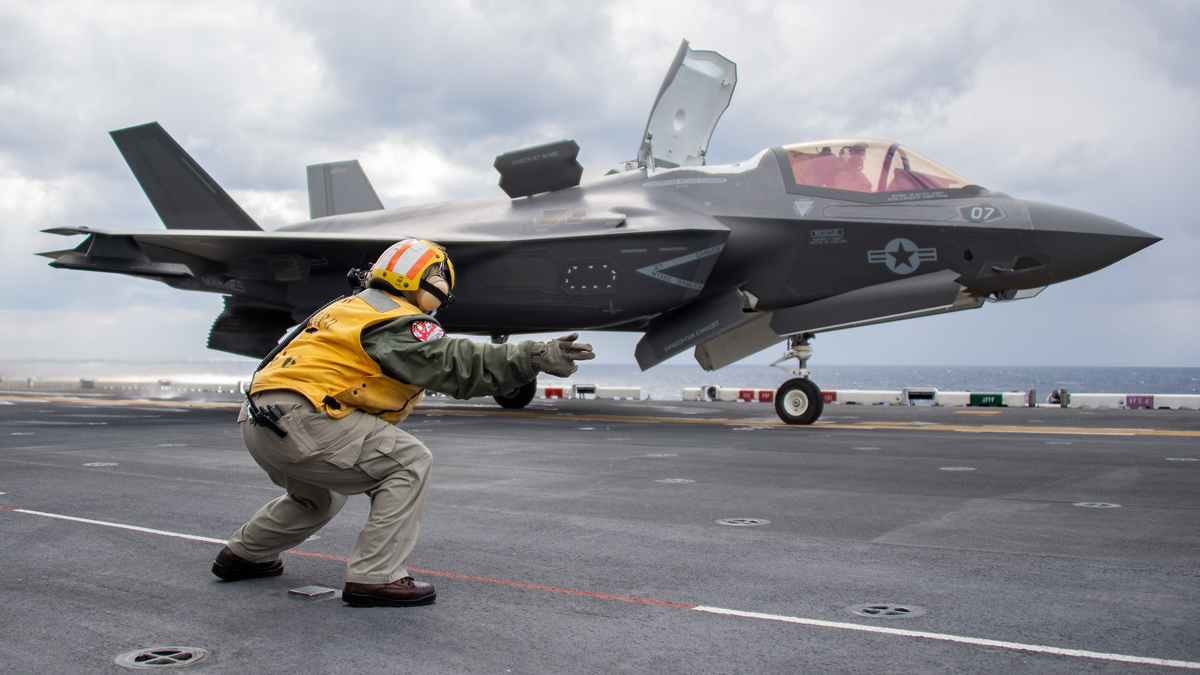 The STOVL model features a smaller internal weapon bay and less internal fuel storage than the F-35A due to the lift fan. The probe and drogue method of aerial refueling is employed.
The F-117 prepares Marine pilots to face foreign low-observable aircraft, such as the Chinese J-20 as well as cruise missiles.
"The Vikings just completed a two-week-long detachment to Marine Corps Air Station Miramar in support of Exercise Winter Fury. Bringing forces together from across 3rd Marine Aircraft Wing, the exercise provided an opportunity for VMFA-225 to forward deploy and integrate into anti-air warfare missions with squadrons from across our sister services as well as from allied nations", said a Facebook post from Vikings.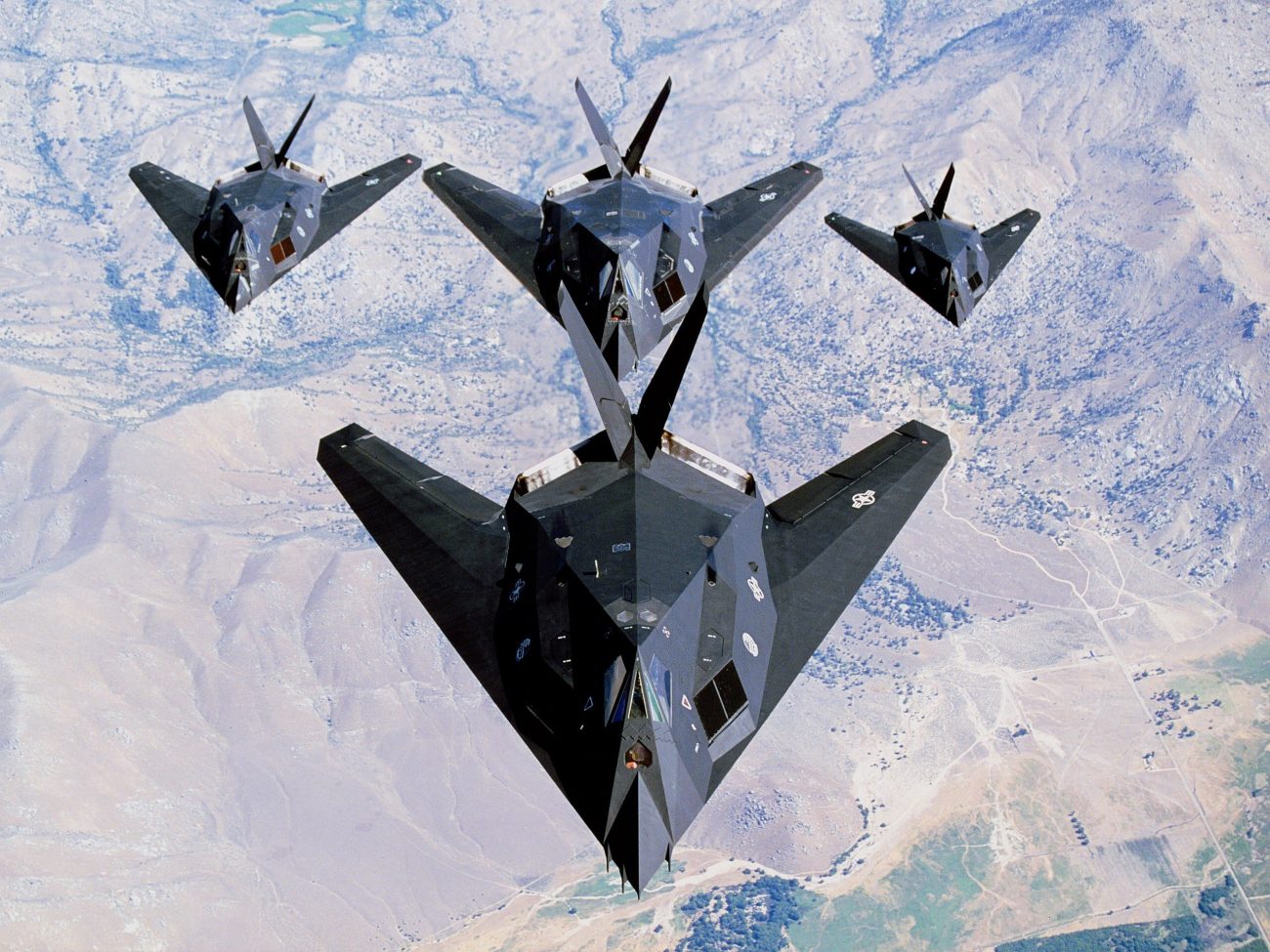 In the case of the F-117s, one of its responsibilities is to act as low-observable aggressors, which has become increasingly important in a world where stealthy aircraft and cruise missiles are on the rise.
Long-Range Strike And Refueling
Commanding Officer Lt. Col. Andrew D'Ambrogi of VMFA-211 said, "211 got to participate in the long-range strike missions and there is a huge logistics footprint to it. We moved from Yuma with four F-35Bs and hit a KC-130J about halfway up to Washington State to go to the FARP. We put four F-35Bs and four Hornets into the FARP.
A pit stop for the F-35!
2nd MAW utilized a concept called "Air-Delivered Ground Refueling" where a KC-130J lands and turns into a gas station for two F-35B Lightning II aircraft. The Marines also armed the F-35s with missiles carried by the KC-130J. #MarineAviation pic.twitter.com/Pd5UX1RiCh

— 2nd Marine Aircraft Wing (@2nd_MAW) November 25, 2021
"We got gas and did a hot reload of weapons which were AIM-120s because it was an offensive counter-air strike mission. We went to the Whiskey 291 area [off Southern California] in the Pacific and executed about a 90-minute vul [time on mission task] before returning to Yuma. From the time the pilot strapped into the jet till they landed back at Yuma, it was about 8 hours."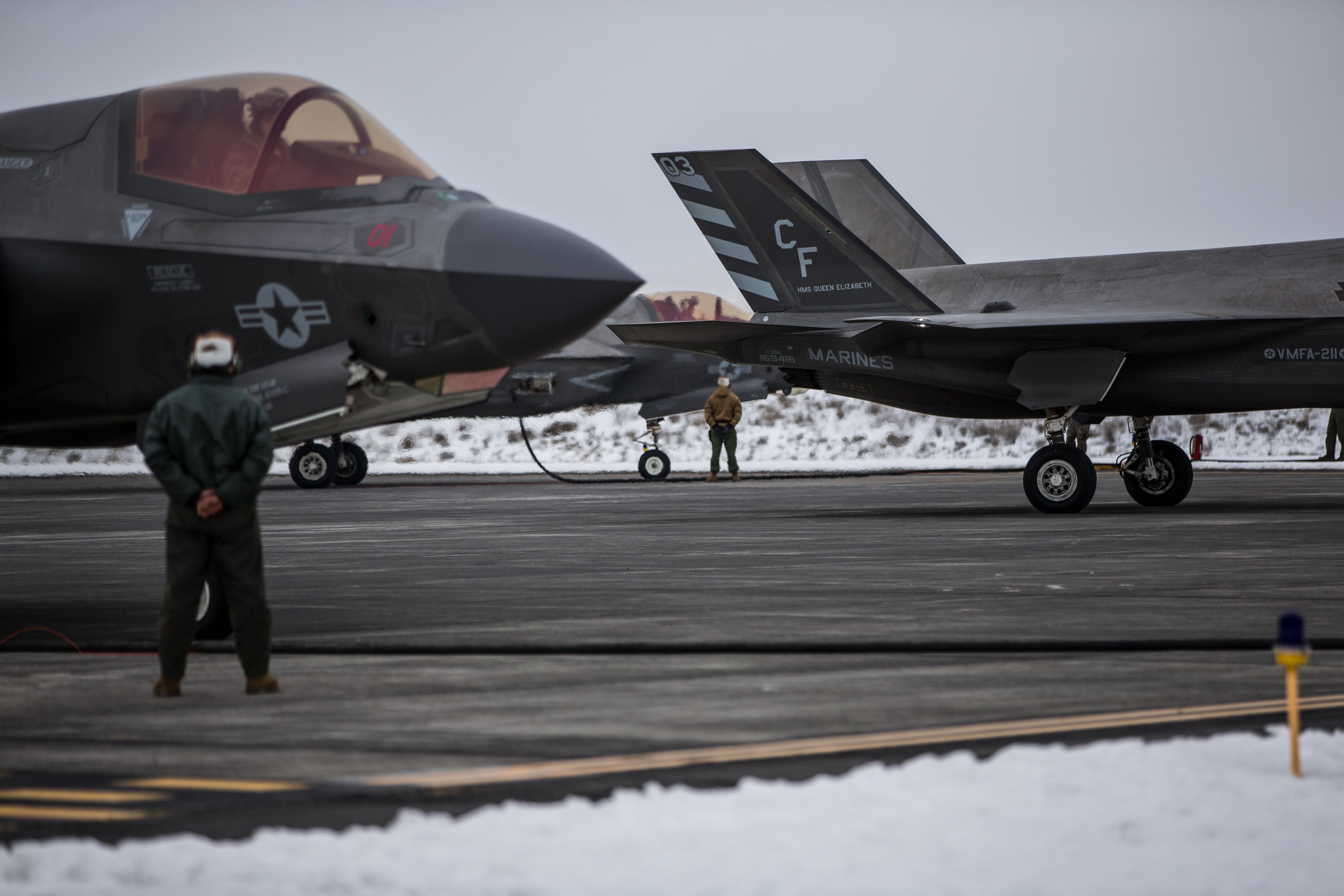 It is imperative to note that for long-range repositioning operations, the F-35Bs require unusually significant tanker support. A point of failure occurs if the enemy has long-range standoff attack weapons or Special Forces capable of destroying fuel farms, as noted by National Interest. Further, bad weather could affect refueling operations even at a FARP set-up.
For this reason, Air Force Lieutenant General Clint Hinote, the service's Deputy Chief of Staff for Strategy, Integration, and Requirements had earlier stated that integrating the service's current fleet of F-35A Joint Strike Fighters in tabletop war games modeling potential high-end battles, such as one simulating an American military reaction to a Chinese invasion of Taiwan, is pointless.
Lt-Gen Hinote had mentioned the F-35A's restricted range in the context of an Indo-Pacific scenario. Drop tanks or conformal fuel tanks that might work with all three F-35 types to assist expand their ranges have been discussed over the years, as noted by The Drive. The F-35B has an even more fuel-related restricted range as compared to F-35A.
However, despite the limitations faced by the F-35B, it is one of the most potent stealthy fighter jets in the world. Additionally, the US security establishment has been working on the loopholes in the F-35 program.
The fact that the US chose the F-35 and F-117 speaks volumes about the significance of stealth fighters. As tensions between the US and China keep on rising, more such exercises could be on the anvil.