In a first-of-its-kind experiment, the US Air Force's T-38 supersonic jet trainer will be equipped with new-age systems that will enable pilots to engage in "dogfights" with "Chinese and Russian fighter jets". 
Afghanistan Today, Taiwan Tomorrow – China Takes a Dig At US 'Treachery' With Key Allies & Partners
Florida-based technology firm Red 6, which specializes in synthetic air combat training, secured a contract from the US Airforce. Under a $70-million deal for five years, the company will offer its technology to help train pilots in air combat. 
Red 6 had been working with the Air Force to develop its Airborne Tactical Augmented Reality System, or ATARS for the past three years. This will enable the jet to engage in close combat against simulated enemy fighters projected inside the pilot's helmet.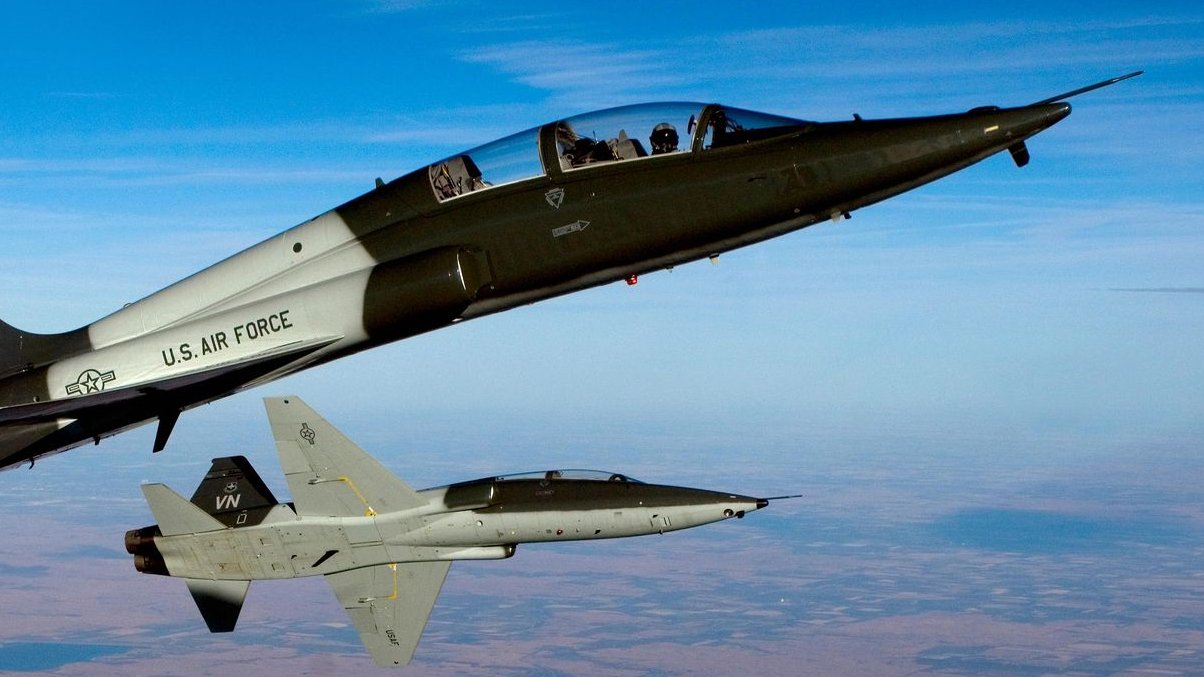 The T-38 Talon was the world's first supersonic trainer when it entered service in 1961. The twinjet aircraft was produced by US aerospace and defense company Northrop Grumman.
The company has built 1,187 trainer aircraft and more than 72,000 USAF pilots have flown the T-38 in the past six decades.
According to Air Force Technology, more than 500 aircraft remain in service with the USAF and NASA. Besides, Germany, South Korea, Taiwan, and Turkey also use this pilot trainer.
What Is Augmented Reality
The difference between augmented reality and virtual reality is that the former superimposes simulated images over the real world whereas the latter deals with simulated imagery only.
Setback For World's Biggest Defense Firm Lockheed Martin As Japan Offloads Its 'Mighty Missiles' From Its Fighter Jets
"We're working in partnership with the test community at Holloman Air Force Base to do that, and then we're going to be working hand in hand with them to evolve that and make sure that it's ruggedized," Dan Robinson, CEO of Red 6 told Defense News.
The company is also using internal funding to network multiple ATARS together so that more than one aircraft can train as a group against a larger set of adversaries. The aim is to demonstrate that capability for the Navy and Air Force sometime this year, Robinson said.
This ATARS system provides hardware and software that can potentially track the pilot's head in space and display information. "It's minimally intrusive. It's designed to be platform agnostic," Robinson said.
The system can be outfitted with any aircraft, and "there will be slight adjustments to determine antenna positioning and things like that," he maintained.
During these five years of performance, Red 6 plans to integrate its augmented reality system with the Northrop T-38 Talon used to train fighter pilots. This would be followed by the integration of ATARS onboard a fourth-generation jet such as the F-16.
Asian F-35: South Korean KF-21 Fighter Jet Hogs Global Limelight After Key Partner Rejoins Program
A T-38 equipped with the ATARS system could be ready to begin flight tests anywhere from six to 12 months from now, according to Robinson.
This kind of technology solves one of the Air Force's long-standing issues; the "red air" training that gives fighter pilots experience in close-quarters aerial combat could become cost-effective.
The company has its first meeting with Air Force stakeholders on August 17 afternoon to begin to understand the technical requirements to integrate an augmented reality system with the T-38, he added.
Back in 2019, the Air Force had awarded a similar contract to seven companies that dealt in providing red air training services: Air USA, Airborne Tactical Advantage Company, Blue Air Training, Coastal Defense, Draken International, Tactical Air Support, and Top Aces.
'Break In India': Navy To Lease Another Nuclear-Powered Submarine From Russia Instead Of Developing One
Once Red 6 has integrated the ATARS with a single T-38, the company hopes to integrate a "multiplayer" version of the system where multiple aircraft see the same virtual adversaries and can work together to defeat them, Robinson said.
Red 6's revolutionary technology seems to guarantee the Air Force's motto to fly, fight and win – with airpower, anytime, anywhere by training soldiers quite effectively through such realistic imagery of the enemy aircraft. 
— Written by Anshruta Banerjee