On February 1, B-1B Lancers of the US Air Force belonging to the 34th Expeditionary Bomb Squadron touched down at Andersen Air Force Base in Guam for a Bomber Task Force (BTF) mission. 
The bomber aircraft, which took off from Ellsworth Air Force Base, South Dakota, will carry out the Bomber Task Force mission in the Indo-Pacific region. 
In a statement, the service said that the mission's goal was to demonstrate that the bomber could be quickly deployed anywhere, at any time, and provide combatant commanders options for deadly precision global strikes.
The BTF missions, which serve the objectives of coordinated deterrence and building enduring advantages of the National Defense Strategy, allow strategic bombers to deploy from a wide range of foreign and continental US bases with greater operational resilience.
The B-1 B's previous missions in 2022 included hot pit refueling operations with the Royal Australian Air Force (RAAF) at RAAF Base Darwin and aerial integration with the Japan Air Self-Defense Force.
Guess who's back! ✈︎@usairforce B-1B Lancers assigned to the @28thBombWing recently landed at Andersen Air Force Base, Guam, during a Bomber Task Force mission.

⬇️ Click below to see more! https://t.co/6AYEYICMDo#FreeandOpenIndoPacific @DeptofDefense pic.twitter.com/gKzf4PSiAq

— PACAF (@PACAF) February 4, 2023
Lt. Col. Jeffrey Carter, Director of Operations, 34th Expeditionary Bomb Squadron, said that the deployment is essential to ensuring this dynamic area is "free from coercion and accessible to everyone."
The service said that during the ongoing mission, the Lancers would continue to cooperate and train with allies and partners by participating in several regional missions and exercises.
"It's a privilege to be back in the Pacific area of responsibility and to be on the forward edge of deterring our adversaries and supporting our Allies," said Maj. Abraham Moreland, Assistant Director of Operations, 34th Expeditionary Bomb Squadron.
Moreland noted that the security of the Indo-Pacific depends on the relationships the US has with its allies in the area and the alliances the USAF forges while stationed overseas, which give its aircrews the critical training and experience required to succeed in this environment.
The USAF has been enhancing its bomber attack capabilities by implementing a more "dynamic" tactical and training deployment level throughout the Pacific region to emphasize battle "readiness" and deter potential adversaries.
The stationing of bombers at Andersen Air Force Base in Guam is also considered essential to dissuade Beijing. In December 2022, two USAF B-52 Stratofortress bombers carried out three-day bomber task force missions from Guam.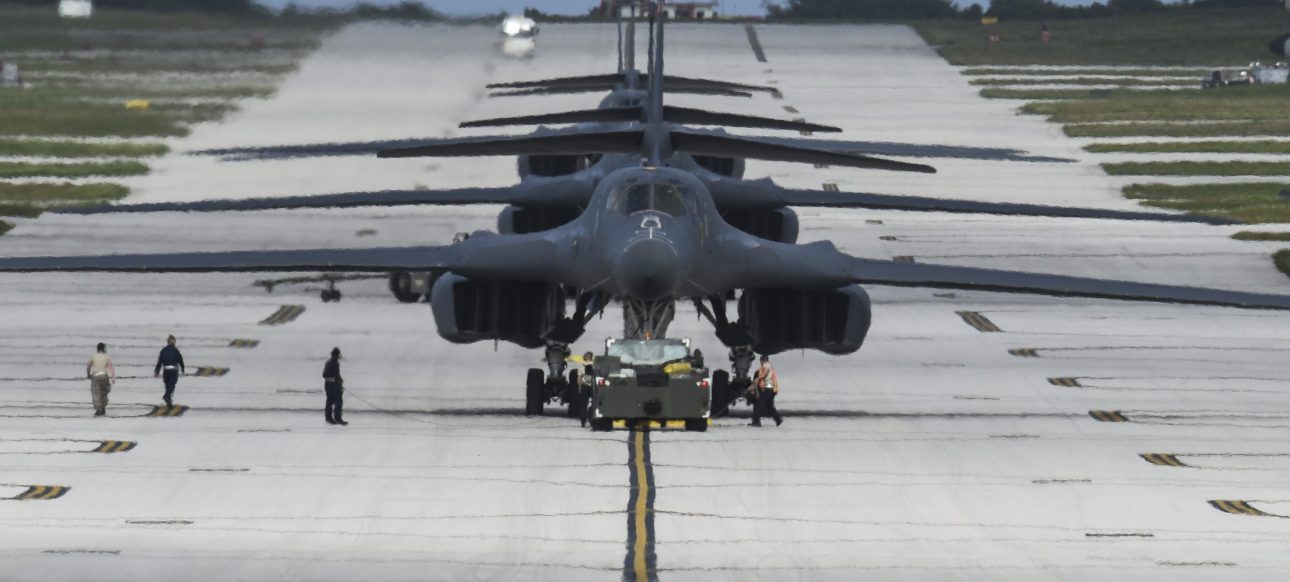 China Balloon Approaching US Bomber Base
Meanwhile, a Chinese surveillance balloon was recently spotted in US airspace, causing widespread concern among the US strategic and security communities.
The US military, however, said that they chose not to shoot it down because it may endanger people on the ground. The Pentagon is quite optimistic that the Chinese balloon was flying over critical installations to gather information, a senior defense official told reporters.
In a joint statement, the US Northern Command and the North American Aerospace Defense Command (NORAD) stated they are tracking the balloon, which is currently flying at a height well above commercial air traffic and poses no military or physical threat to persons on the ground.
On the other hand, China's foreign ministry has criticized American officials for overly "hyping" the balloon incident.
China's top diplomat Wang Yi said: "China is a responsible country and has always strictly abided by international law. We do not accept any groundless speculation and hype."
The Pentagon stated on Friday night that a second Chinese surveillance balloon had been seen flying over Latin America. There have been reports of a balloon flying above Venezuela and Colombia, but there has been no confirmation up until now. 
Missouri Senator Eric Schmitt revealed that the Chinese ballon was moving toward the Whiteman Air Force Base, where the B-2 strategic bombers are housed. 
Schmitt wrote on Twitter that it is "absolutely unbelievable" that the Chinese "spy balloon" is "right now" traveling toward Whiteman Base, the base for stealth bombers. 
Additionally, Mike Parson, the governor of Missouri, expressed his displeasure on Twitter that he had not received information from the White House over reports of a Chinese balloon that was "now flying" above state territory. 
The 509th bombing air wing of the 8th US Air Army, the sole unit equipped with strategic B-2 Spirit bombers, is headquartered at Whiteman, a sizable military air base. It is the only air base where all 20 US-armed B-2s are permanently stationed.
The US government postponed the upcoming visit to Beijing by Antony Blinken, head of the state department, due to the "inadmissibility" of a foreign intelligence apparatus in sovereign airspace.