The US Army is grounding its entire fleet of Chinook helicopters amid concerns about engine fires, US Army spokesperson Cynthia Smith said in a statement to Sputnik.
"The Army has identified the root cause of fuel leaks that caused a small number of engine fires among an isolated number of H-47 [Chinook] helicopters and is implementing corrective measures to resolve this issue," Smith said on Tuesday.
"Based on the results of our investigation, some aircraft may not require corrective measures and may soon return to normal flight operations. While no deaths or injuries occurred, the Army temporarily grounded the H-47 fleet out of an abundance of caution until those corrective actions are complete."
US media reported, citing officials with knowledge of the matter, that the US Army Materiel Command made the decision to ground the fleet out of an abundance of caution while they inspect over 70 helicopters that contain a part suspected to be linked to the problem.
The Chinook, made by aerospace company Boeing, is a heavy-lift helicopter primarily used for transporting troops and equipment. Variants of the helicopters have been used by the US military and other armed forces around the world since the 1960s.
US Marines Set To Recieve Advanced Simulator
In other news, US Marine Corps will soon receive an additional Containerized Flight Training Device (CFTD) from Lockheed Martin, with the option to purchase three more. This will enable the US Marines to receive more training opportunities to operate the Sikorsky CH-53K heavy lift helicopter.
The latest contract, according to Lockheed Martin's statement on August 17, capitalizes on the success of the first training device that was supplied to Marine Corps Air Station (MCAS) New River in Jacksonville, North Carolina, in 2020. 
The CH-53K helicopter is the most advanced and potent chopper in the Defense Department's inventory. It can transport personnel and cargo from ship to shore and higher altitude terrain more rapidly and efficiently than ever before. 
"Marine pilots have smoothly transitioned from the training device to the actual CH-53 K's fly-by-wire cockpit and completed missions in the fleet environment – such as air-to-air refueling," Lockheed Martin Vice President of Training and Simulation Solutions Flash Kinloch said in the release.
The @USNavy is expanding CH-53K training with additional simulators from @LockheedMartin. #OnlyTheKCan pic.twitter.com/Zlybx7Og9E

— Sikorsky (@Sikorsky) August 17, 2022
With the help of the full-mission flight simulator, which also imitates the many climatic conditions the aircraft is expected to operate in, flight crews will receive training on the full range of Marine Corps heavy lift missions, including external lift operations. 
"Through this new effort, Lockheed Martin is helping the Marine Corps expand proven and critical CH-53K Flight Training with training capability to more Marines," Lockheed Martin said.
The training equipment consists of a complete cockpit where a pilot and co-pilot can fly an aircraft, an instructor operating station, and a briefing/debriefing area. The newest training tools will come with improvements that boost system efficiency, increase cost savings, and more closely correspond to the CH-53K aircraft for increased training realism.
The CFTD delivered accurate in-cockpit system displays (visual resolution, tactile, spatial, audio, and functionality) and was developed by Lockheed Martin and Veraxx. The CFTD can also integrate with other simulators for improved attitude control and other aviation training scenarios. 
The CFTD is the first in a line of new training tools for the CH-53K. "All training devices will eventually be located at the Center for Naval Aviation Technology Training (CNATT) at MCAS New River, where all of the aircraft's aircrew and maintenance maintainers will be trained," according to a statement from the US Navy.
King Stallion Helicopter
The Marine Corps CH-53K King Stallion heavy lift freight helicopter recently reached initial operating capability after years of engineering, testing, construction, and development. The CH-53K is built to offer better lift, speed, performance, and safety than earlier variants.
The Marine Corps achieved Initial Operational Capability for the CH-53K helicopter in April 2022, following a fruitful test phase that saw more than 3,000 hours of accident-free flight time in testing conditions and terrain. 
In May 2022, Marine Corps officers and Congressional representatives reviewed the development of the new platform at a hearing on the 2023 budget held by the Senate Appropriations Subcommittee on Defense.
Gen. David H. Berger, the Marine Corps' thirty-eighth commandant, stated that the new CH-53K helicopter had demonstrated an incomparable capacity to carry out high-risk, heavy lift missions by lifting a 14,000-pound H-60 helicopter at 12,000 feet. According to Berger, nothing in the Marine Corps' current arsenal has a comparable capacity.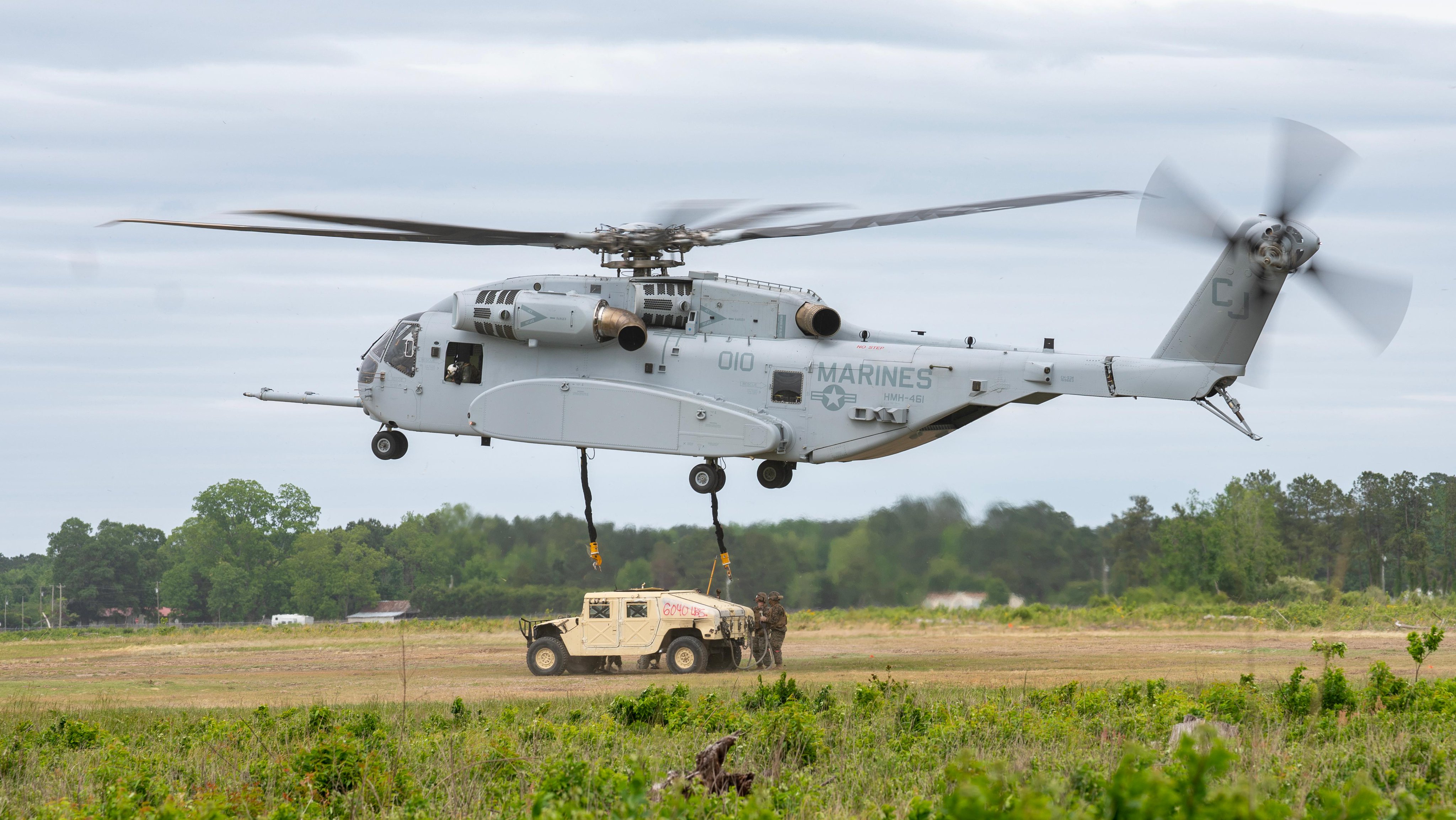 The K model is fly-by-wire capable and employs the most recent condition-based maintenance techniques, which involve installing diagnostic sensors to monitor the aircraft's systems to anticipate better and avoid mechanical failure points.
The helicopter is built with lightweight composite materials for the airframe and rotor blades. According to Sikorsky and Navy engineers, it can provide performance equivalent to or better than conventional metals while weighing much less.  
The US Navy's goal in developing the helicopter was to create a new model with three times the lift capacity and much better performance than the CH-53E, or "Echo," model aircraft built in the 1980s. In early 2021, Israel also decided to procure this powerful helicopter from the US.
Heavier lift helicopters open up new tactical possibilities for expeditionary and marine combat due to their ability to conduct more diverse operations. These helicopters can be used to resupply forward operating bases with supplies, weapons, and ammunition, altering the tactical equation. 
They can more efficiently deliver reinforcements to a battle station on an island chain in the Pacific. A CH-53K is better equipped to carry mobile artillery pieces or even light tactical vehicles into high-danger land combat zones.